Runners-Up to the 10 Favorites: Cloudy with a Chance of Meatballs, District 9, Duplicity, The Hangover, The Informant!, 9 - the animated one, Paranormal Activity, The Princess & the Frog, Public Enemies, Star Trek.
Runners-Up to Those Runners-Up: The Cove, An Education, Good Hair, He's Just Not That Into You, Humpday, Julie & Julia, Michael Jackson's This is It, Taking Woodstock, Up, Zombieland.
And Because These Shouldn't Be Forgotten ... : Away We Go, Disney's A Christmas Carol, Fired Up!, Food Inc., I Love You Man, The Last Lullaby, Next Day Air, Ponyo, Precious: Based on the Novel Push by Sapphire, Two Lovers.
Okay Movies with Fantastic Performances Tucked Inside: Chéri (Michelle Pfeiffer), Cirque du Freak: The Vampire's Assistant (John C. Reilly, Willem Dafoe), It's Complicated (Meryl Streep, Alec Baldwin, Steve Martin), Julia (Tilda Swinton), Me & Orson Welles (Christian McKay), My Sister's Keeper (Sofia Vassilieva), Nine - the live-action one (Marion Cotillard), Notorious (Jamal Woolard), The Road (Viggo Mortensen), The Soloist (Robert Downey Jr., Jamie Foxx).
Pretty-Good, Should've-Been-Better Movies: Brothers, Brüno, Capitalism: A Love Story, Coraline, Drag Me to Hell, Observe & Report, Sunshine Cleaning, Tyson, Watchmen, Whatever Works.
Should've-Been-a-Lot-Better Movies: Amelia, Avatar, The Box, The Brothers Bloom, Funny People, The International, The Invention of Lying, Invictus, The Men Who Stare at Goats, State of Play.
Should've-Been-Much-Much-Worse Movies: Battle for Terra, The Blind Side, Dance Flick, The Fourth Kind, Imagine That, My Bloody Valentine 3-D, 17 Again, The Time Traveler's Wife, Tyler Perry's I Can Do Bad All by Myself, Year One.
Not-Bad or Bearable-Enough Sequels, Remakes, Reboots, Whatever ... : Alvin & the Chipmunks: The Squeakquel, Fame, Harry Potter & the Half-Blood Prince, The Last House on the Left, Night at the Museum: Battle of the Smithsonian, The Pink Panther 2, Race to Witch Mountain, The Taking of Pelham 1-2-3, The Twilight Saga: New Moon, Underworld: Rise of the Lycans.
Disappointing or Way-Worse-Than-Disappointing Sequels, Remakes ... (yawn) ... Reboots, Whatever ... : Angels & Demons, Fast & Furious, The Final Destination, Friday the 13th, Halloween II, Ice Age: Dawn of the Dinosaurs, The Stepfather, Terminator Salvation, The Uninvited, X-Men Origins: Wolverine.
And an Entry from a Series That Should Just Die Already: Saw VI.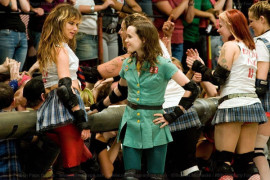 Movies You Should Feel No Guilt About Adding to Your Rental Queue: Armored, Fighting, I Love You Beth Cooper, Jennifer's Body, Not Easily Broken, Obsessed, A Perfect Getaway, Pirate Radio, Surrogates, Whip It.
Movies to Add to Your Queue with at Least a Twinge of Guilt: G-Force, Hannah Montana: The Movie, The Haunting in Connecticut, Hotel for Dogs, Jonas Brothers: The 3-D Concert Experience, Monsters Vs. Aliens, Orphan, Pandorum, 2012, Tyler Perry's Madea Goes to Jail.
Movies That, If You Must, You Should Add to Your Queue Now, Because You Won't Remember Their Titles in a Year: Astro Boy, Earth, The Goods: Live Hard Sell Hard, The Great Buck Howard, Inkheart, Knowing, My Life in Ruins, New in Town, Planet 51, Push.
Movies You Shouldn't Add to Your Queue Even If Desperate to Watch Anything: Confessions of a Shopaholic, Extract, Land of the Lost, Love Happens, Post Grad, Sherlock Holmes, Shorts, Sorority Row, 12 Rounds, Whiteout.
And the 20 Worst Movies of the Year ... Squeezed Into a "Top"-10 List:
10) Everybody's Fine - Well, sure, the ones who avoided the movie are ... .
9) Bride Wars, Ghosts of Girlfriends Past - Proof that Kate Hudson and Matthew McConaughey can suck even when they're not co-stars.
8) All About Steve, The Proposal - I'm happy for the acclaim Sandra Bullock is enjoying for The Blind Side. Five or six movies just like it, and I might forgive her for the rest of her 2009 output.
7) The Unborn - A grossly insensitive horror trifle that employs the Holocaust as a scare-flick turn-on, even going so far as to include the line, "It is up to you to finish what began at Auschwitz." And that's from one of the film's good guys.
6) Dragonball: Evolution, Street Fighter: The Legend of Chun-Li - Both less involving than playing video games. Or watching your friend play video games. Or imagining watching your friend playing video games.
5) Couples Retreat, G.I. Joe: The Rise of Cobra, Paul Blart: Mall Cop, Taken - Collectively, these four grossed more than $550 million in North American ticket sales, which is ... . Hey ... are those four horsemen flying above us ... ?
4) Miss March, Old Dogs, Transylmania: Three movies. 270 minutes. Not one laugh in 'em.
3) Law-Abiding Citizen, The Ugly Truth - Seriously, can we all just agree that the Gerard Butler=Mega-Star thing just should not happen?
2) Crank: High Voltage, Gamer - I'd say the former is the most god-awful, incoherent movie yet from the writing/directing team of Mark Neveldine and Brian Taylor, but the latter stars Gerard Butler. So take your pick.
1) Transformers: Revenge of the Fallen - Rolling Stone's Peter Travers wrote that Michael Bay's sequel "has a shot at the title 'Worst Film of the Decade.'" Travers may have been low-balling it.
For Mike's list of 10 favorite 2009 releases, see "In Glourious Company."