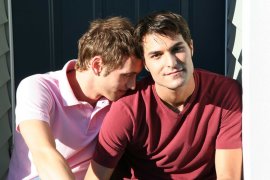 HOLDING TREVOR and ICE BLUES
Even though they share the "gay film" label, the two evening presentations at the Quad Citians Affirming Diversity's November 15 film festival - Holding Trevor and Ice Blues - don't have that much in common: The former is a frequently comedic drama about gay youths in Los Angeles; the latter is a mystery featuring a gay detective in upstate New York.
Yet the movies do share one rather inspiring trait: Instead of making pious assertions that gays are "just as good as everyone else," they make the point - and make it subtly - that gays are just as goofy and messed up and human as everyone else, which is a far more inspiring and realistic message. They also share another trait: Both movies are really entertaining.
Not perfect, mind you. Director Rosser Goodman's Holding Trevor (being screened at 9 p.m.) finds the twentysomething of the title (played by the film's screenwriter, Brent Gorski) trying to forge a healthy relationship with a new beau (Eli Kranski) while contending with the ex-boyfriend he still loves (Christopher Wyllie), a young man trying, and failing, to kick heroin. Don't make the mistake, though, of thinking the movie is grim. If anything, it's nowhere near grim enough. Holding Trevor displays the easily identifiable flaws of a lot of low-low-budget independent releases - an over-dependence on closeups, several amateurish performances - but one of its biggest is that it makes addiction look about as traumatic as a hangover; Wyllie sweats and shakes, but given the direction and acting in his scenes, he doesn't appear to be much of a hazard to himself or others, and Gorski seems less traumatized by him than mildly irritated.
But indie films made on shoestring budgets do have rewards of the sort you won't get from most Hollywood releases - chief among them honesty - and Holding Trevor is rife with them. There's a lot of sharp, shrewd dialogue, and Trevor's relationships with best friends Andie (Melissa Searing) and Jake (Jay Brannan) exude exactly the right mixture of selflessness, exasperation, and untamed bitchiness. And thanks to Kranski's wonderfully expressive and empathetic turn, Holding Trevor has what some of the best gay-themed films have: genuine romantic pull. In a formulaic role, Kranski offers a rare combination of spontaneity and sincerity, and manages to improve not only his scenes, but the movie as a whole; the actor looks at Trevor with so much love and longing that, despite Gorski's awkwardly unconvincing portrayal, you begin to love Trevor, too.
Romance is also at the heart of Ice Blues (being screened at 7 p.m.), the fourth film installment in the Donald Strachey mystery series, in which Chad Allen's detective investigates a murder that leads him to an underground ring of child pornographers. The film itself is problematic; despite the playful opening credits that suggest a giddy, gay James Bond adventure (Condom of Solace, maybe?), director Ron Oliver's outing is a little weak, with too much clichéd repartee, several scenes that border on the ridiculous, and a lot of performances that, at their best, wouldn't be out of place on a sub-par daytime drama. It's easy, though, to respond to all this with a happy "Who cares?" because Allen and Sebastian Spence, as Strachey's longtime companion Tim, are fantastically entertaining together; Ice Blues isn't much of a mystery, but it proves to be an absolutely first-rate domestic comedy.
Those new to the Strachey series won't have any trouble catching up; just watching the famously sloppy detective roll his eyes at Tim's needling, or listening to Tim's aghast message on Strachey's cell phone ("You sent me to voice mail?!") tells you everything you need to know about this reflexively bantering duo. They form a classic squabbling-married-couple pairing in Ice Blues, and the actors' sensational chemistry and supremely relaxed partnership are, without being at all preachy, about as strong an argument for gay equality as recent movies have given us. At one point, after Tim becomes trapped in a heavily guarded house, a character asks Strachey, "What are you going to do?" He replies, with perfectly earnest heroism, "I'm going to get my boyfriend." Bruce Willis himself would cheer.
The fourth-annual QCAD Film Festival, taking place at the Figge Art Museum on November 15, will also feature another Donald Strachey mystery, On the Other Hand, Death, at 4 p.m., and Shamim Sarif's apartheid drama The World Unseen at 2 p.m; tickets are $10 per film. Admission to the 1 p.m. luncheon is $10, tickets to the 5:30 p.m. reception and silent auction are $25, and information on all of the day's events is available by calling (309) 786-2580 or visiting QCAffirmingDiversity.org.