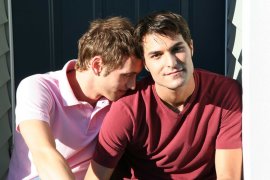 HOLDING TREVOR and ICE BLUES
Even though they share the "gay film" label, the two evening presentations at the Quad Citians Affirming Diversity's November 15 film festival - Holding Trevor and Ice Blues - don't have that much in common: The former is a frequently comedic drama about gay youths in Los Angeles; the latter is a mystery featuring a gay detective in upstate New York.
Yet the movies do share one rather inspiring trait: Instead of making pious assertions that gays are "just as good as everyone else," they make the point - and make it subtly - that gays are just as goofy and messed up and human as everyone else, which is a far more inspiring and realistic message. They also share another trait: Both movies are really entertaining.