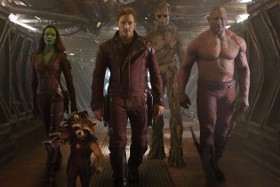 Friday, August 1, 9:50 a.m.-ish: Movies based on Marvel comics are routinely, sometimes annoyingly formula-driven. But 10 minutes into Guardians of the Galaxy, I really hope every subsequent Marvel release steals from this one, because all the studio's films - hell, all films period - should open with Chris Pratt doing a Singin' in the Rain soft-shoe to Redbone's "Come & Get Your Love."
Unfortunately, director James Gunn's sci-fi adventure about an uncouth team of miscreants trying to locate and dispose of an all-powerful metallic orb proves too slavish to previous formulas. We get meaninglessly protracted exposition, generically manic action, spectacularly uninteresting villains, et cetera, and I'm frequently bored by both the story and its genre particulars. (A hero's guilt-ridden past? A heart-tugging death? A climactic girl-on-girl battle? Check, check, and check.) Happily, though, the bountiful jokes and inspired cast make the experience feel relatively fresh. There are smart, hilarious nods to everything from Jackson Pollock to the Jackson 5, and Pratt, Zoe Saldana, WWE star Dave Bautista (excellent as the hopelessly literal Trax), and Bradley Cooper, voicing the comically abrasive raccoon Rocket, make a supremely winning team of losers. Best of all is Vin Diesel vocalizing the ambulatory tree Groot, who earns empathy and big laughs with a vocabulary confined to three words. (Groot also gets a kick-ass scene reminiscent of Hulk's lightning-quick smack-down of Loki in The Avengers.) Diesel proves as unexpectedly lovely and funny here as he was as The Iron Giant. Any chance that Hollywood, from now on, might pay the man to only perform off-screen?
12:30 p.m.-ish: I'm surprised to see that the James Brown bio-pic Get on Up begins in 1988, because so did Guardians of the Galaxy. I'm eventually less surprised, because as director Tate Taylor's narrative quickly lands in 1968, then 1939, then 1964, then 1954, then 1972, the odds were pretty good. With its chronological leapfrogging barely making sense, and the film only scratching the surface of the Godfather of Soul's career highs and well-documented lows, Taylor's follow-up to The Help isn't very satisfying. Yet with Chadwick Boseman channeling the icon's speaking voice and bearing, and mimicking Brown's loosey-goosey dance moves (plus lip-synching to his vocals) with expert precision, it's a mediocre work boasting a truly thrilling Star Performance. Although the movie proves underwhelming, I love its exciting and alive concert re-enactments, and while Nelsan Ellis' Bobby Byrd and Brandon Smith's Little Richard are wonderful, Get on Up's finest non-musical sequence is a dressing-room heart-breaker that pits Brown against his wayward mother, played by a ravaged Viola Davis. You know Davis' signature acting effect in which she cries from her eyes and her nose simultaneously? Boseman can do it, too! Like mother, like son!
5-ish: After a welcome two-hour break in Quadruple-Feature Day, I enter director/co-writer/star Zach Braff's Wish I Was Here, a comedic tear-jerker funded, in large part, through a Kickstarter campaign. Nearly 105 minutes later, I consider starting one of my own to fund Braff's cinematic banishment. It really is the most infuriating movie, because while there are touching, truthful moments involving Kate Hudson as Braff's put-upon spouse, Mandy Patinkin as his dying father, and Joey King as his religiously devout daughter, nearly everything involving Braff's insufferably whiny, needy, and talentless wannabe-actor character feels maddeningly forced and false. (Josh Gad's scenes as Braff's ne'er-do-well brother, a slacker genius who attends Comic-Con to get laid, are similarly embarrassing.) Most of those around me sniffle on cue and chortle at the aggressive punchlines that make everyone on-screen - even Looper prodigy Pierce Gagnon - sound like interchangeable wiseacres from an unpublished Neil Simon script. I'm glad they're having fun. As for me, I'm just hypnotized by the sight of Braff, for no reason beyond the visual gag, routinely lugging around an enormous swear jar filled with cash. Given the number of expletives I find myself muttering under my breath, I think I could've filled it all by myself.
6:50-ish: Wish I Was Here makes me a couple minutes late for writer/director Anton Corbijn's A Most Wanted Man, and if there's one type of movie I absolutely do not want to be late for, it's a complex tale of global espionage based on a John le Carré novel. But this Hamburg-set tale of warring spy agencies and a Russian expatriate (the marvelous Grigoriy Dobrygin) who may be a terrorist is so lucidly presented, intelligently crafted, and emotionally gripping that I get right on board, and happily stay there for the next two hours. There's almost no violence in the film, but the shiver-inducing threat of it seeps into every understated exchange and cagey portrayal (Willem Dafoe and Robin Wright are especially strong); Corbijn even laces the mere signing of papers with exquisite dread. The movie is so good that I don't even spend any undue time mourning, yet again, the shattering loss of lead Philip Seymour Hoffman, who radiates so much professional integrity, subdued intensity, and actorly satisfaction in his last major screen role that it's almost as if he never left us. As long as Hoffman's many, many exceptional screen performances remain in existence, I guess, in a way, he won't have.
9:15-ish: Now home, and realizing that by Saturday, I'll have reviewed 27 movies in 31 days. What are those things other people have? "Hobbies"? I should really get me one of those.