"The biggest problem we have, I think, is always getting people in the door," says local filmmaker Kelly Rundle. "Because we find that most people - not everyone, of course - ... do enjoy our films. With this one, though ... . There's just something about one-room schools that doesn't sound very sexy, you know what I mean?"
He may have a point. The latest collaboration between director Kelly Rundle and his wife, co-writer and co-producer Tammy Rundle, is Country School: One Room - One Nation, the third documentary released by the couple's Moline-based production company Fourth Wall Films. And as the movie is an examination of, and tribute to, the one-room schools that flourished throughout the rural United States in the first half of the 20th Century, "sexy" isn't exactly the adjective that springs to mind.
Other descriptions, however - including "fascinating," "insightful," and "really, really entertaining" - are more than appropriate. Like the pair's 2004 true-crime doc Villisca: Living with a Mystery and 2007's Lost Nation: The Ioway, Country School takes an in-depth look at a mostly unknown, or largely forgotten, chapter of American - specifically Midwestern - history. Also like those films, the Rundles' most recent endeavor delivers a history lesson that is anything but a dry lecture.
Running a quick 75 minutes, the film examines the one-room-school phenomenon - in which students in grades one through eight would share both learning materials and a single instructor - through interviews with more than five dozen individuals closely connected to the subject: scholars, teachers, and former students of rural schools in Iowa, Wisconsin, and Kansas. And with these interviewees (most of them in their 70s, 80s, and 90s) enthusiastically expounding on the struggles and joys of their classroom experiences, Country School emerges as a definitive portrait of education in a one-room environment, a work that's every bit as informative, engaging, and impassioned as those telling its tales.
"I think a lot of people think our film is just about the architecture of country schools," says Tammy of the movie, which will be screened at the Annie Wittenmyer Complex's Nighswander Theatre on March 6 and will be available, in DVD format, through the Fourth Wall Films Web site (FourthWallFilms.com). "But it's not. I don't think it's what people are expecting it to be."
The Nostalgia Thing
"It's hard to explain how we find our subjects," says Kelly during my recent interview with the Rundles, "because it's so convoluted and accidental sometimes." And to hear the filmmakers tell it, Country School wasn't in any way planned or expected.
"It was during our [2007] Des Moines premiere of Lost Nation: The Ioway," says Tammy, referencing the Rundles' documentary on the Native American tribe that inspired the state of Iowa's name. "I was heading down to the stage in the elevator, and this man, an older guy, got into the elevator with me. And he goes, 'Wonderful movie. You really ought to think about doing a movie on country schools.' And he handed me a packet of information."
That man turned out to be Bill Sherman, a noted Des Moines preservationist and member of Preservation Iowa's board of directors. ("He's the guy who got the one-room school on the back of the Iowa quarter," says Kelly. "He doesn't take credit for that - it was a decision made by the governor - but he's the one who said, 'That's what should be on there.'") On the night of the Rundles' Lost Nation premiere, though, Sherman was at most an afterthought.
"We were petrified that night," says Kelly. "We had a couple hundred Ioway people there, and we were unsure of how the film was going to be received, and so the last thing we were thinking about was another film."
"I told Bill, though, 'Why don't you e-mail us?,' figuring this probably wasn't going to go anywhere," Tammy recalls. "I mean, country schools? It didn't sound very interesting to me, and I didn't know if it was really up our alley ... .
"But he did e-mail us," she continues, "and we met with him and talked to him about it, and that's when we decided we would develop it and see if there was anything worth pursuing. You know, we thought maybe there might be a story there, even though we weren't seeing it initially."
"We did, though, have a little bit of family connection to the subject," says Kelly, "because both of our fathers went to one-room schools - Tammy's in Iowa, and mine in Wisconsin. So we grew up hearing some of the stories."
The Rundles began their research, says Tammy, "by seeing if there were any other documentaries on country schools or one-room schools. We started looking at what had been done, and there really wasn't anything on the scale of what we'd be doing. They were all very nostalgic, and very positive."
"We told Bill early on," continues Kelly, "that we wanted to do the film, because we'd done some preliminary research and figured this was going to be a good topic. But we also told him, 'We don't want to just do the nostalgia thing.' I mean, that's part of it - you can't avoid it. But if we were gonna do it, we were gonna look at the positive and the negative. And he was okay with that."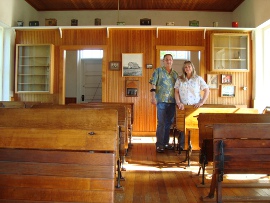 Having agreed on their main subject, the Rundles next sought a specific premise for their film. "That's the very first thing we do before filming," says Tammy, "try to get an idea of what it is we're going to want to focus on."
"That has to be done for grants," adds Kelly. "We're reliant on obtaining grants, so you have to develop your idea on paper fairly completely." And within the grander scope of the one-room-school experience, the Rundles eventually found their film's planned subject in the schools' students - children of first-generation immigrants from southern and eastern Europe, some of whom spoke only their parents' native languages. (One of Country School's interviewees - writer Jerry Apps - describes the Wisconsin county of his youth as boasting 50 separate ethnic groups.)
"That part of it was something that we hadn't seen done anywhere else," says Kelly. "The way that those little schools took people from so many different ethnic backgrounds, mixed them together, and turned out these American citizens. And the different ways that they dealt with language issues. Schools were very much under local control, so if they wanted to use immersion techniques - where they just threw kids in a classroom, sink or swim - they had that option. If they wanted to hire a bilingual teacher, then they did that.
"I kept feeling that was a historical story that still spoke to us today," he continues. "Very much so."
With grant funding in place from several Midwestern humanities councils - in addition to funds supplied by individual contributors - the Rundles were able to commence filming in 2008. Yet while the documentarians planned to focus on immigration issues, experience told them that it would be the interviewees themselves who dictated the movie's true course.
"You never know what people are gonna say," says Kelly, "which is what really determines, in the end, what your film is." But as the Rundles began their initial talks with those knowledgeable in country-school history, they had reason to suspect that some might not wish to say anything.
"We had one scholar who warned us about one-room-school people," says Kelly. "He said, 'They don't want to hear anything negative. Be careful. They're easily upset by talk of anything negative about one-room schools.'"
To the Rundles' relief, however, "it wasn't like that," says Kelly. "Everybody we asked questions of - including the scholars, and including the former teachers, and including the former students - had no qualms about talking about it all."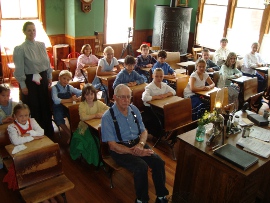 "That School Means Something"
"We decided that we wanted to go where the funding was," says Tammy of which one-room schools the Rundles would include. "So if we got grant funding in Kansas and Wisconsin and Iowa, those were where we were gonna focus on. And that's what we did."
"There were other states that we attempted to get grant funding from but didn't," adds Kelly. "But those three states each turned out to have their own unique one-room-school experiences, and we were kind of looking at filming in the upper Midwest anyway, so it worked out nicely."
Through research and the aid of Bill Sherman, the Rundles eventually outlined a preliminary list of former one-room schools worth visiting - a roster that included such Scott County sites as Forest Grove near Bettendorf, the Pleasant Hill Schoolhouse near LeClaire, and the District No. 9 Schoolhouse located at Davenport's Mississippi Valley Fairgrounds. (Serendipity also played its part, says Kelly, as some of the one-room edifices seen in the film "were just schools that we found as we were driving to some other destination.")
It was, as Kelly remembers, a somewhat daunting assemblage. "I had this thought that all of the schools were the same," he says. "I think, early on, we thought it was maybe going to be 40 schools or so, and it ended up being over 70 schools. And I thought, you know, 'Is my interest really gonna be sustained over the course of visiting 70 one-room schools?'"
Happily for the Rundles, though, they found their subject rife with points of interest, beginning with the schools' architecture.
"What I like about these schools is that they really reflect where they are, and where they came from," says Kelly. "Up here, in this [Quad Cities] area, we have plenty of lumber, so many times they're made of wood. If there was a brick factory in a nearby community, suddenly you'd have a brick schoolhouse. In Kansas, where timber wasn't really available, you have all these beautiful stone schools. So there's all this diversity. They're built in a way reflective of the resources that were available."
(One of them - Wisconsin's Wyoming Valley Grammar School - was even the work of a famous architect: Frank Lloyd Wright. "I was really excited about that," says Kelly with a laugh. "I've always admired his architecture, and so what fun, you know, to discover that he had designed a country school.")
The Rundles agree, however, that what made their country-school subject so especially fascinating were the reflections and recollections of those they interviewed.
"We went to this little Kansas town called Arvonia," says Kelly. "The town itself doesn't really exist anymore, but they had a church and a one-room school, and we met with these seniors who had been former students of the school. Probably about a dozen of them. They had scrapbooks, and they had photos, and they had the blueprints of the school that had been laminated ... . They had all this stuff out and were just so proud of the school, even though it was really just a shell with a roof."
"They really wanted to talk about their experience," adds Tammy. "And they were so passionate - that school means something. The education they got in that little school meant something to all those people we spoke with."
As viewers will see in Country School, these and dozens of other former one-room-school students spoke to the Rundles eloquently, and in great detail, on memories of daily schedules, schoolwork, recess activities ("Dodgeball ... yeah, that was a vicious game ... ."), and, in one of the more informative passages, the specifics of how a classroom functions when grades one through eight are instructed simultaneously.
"When younger kids were learning lessons up at the recitation bench," says Tammy, "older kids would be working on their own homework, and helping younger students with theirs. But they're also hearing what's being taught up at that recitation bench."
"You'd get your own course work," continues Kelly, "but you'd constantly get a preview of coursework to come, and a review of coursework that you've already gone through. So after eight grades, even if you fell behind at some point, you had the opportunity to catch up."
Yet for all of the happy reminiscences, the former students also shared numerous tales of hardship. Some weren't unique to the one-room-school experience - among them memories of foul weather conditions, bullying, and terrifying instructors. (One interviewee recalls whippings that left a child's back severely bruised.) But Country School also finds interviewees describing burdens that children in city schools likely never endured. Jerry Apps, for instance, rails against the paucity of available learning materials: "The libraries were pathetic ... . In the eight years I attended, I don't remember that they bought a book. Not one new book. Ever." And while many students have had their lunches stolen over the years, it's doubtful that many had them routinely stolen by a horse. (As Alenna Sanders remembers it, "We had a family that rode up with a Shetland pony, and he could open the door and get in our lunch buckets. He was trained, let me tell you.")
In addition to students and scholars, Tammy says that she and Kelly "were really fortunate in speaking with these teachers that were extremely passionate about what they did, and passionate about the country-school experience."
"So many of the ladies we talked to," continues Kelly, "they just have teacher DNA, you know what I mean? They were just wired that way. They loved what they did. And to be able to teach eight grades, and all subjects, every day, and take care of a building ... ." (As former country-school teacher Nona Hansmeier describes her duties, "We were nurses, we were musicians, we were art teachers, we were physical-ed teachers - everything.")
"I don't think I thought about it during the filming," says Tammy, "but I think the film really turned out to be a tribute to teachers. To where it all started."
Overlapping Timelines
With the interviews and exterior and interior one-room-school footage filmed, the Rundles began the three-month process of editing Country School, a task that Tammy says was initially "very difficult, because we had so much footage - over 80 hours of footage that we had to boil down into 75 minutes."
"That was the most we had ever shot for a documentary," says Kelly. "With Villisca, we had about 25 hours, and with Ioway, we had about 50. But once we started working on it ... . I don't know, it felt like it was working as we were putting it together. Sometimes you have a moment in editing where things just seem really right, and we had more moments like that, on this film, than on the other two. It felt like it was going in the right direction.
"What we ended up with," he continues, "were three kind of overlapping timelines, if you will. There's the linear history of the one-room schools. There's the school day itself, from the time the students came to school to the time they were dismissed. And then there's the passing of the seasons - we kind of start in the spring and end in the spring. They're all there, even if it's not obvious."
"That was kind of a complex way to tell the story," says Tammy, "but we don't like to hit the audience over the head with our stories. We didn't want to have to say, you know, 'The school day started at nine, and the students needed these tools every day ... .'"
Voice-over narration, in fact, is entirely absent from the film's presentation. "I never felt that we needed a narrator for this," says Kelly, "and I think it maybe makes the film watchable a second time if everything isn't so laid out.
"We don't make instructional videos," he says with a chuckle. "I mean, there's nothing wrong with somebody making an instructional video, but it's just not what we do, and I think - I hope - that that's a good thing."
Following a nearly two-year filming and editing process, Country School debuted at Des Moines' State Historical Building in November of 2010, a premiere that Tammy says "went very well. It was nowhere near as nerve-racking as the Ioway premiere." (With a grin, she adds, "And we got a standing ovation, which was neat.")
"After the film was done," adds Kelly, "we knew it was going to be okay, because the scholars were telling us that they liked it, and we were getting good feedback from other people we showed it to.
"But it's interesting, too, that we always seem to have a community that springs up around our films," Kelly continues. "With the Ioway movie, we talked with people who had sort of been involved with the subject separately but didn't really know each other, and now they're all hooked up on Facebook. The same thing is starting to happen, a bit, with the people from these one-room schools. There's a little network growing around the film."
"I didn't know anything about country schools, really, when we started the project," says Tammy. "I think I just had some kind of myth in my head about them, probably from watching Little House on the Prairie or something. But I think that's what I found most interesting about the project - this unique sense of community, and how the country school really was the identity for so many rural communities."
"It isn't so much the fact that these schools are still there," says Kelly of country schools' - and Country School's - significance. "I mean, they're just buildings, really. But the buildings are filled with the memories of what took place there. And so the fact that you can go to a one-room school, and stand in that building, and be in that environment, and get a sense of what it was like - there's a big difference between being able to do that and reading about something in a book.
"It's our history and our heritage. And it's important that we don't forget that these little schools are the foundation for the educational system that we have in this country. You really can't understand where you are now if you don't know where you came from."
Country School: One Room - One Nation will make its Quad Cities debut at Davenport's Nighswander Theatre in the Annie Wittenmyer Complex (2822 Eastern Avenue) on Sunday, March 6, at 2 p.m. The program will feature a post-film Q&A with filmmakers Kelly and Tammy Rundle and live music by Muscatine's Just 4 Fun string band, and tickets are $5 at the door.
For more information on Country School and its March 6 presentation, visit CountrySchoolMovie.com or FourthWallFilms.com.