Don't tell anyone. But usually, when it comes to predicting the winners of the Academy Awards' major races, it doesn't take much to look like you know what you're talking about.
There are, after all, a number of pre-Oscar citations doled out in the weeks leading to the annual ceremony, and several of them are even televised, so you not only get to see who and what wins, but get to see how well, or not well, the choices sit with probable Oscar voters. (I remember the writing being on the wall for Avatar's eventual Best Picture loss when it received the top prize at the Golden Globe Awards, and the faces of those in the room - except for the people at James Cameron's table - suggested that everyone had swallowed sour milk.)
Oscar precedent is also generally reliable. More often than not, the film with the most or second-most nominations in total has the best chance to win Best Picture; the winner of the Directors Guild of America (DGA) prize will go on to win the Best Director Oscar; an admired but thus-far Oscar-less performer has a better chance at victory than someone who previously won an Academy Award; et cetera.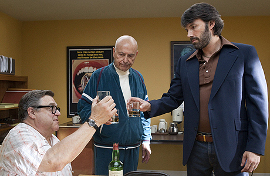 But considering that so many precursor awards in this year's race have gone to an individual not in contention for a particular Oscar, and several historical precedents simply don't apply, trust me: Those who claim to know what they're talking about are totally faking it.
Sure, there are some done deals, as only a fool would bet against Lincoln's Daniel Day-Lewis for Best Actor or Les Misérables' Anne Hathaway for Best Supporting Actress. But in all the years I've been attempting this - and because I've been a film geek since childhood, we're talking more than 30 years now - I've never felt so insecure about my guesses in an Oscar race's most high-profile categories, and from what I glean among other Oscar bloggers and journalists, I'm hardly alone in this. For Pete's sake, I feel more confident about my pick for Best Live-Action Short Subject than I do for Best Director, and I don't feel confident about my Live-Action Short Subject pick at all. (Then again, does anyone ever feel confident about that one?)
With so many factors making the 2013 Academy Awards race so unpredictable - and consequently so exciting - let's take a closer look at four categories that are traditionally among the easier ones to accurately forecast but that, this year, are now causing me to lose sleep. Which is actually an overstatement, as I'm sleeping fine ... but only because my attempts to make logical sense of this year's competition are exhausting me.
Best Picture and Director
Theoretically, predicting 2013's Best Picture winner should be easy, as Ben Affleck's rescue thriller Argo has already won pretty much every pre-Oscar signifier that one points to when attempting to guess that category. Scratch that: It's won every single one.
Best Picture at the Critics Choice Awards (CCA) and Golden Globes. Best Picture from the Producers Guild of America (PGA), the organization whose top prize first hinted that The King's Speech might triumph over presumed favorite The Social Network, as it eventually did. Best Director from the DGA, which has a strong track record for picking winners; over the group's 64-year history, the DGA victor's film was awarded the Best Picture Oscar 51 times. Best Ensemble from the Screen Actors Guild (SAG), acknowledgment that might not be a Best Picture equivalent but certainly didn't hurt when forecasting wins - over the past 10 years alone - for The King's Speech, Slumdog Millionaire, No Country for Old Men, Crash, The Lord of the Rings: The Return of the King, and Chicago. And on February 10, Best Picture from the British Academy of Film & Television Arts (BAFTA), its recent previous victors being 2011's The Artist, 2010's The King's Speech, 2009's The Hurt Locker, 2008's Slumdog Millionaire ... . Are you sensing a trend here?
Add to all of this Argo's numerous prizes from national critics' groups, its sensational domestic grosses ($124 million as of the February 8 weekend, when the film re-entered the box-office top-10 rankings 18 weeks after it debuted), the considerable goodwill generated by co-producers Affleck and George Clooney, and the fact that it's a movie in which Hollywood professionals help save the day, and guessing Argo for the Best Picture Academy Award would seem a classic no-brainer prediction. There's just o-o-one little hitch: Affleck, as most everyone knows, was denied a Best Director nomination, and over the Oscars' 84-year history, only three movies - 1989's Driving Miss Daisy, 1932's Grand Hotel, and 1927's Wings (the very first Best Picture winner) - have been handed the top prize despite a dissed director.
Consider, too, this very plausible scenario: With no Affleck in the Best Director race, Lincoln's Steven Spielberg now has a completely legitimate chance to snag his third triumph in that category. Lincoln star Daniel Day-Lewis, we all have to admit, is a sure-fire victor-to-be - even though he'd be the first performer in history to boast three Best Actor wins - and Tommy Lee Jones, who won the SAG award for his Thaddeus Stevens portrayal, is a solid bet for Supporting Actor. If Tony Kushner's deservedly lauded script gets the majority of votes for Adapted Screenplay, and all of those aforementioned potentials get checked off on Academy members' ballots, doesn't a Best Picture victory for Lincoln suddenly seem not just conceivable but nearly inevitable? (The movie, after all, did lead the field with 12 Oscar nominations compared to Argo's seven.)
Or how about this: Life of Pi doesn't have any acting nominees, and David Magee's divisive script probably won't net him a Best Adapted Screenplay Oscar. But that leaves 10 other categories that the movie is strongly competitive in - even against Adele's Best Original Song hopeful "Skyfall" - and if voters go for Pi in, say, even three to five tech categories and Best Director, is Best Picture really such a longshot? And what if Jennifer Lawrence, Robert De Niro, writer/director David O. Russell, and even editor Jay Cassidy all win, as they conceivably could? Would anyone be surprised at a subsequent Best Picture victory for Silver Linings Playbook? (Those rooting for remaining contenders Amour, Beasts of the Southern Wild, Django Unchained, Les Misérables, and Zero Dark Thirty should just relax and enjoy the party.)
With more hesitation than I perhaps should be feeling, I'm sticking with Argo for the big prize ... but that hesitation remains. And with practically nothing to go on regarding who might secure Best Director - Affleck's direction having won the CCA, Globe, DGA, and BAFTA trophies - I'm bypassing Spielberg in favor of Life of Pi's Ang Lee. The way I see it, one of them is going to emerge victorious, if only because history tells us that one of them has to: No helmer who has missed out on a DGA nomination has ever gone on to win the Best Director Oscar, and this year, Silver Linings' Russell, Amour's Michael Haneke, and Beasts of the Southern Wild's Benh Zeitlin were all ignored by the Directors Guild.
That leaves us with Spielberg and Lee as our options, and I'm going with the latter because of (a) Life of Pi being a clear director's showcase (An untrained lead! CGI animals! 3D ... but good 3D!) over the actors' and writer's showcase that is Lincoln; (b) residual guilt over Lee losing the Best Director Oscar for Crouching Tiger, Hidden Dragon despite his DGA win for that film; (c) residual guilt over Lee's Brokeback Mountain losing Best Picture to Crash despite its victory being all but preordained; and (d) the feeling that, as the most successful filmmaker in the universe, Spielberg has already been rewarded quite amply for the time being. Oh, yeah ... and Life of Pi, like Lincoln, is awfully damned good. Sometimes that helps.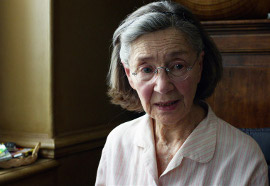 Best Actress and Supporting Actor
Occasionally, when your choice is between apples and oranges, you pick bananas.
Among this year's Best Actress lineup, one could easily argue for a victory by either Zero Dark Thirty's Jessica Chastain or Silver Linings Playbook's Jennifer Lawrence, as Chastain won the CCA, Lawrence won at SAG, and Golden Globes - awarded in the categories of both "Drama" and "Comedy or Musical" - were given to both of them. (They also made a close split of national critics' award citations: 15 for Chastain, 13 for Lawrence.) Consequently, this would seem an incredibly tight race between the two performers, and it is one. But I'm thinking that in this category, voters might be inclined go a little bananas, and instead back an option who wasn't even nominated for a Globe or SAG Award: Amour's Emmanuelle Riva. (The Impossible's Naomi Watts and Beasts of the Southern Wild's nine-year-old Quvenzhané Wallis fall under the "It's a thrill just to be nominated" blanket and, given the down-to-the-wire tension of this year's Best Actress race, might be feeling just fine about that.)
Forget, if you will, that Riva is a certified acting legend (albeit a French acting legend) whom older Academy members, and film-savvy younger ones, will fondly remember from the 1959 classic Hiroshima, Mon Amour. Forget that Riva's portrayal of a once-vibrant senior debilitated by a pair of strokes is one of the year's most acclaimed, winning the star Best Actress laurels from the National Society of Film Critics, Los Angeles Film Critics Association, and London Critics Circle. Forget that the Cannes Film Festival Palm d'Or-winning Amour - despite Oscar odds generally stacked against foreign-language titles and the movie's minimal, specialty-film distribution - showed exceptional strength amongst Academy branches, also scoring nods for Best Picture, Director, and Original Screenplay. (Plus Best Foreign-Language Film, which Amour should win in a lock.) Even forget that Riva won BAFTA's Best Actress prize over challengers Chastain and Lawrence. Is it possible for voters to resist giving Riva their thumbs-up considering that the woman will be turning 86 on the day of the ceremony - making her the oldest winner of a performance Oscar in Academy history - and would also be handed her prize by French compatriot (and last year's Best Actor victor) Jean Dujardin? The French would say: Non! I say: Maybe. But I'm leaning toward Riva regardless.
Still, if you think Best Actress is a head-scratcher this year, that's nothing compared to the migraine-inducing quandary that is Best Supporting Actor, a category that not only boasts no clear front-runner, but a lineup of five performers who might care less about the results than we do, considering that all five already have Oscars to call their own.
Among this year's contenders, Tommy Lee Jones, as previously mentioned, won the SAG Award for Lincoln. Philip Seymour Hoffman won the CCA for The Master. Christoph Waltz won the Globe and BAFTA Award for Django Unchained. And Alan Arkin is nominated for Argo, which, this year, is just as beneficial as having a precursor trophy under his belt. Given all that, the hardware alone suggests that Waltz has the upper hand here. But will voters really feel the need to reward him - and for another Quentin Tarantino project, no less - a mere three years after the Inglourious Basterds actor's last Oscar victory?
Similarly, Arkin won in this category for 2006's Little Miss Sunshine, and while he worked with a different director for Argo, doesn't the performance itself, great as it is, feel a bit ... familiar? Hoffman's Best Actor win for 2005's Capote is also still fresh in memory, and that Best Picture nominee was apparently far more admired by Academy members than was Paul Thomas Anderson's meditative opus. (Despite nominations for The Master's three central actors, writer/director Anderson himself was wholly ignored, as were - insanely - cinematographer Mihai Malaimare Jr. and composer Jonny Greenwood.) As for Jones, his previous Oscar acknowledgment was for The Fugitive nearly 20 years ago, and few could argue that the actor doesn't deserve another statuette on his mantel. But will Daniel Day-Lewis' fait accompli victory steal all of Lincoln's acting thunder? And will Jones' much-memed grumpy face at the Golden Globes negatively affect people's admiration for him? (My thought on that last question is "no way" - we both want and need Jones to be stone-faced and surly.)
That leaves Robert De Niro for Silver Linings Playbook, the perfect alternative for those unsure of whom to give a second Oscar, because he has two: one as Best Supporting Actor for 1974's The Godfather: Part II, and one as Best Actor for 1980's Raging Bull. But it's been 21 years since his last nomination, and the man - who is admittedly wonderful in his film - has been working Silver Linings' PR circuit hard these days, re-inventing himself as a lovable, easily-prone-to-tears softie in the process; not to be too catty about it, but that's gotta be good for some votes. Plus, if Riva (or Chastain) winds up winning Best Actress, and Russell loses Best Director and Adapted Screenplay, De Niro is actually his much-adored movie's last serious chance to take home a statuette, and I find it incredibly unlikely that Harvey Weinstein's strongest pony in the 2012 race is going to walk away completely empty-handed. So with an almost total lack of conviction on my part, I'm going to go with De Niro for Best Supporting Actor. Hell, if an Oscar is the encouragement he needs to keep from giving more terrible performances over the next decade, it'll have been absolutely worth it.
For the complete list of Mike's Oscar predictions, visit  "Argo Fete Yourself."