Whether it was a conscious decision on their parts is something, of course, that we'll never know. But faced with #OscarsSoWhite outrage and numerous categories seemingly locked tight as drums, voters for last night's Academy Awards did the smartest, and perhaps only, thing they could do: They changed the story, so that instead of talking about the controversy, we talked about the winners – more often than not, the surprise winners.
Not that there wasn't talk, a lot of talk, about the controversy. Faced with the impossible task of having to chide the very people he was there to entertain, Oscar host Chris Rock pulled off, I thought, a rather remarkable balancing act, and it was easy to forgive him when he occasionally slipped – that tightrope was razor-thin. We all knew that Rock, in his opening monologue, was going to address #OscarsSoWhite; we might even have suspected, as proved to be the case, that the issue would provide grist for the entire monologue. What proved both welcome and necessary was Rock's decision to be an equal-opportunity offender. The Academy got deserved raspberries for its second-annual all-Caucasian acting races and general racial bias, but protestors – including, most memorably, Jada Pinkett Smith – were effectively told to take a breath and simmer down. As Rock cannily and oftentimes wittily reminded everyone, artists of color, people of color, have faced bigger hardships than this.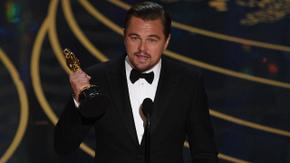 "Is Hollywood racist?" Rock asked during his monologue, immediately answering his own question: "You're damn right Hollywood is racist." But I've never heard a better, more succinct description of the type of racist Hollywood is than Rock's labeling of the town as "sorority racist. 'We like you, Rhonda, but you're not a Kappa.'" Over the course of his opener, Rock subtly name-dropped black actors previously acknowledged by the Academy: Sidney Poitier, Jamie Foxx, Lupita Nyong'o, Jada's husband Will. Yet he also never pretended that a diversity problem didn't exist, arguing that opportunities are the only things separating Leonardo DiCaprio's Oscar-bait résumé from Foxx's. And Rock definitely didn't hesitate to remind us that, in this year of "Black Rocky," the situation for performers of color is nowhere near as dire as it was in, say, the 1960s, when "black people did not protest. We were too busy being raped and lynched to care about who won Best Cinematographer."
All told, what Rock fed to Dolby Theatre attendees and TV viewers was a 10-minute chill pill that was occasionally acidic ("Jada boycotting the Oscars is like me boycotting Rihanna's panties – I wasn't invited"), but surprisingly not bitter, and just smooth enough to go down easily. And while the Oscars emcee rarely left the issue of race alone during the rest of his hosting appearances, many of his routines – barring the unfunny Suge Knight running gag and intensely awkward Stacey Dash appearance – were inspired.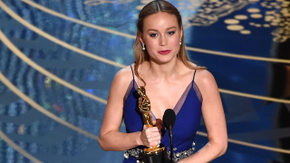 Returning to a bit he originated as host of the 2005 Oscars, Rock had, and delivered, some fun with patrons outside a Compton movie theater, asking if they'd seen or even heard of any of the nominated movies (generally speaking, they hadn't) and allowing a few the chance to give their own endearing acceptance speeches. His insertion of Whoopi Goldberg, Tracy Morgan, Saturday Night Live's Leslie Jones, and himself into Oscar-lauded films, meanwhile, yielded several big laughs, especially when Morgan tried on one of Eddie Redmayne's Danish Girl dresses, and Jeff Daniels balked at spending $2,500 to get Rock's stranded astronaut back from Mars. (On a related note, my Oscar-night companions and I marveled at how Kristen Wiig appeared far more comfortable satirizing her role in The Martian than she did actually playing her role in The Martian.)
Rock and much of his material were so frequently strong, in truth, that the Oscar host's first-rate performance would've been the night's chief story had there not been so many surprises tucked into those golden envelopes. But man oh man – were there ever! You gotta love an Academy Awards telecast that saves one of its biggest shockers for last, and at the end of this three-and-a-half-hour ceremony, the discovery that Spotlight was the night's Best Picture was a true jolt considering the movie's only other Oscar, for Original Screenplay, was the first award presented. Talk about an attractive pair of bookends. (Also talk about the end of a long-running streak; you have to go back to 1952's The Greatest Show on Earth to find a Best Picture winner that received only one other Oscar.)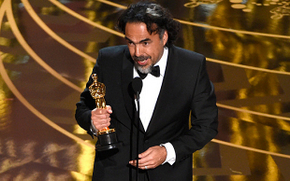 Spotlight's climactic victory, however, was additionally surprising because earlier in the night, two other films were looking like serious threats for the big win. I'll admit to shouting with joy, and more than a touch of relief, when Mad Max: Fury Road received its largely unpredicted trophy for Costume Design, as there was a very real possibility that affection for The Revenant would cause it to steamroll over Max in each one of the 10 categories the latter was cited in. Yet when this glorious post-apocalyptic thriller went on to win Best Production Design, and then Makeup & Hairstyling, and then Film Editing, and then Sound Editing, and then Sound Mixing – all in the span of 45 minutes – I may have swallowed my gum. Despite the prize looking like Alejandro González Iñárritu's to lose, was George Miller maybe going to win for Best Directing? Was – gulp! – Best Picture actually gonna happen? No and no, it turned out. Still, bully to the Academy for such hugely deserved recognition, and no one should feel at all bad for the movie's unrewarded helmer (who, let's remember, does have an Oscar ... even if it is for Happy Feet). He was always a longshot, and for that first hour, in cutaway after cutaway, no one looked liked he was enjoying the night more than George Miller.
As expected, one of the few Oscars Mad Max didn't win was Best Cinematography, which instead went to The Revenant's Emmanuel Lubezki, his third such victory in a row. Also as expected, The Revenant's Iñárritu nabbed his second Best Directing statuette in a row (a feat previously accomplished only by John Ford and Joseph L. Mankiewicz). And when DiCaprio had his inevitable Best Actor triumph – and delivered, I'll admit, a humble and rather beautiful speech – it seemed clear that for The Revenant, Best Picture was likewise in the bag.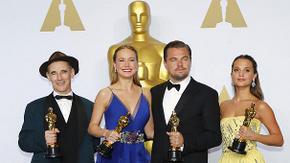 But then came the Spotlight switcheroo, which, it turned out, was merely the night's final example of Oscar voters' capacity for surprise. Stallone losing Best Supporting Actor to Bridge of Spies' Mark Rylance? Ex Machina winning Best Visual Effects over three Best Picture nominees and the new Star Wars? (Despite five nominations, J.J. Abrams' franchise-extender went home empty-handed.) That hideous number from Spectre beating out The Hunting Ground's and Lady Gaga's "'Til It Happens to You," a song whose powerful presentation earned a standing ovation after its presenter, Vice President Joe Biden, earned his own standing ovation? (I went an equally hideous 13-for-24 in my final predictions but refuse to beat myself up about it, considering most of the wins I didn't forecast went to choices I actually preferred ... notwithstanding that James Bond ditty.)
Last night's shockers were plentiful and consistent – and, in a lovely development, so were the show's pleasures. As always, there are things to bitch about regarding the annual Oscars telecast. (My list would include Sacha Baron Cohen, Sarah Silverman, and that guy in the bear costume – a Revenant joke wa-a-a-ay past its expiration date.) But in the spirit of Chris Rock's unexpectedly upbeat kickoff to the proceedings, let's end on some equally happy memories: Angela Bassett's "Black History Minute." Dave Grohl's gorgeous take on "Blackbird" for the "In Memoriam" segment. The intros to the sound and visual-effects categories, underlining exactly what it is their artists do. Abraham Attah and Jacob Tremblay. Steve Carell and Tina Fey. ("Tina's been drinking.") The ticker "thank you" scrolls. The Oscar-speech commercials for Kohl's. Ennio Morricone's standing ovation (the length and fervor of which proved him more popular than Biden). Andy Serkis. Brie Larson. Woody and Buzz looking great, if sounding a bit tired, at age 20. And Chris Rock helping his daughter raise more than $65,000 for the Girl Scouts. He may not win an Emmy for his hosting duties, but Rock has to have Father of the Year all sewn up.
2016 Academy Award winners
Best Picture: Spotlight
Best Directing: The Revenant, Alejandro González Iñárritu
Best Actress: Brie Larson, Room
Best Actor: Leonardo DiCaprio, The Revenant
Best Supporting Actress: Alicia Vikander, The Danish Girl
Best Supporting Actor: Mark Rylance, Bridge of Spies
Best Original Screenplay: Spotlight, Thomas McCarthy, Josh Singer
Best Adapted Screenplay: The Big Short, Adam McKay, Charles Randolph
Best Animated Feature: Inside Out
Best Foreign-Language Film: Son of Saul, Hungary
Best Documentary Feature: Amy
Best Original Song: "Writing's on the Wall," Spectre
Best Original Score: The Hateful Eight
Best Cinematography: The Revenant
Best Film Editing: Mad Max: Fury Road
Best Production Design: Mad Max: Fury Road
Best Costume Design: Mad Max: Fury Road
Best Sound Editing: Mad Max: Fury Road
Best Sound Mixing: Mad Max: Fury Road
Best Visual Effects: Ex Machina
Best Makeup & Hairstyling: Mad Max: Fury Road
Best Documentary Short: A Girl in the River: The Price of Forgiveness
Best Live-Action Short: Stutterer
Best Animated Short: Bear Story (Historica de Un Oso)