The conversation about this year's Oscars may have been swallowed whole by the second-annual #OscarsSoWhite controversy, but there are still predictions to be made!
With Best Picture, thrillingly, the most unpredictable category of this year's Academy Awards telecast (scheduled to air on ABC at 7 p.m. Central on Sunday, February 28), here are my educated and admittedly uneducated guesses in the evening's 24 categories. The past two years, I guessed 18 of 24 correctly. The year before, I had a personal best of 19 out of 24. This year, I'm feeling wholly confident on about 15 of my guesses, so if you're making bets with your co-workers or bookies, make sure not to wager a hefty amount of personal wealth.
Best Picture
The Big Short
Bridge of Spies
Brooklyn
Mad Max: Fury Road
The Martian
The Revenant
Room
Spotlight
I'm basing this hunch not on the film's Golden Globes win or Alejandro González Iñárritu's recent Directors Guild of America victory, but on the notion that "little movies" The Big Short and Spotlight will cancel themselves out in the voting process, and that the Mad Max fanatics will rally toward the (disemboweled) pony with better odds.
Best Directing
The Big Short, Adam McKay
Mad Max: Fury Road, George Miller
The Revenant, Alejandro González Iñárritu
Room, Lenny Abrahamson
Spotlight, Thomas McCarthy
And Directors Guild champ Iñárritu will be only the third man (excuse me, director ... although they have all been men ...) to win consecutive Best Directing trophies in the Academy's 88-year history. Kind of makes you feel even worse for last year's Wes Anderson and Richard Linklater, doesn't it?
Best Actress
Cate Blanchett, Carol
Brie Larson, Room
Jennifer Lawrence, Joy
Charlotte Rampling, 45 Years
Saoirse Ronan, Brooklyn
I really, really thought Ronan would give Larson a run for her money here. Precursor bodies didn't agree. Ah, love ... it really does make you think the darnedest things ... .
Best Actor
Bryan Cranston, Trumbo
Matt Damon, The Martian
Leonardo DiCaprio, The Revenant
Michael Fassbender, Steve Jobs
Eddie Redmayne, The Danish Girl
Yes, Leo. The grunting and crawling and sobbing and saliva and freezing temps and unwieldy facial hair and bison-liver diet will have paid off. Can we all move on with our eff-ing lives now?
Best Supporting Actress
Jennifer Jason Leigh, The Hateful Eight
Rooney Mara, Carol
Rachel McAdams, Spotlight
Alicia Vikander, The Danish Girl
Kate Winslet, Steve Jobs
I'll mitigate my disappointment about Vikander's likely win for her over-directed (and consequently over-scaled) performance in this loathsome movie by imagining that it's instead acknowledgment of her work in 2015's Ex Machina. Or Testament of Youth. Or The Man from U.N.C.L.E. Or The Seventh Son. Or her five minutes in Burnt.
Best Supporting Actor
Christian Bale, The Big Short
Tom Hardy, The Revenant
Mark Ruffalo, Spotlight
Mark Rylance, Bridge of Spies
Sylvester Stallone, Creed
Oscar-night host Chris Rock and #OscarsSoWhite are likely to make Academy voters feel bad for much of the evening. Here's their chance, for just a minute or two, to feel good.
Best Original Screenplay
Bridge of Spies, Matt Charman, Ethan Coen, Joel Coen
Ex Machina, Alex Garland
Inside Out, Josh Cooley, Ronnie Del Carmen, Pete Docter, Meg LeFauve
Spotlight, Thomas McCarthy, Josh Singer
Straight Outta Compton, Andrea Berloff, Jonathan Herman, S. Leigh Savidge, Alan Wenkus
Please, God, let voters not collectively choose to "make a statement" by bypassing Spotlight in favor of Straight Outta Compton. This is not the year, or the movie, for us to watch four white writers ascend to the podium.
Best Adapted Screenplay
The Big Short, Adam McKay, Charles Randolph
Brooklyn, Nick Hornby
Carol, Phyllis Nagy
The Martian, Drew Goddard
Room, Emma Donoghue
Quite possibly our one chance for a funny acceptance speech ... unless Sly slurs through or mispronounces a bunch of words ... .
Best Animated Feature
Anomalisa
Boy & the World
Inside Out
Shaun the Sheep Movie
When Marnie Was There
Probably the evening's only win you can bet your children on. If you don't much care for your children, feel free to go for it in a bunch of other categories, too.
Best Original Song
"Earned It," 50 Shades of Grey
"Manta Ray," Racing Extinction
"Simple Song #3," Youth
"'Til It Happens to You," The Hunting Ground
"Writing's on the Wall," Spectre
And if this likely prediction is true, Lady Gaga will be the possessor of more competitive Oscars than Alfred Hitchcock, Glenn Close, Sidney Lumet, Annette Bening, Robert Altman, Sigourney Weaver, Peter O'Toole, Richard Burton, Amy Adams, Michelle Pfeiffer ... .
Best Foreign-Language Film
Embrace of the Serpent, Colombia
Mustang, France
Son of Saul, Hungary
Theeb, Jordan
A War, Denmark
Voters like to go unexpected in this category. But almost never when a Holocaust drama is in play.
Best Documentary Feature
Amy
Cartel Land
The Look of Silence
What Happened, Miss Simone?
Winter on Fire: Ukraine's Fight for Freedom
This category was much harder to gauge before the Academy opened voting rights to the entire membership, and not just a blue-ribbon panel. Since then, you can't go wrong predicting the most popular doc – especially if it's a popular music-themed doc.
Best Original Score
Bridge of Spies
Carol
The Hateful Eight
Sicario
Star Wars: The Force Awakens
On Oscar ballots, composers' names aren't included alongside the films they're nominated for. But Tarantino has been so loud that there can't be any voters unaware that 87-year-old legend Ennio Morricone came out of retirement for this one, and has never before won a competitive Oscar. Although he did win an honorary one in 2007. Quentin's been remarkably quiet about that.
Best Cinematography
Carol
The Hateful Eight
Mad Max: Fury Road
The Revenant
Sicario
A hat trick for Chivo. Shorthand for Emmanuel Lubezki winning his third cinematography Oscar in a row. Also a pretty good title for a short story by Hemmingway.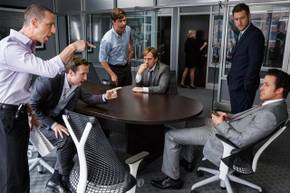 Best Film Editing
The Big Short
Mad Max: Fury Road
The Revenant
Spotlight
Star Wars: The Force Awakens
A.k.a. the moment the Revenant dissenters among us think there's some Best Picture hope before our dreams are dashed two-plus hours later.
Best Production Design
Bridge of Spies
The Danish Girl
Mad Max: Fury Road
The Martian
The Revenant
If The Revenant wins here instead, watch out.
Best Costume Design
Carol
Cinderella
The Danish Girl
Mad Max: Fury Road
The Revenant
If The Revenant wins, really watch out.
Best Sound Editing
Mad Max: Fury Road
The Martian
The Revenant
Sicario
Star Wars: The Force Awakens
A guess based on it being louder than The Revenant.
Best Sound Mixing
Bridge of Spies
Mad Max: Fury Road
The Martian
The Revenant
Star Wars: The Force Awakens
A guess based on its being subtler than Fury Road.
Best Visual Effects
Ex Machina
Mad Max: Fury Road
The Martian
The Revenant
Star Wars: The Force Awakens
In recent years, voters have either gone with a Best Picture nominee (Inception, Hugo, Life of Pi, Gravity) or one that easily could have been a Best Picture nominee (Interstellar). Let's go with George Miller's largely practical effects trouncing Rildey Scott's outer-space imaginings and Iñárritu's bear.
Best Makeup & Hairstyling
The 100-Year-Old Man Who Climbed Out the Window & Disappeared
Mad Max: Fury Road
The Revenant
The 100-Year-Old Man's aging makeup is admittedly impressive, and I'm personally rooting for Immortan Joe. But oh, those beards! That viscera! Those gnarled teeth that Iñárritu and DiCaprio and company can't stop forcing us to wince at!
Best Documentary Short
Body Team 12
Chau, Beyond the Lines
Claude Lanzmann: Spectres of the Shoah
A Girl in the River: The Price of Forgiveness
Last Day of Freedom
1985's seminal Holocaust documentary Shoah wasn't nominated for an Oscar. Its creator (by proxy) should win one.
Best Live-Action Short
Ave Maria
Day One
Everything Will Be Okay (Alles Wird Gut)
Shok
Stutterer
I'm going with this guess based solely on its premise, in which a car full of Israelis breaks down in front of a convent whose nuns have all sworn a vow of silence. The New York Times described it as "a Middle Eastern answer to Curb Your Enthusiasm." Works for me.
Best Animated Short
Bear Story (Historica de Un Oso)
Prologue
Sanjay's Super Team
We Can't Live without Cosmos
World of Tomorrow
The animated apologia for #OscarsSoWhite. But also a superhero adventure. Voters must be so divided.
For an analysis of the 2016 Oscar race and #OscarsSoWhite controversy, visit "#OscarsWhoWhat?"
Follow Mike on Twitter at Twitter.com/MikeSchulzNow.