Movies are made of moments, and after some consideration, I can't think of a single Best Picture lineup that has provided more memorable moments than the one competing at this year's Academy Awards ceremony, airing on ABC affiliate WQAD on February 27.
Sure, having 10 contenders for the big prize, as opposed to the previously traditional five, doubles your chances (at least in theory) of being knocked out by some magical bit of filmmaking. But what's astonishing about the nominees for the 2011 Best Picture Oscar, at least for me, is that any five you could name feature a greater number of sensationally effective, thematically resonant flourishes - compositions, line readings, examples of visual or aural technique - than in any of the anointed five over the past several decades. Nearly across the board, I was knocked out by the Big Picture in this year's crop of Best Picture candidates, but I was even more floored by their many, many little snapshots.
So in praising this terrifically inspired roster, I thought I'd borrow from a discontinued feature in Film Comment magazine called "Moments Out of Time," and celebrate the year's contenders through a series of individual mentions that help explain why, for my money, 2011's Best Picture lineup is one for the ages. Moment for moment, it was a helluva year.
The haunting echo of Toy Story 3's "You've Got a Friend in Me" as Randy Newman's lyrics trail off, and 10 years pass in a blackout ... .
A man's hand fumbles for, and doesn't find, a Swiss-army knife on a closet shelf - someone's 127 Hours just got a lot more challenging ... .
"You would do that for me?": a seemingly benign question asked twice in The Social Network, and both times as an Aaron Sorkin way of saying "I freaking hate you" ... .
The first public address by the future King George VI (Colin Firth), his stammer reverberating through the air, suggesting that the whole world can hear his humiliation - The King's Speech ... .
The Fighter's Dicky Eklund (Christian Bale) on the couch, schmoozing the HBO crew - so animated, so magnetic, so ... . Hey, how long has brother Micky (Mark Wahlberg) been sitting there? ... .
Lingering discomfort as platonic pals (Mia Wasikowska and Kunal Sharma) react to the suggestion that they "just do it and get it over with": We would never ... or would we ... ? - The Kids Are All Right ... .
Early montage of neon-lit fast-food signs, less product placement than a foreshadowing of regret ("I should've stopped for a burger ... ") in 127 Hours ... .
Architect Nash (Lukas Haas) being dragged away by hired goons as the helicopter departs: Do the job right or never be heard from again - Inception ... .
The dozens of miniature stuffed animals in Black Swan, keeping silent watch over their owner, ensuring that she'll never grow up ... .
"And here is what I have to say about the saddle ... .": True Grit's Mattie Ross (Hailee Steinfeld) bartering with a horse-trader, her tenacity wearing down the first of many adults who'll cross her ... .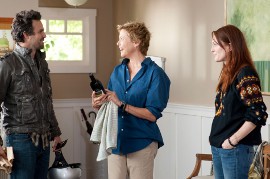 Ozark jamboree - Winter's Bone's milieu expressed through soulful bluegrass crooning in one room and the hesitant revelation of secrets in another ... .
The Queen Mum forever nibbling on snacks in The King's Speech, for those of us wondering how the royal could ever, possibly, have been as skinny as Helena Bonham Carter ... .
Humiliation and horror on the face of Erica Albright (Rooney Mara) as she's mocked by fellow students, and realizes just how quickly hatred moves on the Internet - The Social Network ... .
The digits!: a boxer so giddy about scoring a pretty bartender's phone number that he doesn't notice the bar fight taking place three feet behind him - The Fighter ... .
MIA playthings: the tender acknowledgment of Wheezy and Etch and Bo Peep, characters who didn't evade enough rummage sales to make it to a second sequel - Toy Story 3 ... .
A slip, a fall, a dilemma, and the appearance of a title card many minutes after thinking the opening credits were over: Danny Boyle surreptitiously starting 127 Hours' clock ... .
"Oh ... a Petite Sirah!": Wine lover Nic (Annette Bening) wondering if she's judged her gift-bringing sperm donor (Mark Ruffalo) too harshly, before soon realizing, nah, she hasn't - The Kids Are All Right ... .
A stage mother's cruelty, and control, in a literal throwaway gesture: Black Swan's Barbara Hershey rushing to the kitchen garbage can, and threatening to toss out the prettiest cake you've ever seen ... .
The city street folding on itself in Inception - a suggestion of the unlimited possibilities of the imagination, and an early "How will they top this?" effect that never actually gets topped ... .
"I already warned you once with my mouth.": a perfectly civil, even courteous threat of violence should a girl keep digging into matters that don't concern her - Winter's Bone ... .
Enter the hero ... kind of - a literally glowing introduction as True Grit's LaBoeuf (Matt Damon) lights his pipe on the boarding-house porch ... .
To be or not to be - a Victrola recording allows a future ruler to hear, for the first time, what he'd sound like without a stammer ... speech therapy by way of Mozart in The King's Speech ... .
The dull hum of fluorescent lights as Mark Zuckerberg (Jesse Eisenberg) endures Harvard's disapproval ... figurative droning tedium meets literal droning tedium in The Social Network ... .
"I had to read the whole fuckin' movie.": Charlene (Amy Adams) strongly hinting that seeing a foreign film was maybe not the ideal first date for a girl from Lowell - The Fighter ... .
Toy Story 3's Buster waddling into view - Pixar's pointed reminder that, since the last time we were in Andy's bedroom, most of us have gotten heavier and slower, too ... .
Or we could take the train ... : A girl hops in a cab three seconds before a speeding locomotive barrels through downtown traffic - Inception ... .
A mother in The Kids Are All Right so upset about a recent interloper that she finds herself arguing against composting ... .
Black Swan's Nina (Natalie Portman) passing her smirking doppelgänger/subconscious in the hallway, an unspoken promise that the two will meet again, and again, and again ... .
If it looks like a bear and sounds like a bear ... : the winter wardrobe and growling basso profundo of the horse-riding medicine man in True Grit ... .
Michael Gambon's King George V, with the wide eyes of a child, signing away all rights to the throne yet not understanding why - dementia handled through abdication in The King's Speech ... .
A sleepy grade-schooler and his dad watch the sunrise, and without words, 127 Hours elegantly explains everything you need to know about why Aron Ralston (James Franco) is who he is ... .
Melissa Leo in The Fighter: a mother's broken heart slowly mending through an a cappella rendition of the Bee Gees' "I Started a Joke" ... .
Winter's Bone's recruiting officer explaining to Ree Dolly (Jennifer Lawrence) why the 17-year-old shouldn't join the Army - a moment of kindness and sanity in Ree's otherwise unkind and insane world ... .
Blaring nightclub music still not drowning out the parable/pitch by Sean Parker (Justin Timberlake), because you can hear the devil even when he's whispering - The Social Network ... .
"And ... tits.": George attempts to maintain his decency by bringing his tongue-loosening exercise to a hilariously anticlimactic end - The King's Speech ... .
"Whose subconscious are we going into, exactly?" - Inception's Ellen Page, saying what everyone's thinking in the movie year's most empathetic laugh line ... .
"I shall return!": The Kids Are All Right's Jules (Julianne Moore) countering her kitchen-make-out-session embarrassment with aggressive good cheer, and consequently leaving the scene even more embarrassed ... .
Paradise by the dashboard lights: the freewheeling happiness of a winter snowstorm, a beater car, and a dozen mostly naked bodies - 127 Hours ... .
The mother of all mood killers: Black Swan's ballerina giving masturbation a try, and immediately stopping after glancing at her bedroom chair ... .
In the Hall of the Mountain King: Spurred on by Grieg, The Social Network's Winklevi (Armie Hammer) compete and come this close to greatness ... again ... .
Horrific violence as a man loses his fingers and another is shot in the head in three seconds flat - the Coen brothers proving that that this ain't your papa's True Grit ... .
"Is this our time?": John Hawkes' Teardrop addressing Garrett Dillahunt's sheriff, the shotgun in his lap suggesting just how far he'll go for family - Winter's Bone ... .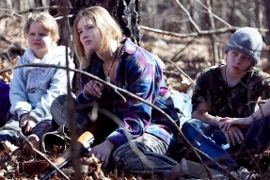 The single-minded stare and hideous shriek of Toy Story 3's cymbal-playing monkey, topping Close Encounters in viewing the toy as the scariest child's plaything imaginable ... .
An inmate's mortification in The Fighter, as his biographical comeback movie is revealed to be a documentary exposé on crack addiction ... just like the filmmakers repeatedly told him ... .
Lily (Mila Kunis) casually obliterating a fellow dancer's happiness, sexual confidence, and sanity with three simple words - "Was I good?" - in Black Swan ... .
Joseph Gordon-Levitt methodically tying bodies together in a zero-gravity environment - business as usual in Inception ... .
Hair in the drain: the dawning recognition of an adulterous fling, and a punishing dinner-table silence, in The Kids Are All Right ... .
Casual effrontery in a camera move: The King's Speech therapist Lionel Logue (Geoffrey Rush) suddenly appearing in a chair that, for the love of God, he is not allowed to sit in ... .
The horrific buzz of a chainsaw as it slices through water, and flesh and bone, twice - a teenager receives the evidence she desperately needed but never wanted in Winter's Bone ... .
127 Hours' enormous, inflatable Scooby-Doo - a symbol of long-gone childhood simultaneously beckoning to and mocking our hiker ... .
Mr. Tortilla Head - Toy Story 3 hits the series' height of surreality as a plastic potato becomes a figure that Picasso himself would've been proud to paint ... .
Endless walk below starry skies: The heavens themselves seem to smile upon True Grit's Rooster Cogburn (Jeff Bridges) as he performs the one wholly selfless act of his life ... .
A just-released prisoner walking alone on the street, carrying a sagging "welcome home" sheet cake, searching the block for his old drug buddies - Worst Homecoming Ever in The Fighter ... .
Whose murder are we going into, exactly? - tricky editing ensuring that we're as unglued as Black Swan's prima ballerina during a dressing-room bloodletting ... .
"I think you're too old.": a son's simple reasoning for why his parents shouldn't split up ... reasoning that neither parent can necessarily disagree with - The Kids Are All Right ... .
And the circle of life continues: A little girl picks up and strums the banjo that her departing uncle has just set down, probably for the last time - Winter's Bone ... .
Citizen Zuckerberg: Xanadu replaced by a downtown law office as a lonely billionaire loses himself in an image from his past (refresh ... refresh ... refresh ... ) - The Social Network ... .
The straight-backed (and one-armed) walk into True Grit's horizon - a journey made, and respects paid, and that's that then ... .
Toy Story 3's Spanish-language rendition "You've Got a Friend in Me (Para Buzz Español)" - proof that everything's cheerier with a Latin beat ... .
Don't Stop Believin': Before the cut to black, Inception's top spinning, and spinning, and teetering ju-u-ust a little ... .
For Mike's predictions of this year's Academy Award winners, see "King's for the Day: 2011 Oscar Predictions."