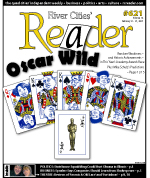 What, exactly, is going on this year?
When the Academy Award nominations were announced in January and Dreamgirls found itself shut out of the Best Picture race, the news was something of a surprise, as the film was widely considered a shoo-in. The bigger shock, though, came from realizing that the snubbed musical still received more nominations than any other film - eight in all - and the last time a film led in Oscar nominations without a corresponding Best Picture nod was ... well, never.
But the Oscar weirdness didn't end there.
The film that was awarded the second-most nominations - Best Picture nominee Babel - received seven, and you'd have to go back to 1952 to find a Picture contender that led with so few. The combined 26 nominations for the five Best Picture candidates - which includes six for The Queen, five for The Departed, and four each for Letters from Iwo Jima and Little Miss Sunshine - forms the category's lowest nomination total since 1933. And for the first time in Academy Awards history, none of the year's Best Actor nominees was cited for his work in a corresponding Best Picture nominee.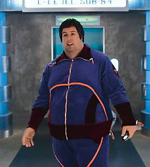 Oscar oddities abounded in this year's race. Dreamgirls became the first live-action film to score three nominations in the Best Original Song category. The largely improvised Borat: Cultural Learnings of America for Make Benefit Glorious Nation of Kazakhstan received a Best Adapted Screenplay nod. An Adam Sandler slob comedy earned more nominations (granted, one) than A Prairie Home Companion, World Trade Center, Thank You for Smoking, Casino Royale, Stranger Than Fiction, The Painted Veil, Charlotte's Web, Hollywoodland ... .
And come February 25, things may only get more bizarre - and quite possibly historic.
In between Oscar host Ellen DeGeneres' shtick and the traditional, sure-to-be-god-awful production numbers, the following are categories and individuals worth paying attention to at this year's telecast. Commit these interesting and unusual factoids to memory, and you're sure to be the most impressive person at your Oscar party. Or the biggest geek in the room. Depends on the party, I guess.
If The Departed wins Best Picture ... it'll be the first time since 1977's Annie Hall that a film with only five nominations scored the evening's highest honor. It'll also be the first Scorsese film to win Best Picture, despite nominations for Taxi Driver, Raging Bull, GoodFellas, Gangs of New York, and The Aviator.
If Letters from Iwo Jima wins Best Picture ... it'll be the first time since 1933's Cavalcade that a film with only four nominations did so.
If Little Miss Sunshine wins Best Picture ... not only will it have broken that 73-year-old streak, but it'll be the first Best Picture winner since 1980's Ordinary People that wasn't nominated for Best Film Editing, and one of only three Best Pictures in history - Grand Hotel and Driving Miss Daisy being the others - that didn't receive a Best Director nomination.
If Peter O'Toole loses Best Actor ... he'll have lost in this category on eight separate occasions, which will be a new record. Okay, so you knew that one. But perhaps you didn't know that ...
... if The Good German loses Best Original Score ... composer Thomas Newman will tie O'Toole's stat, having been nominated in this category seven previous times. And while we're on the subject ...
... if Meryl Streep loses Best Actress (and, sorry, she will) ... she'll have lost out on her last 10 acting nominations. (Of course, with two wins and two nominations besides those 10, these are the problems you want to have.) And if you think that's a losing streak ...
... if Apocalypto loses Best Sound Mixing ... its trio of mixers will be 0-for-31 at the Oscars, and that's with Fernando Camara being a first-time nominee. This marks Greg P. Russell's 11th nomination, and Kevin O'Connell has been nominated 18 previous times - no victories, for either, on any of those attempts. (I'd love to be rooting for them ... if only it weren't Apocalypto ... .)
If Eddie Murphy wins Best Supporting Actor ... he'll be the first Saturday Night Live alumnus with an Oscar, after previous nominations for Bill Murray, Dan Aykroyd, Joan Cusack, and Robert Downey Jr.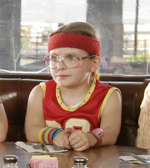 If Abigail Breslin wins Best Supporting Actress ... she still won't be the youngest Oscar winner ever. When Tatum O'Neal won Supporting Actress for 1973's Paper Moon, she was 10 years and 148 days old. If Breslin wins, she'll be 10 years and 261 days old.
If (God forbid) Martin Scorsese loses Best Director ... he'll be the only director with six or more nominations and no wins, surpassing Best Director also-rans Robert Altman, Clarence Brown, Alfred Hitchcock, and King Vidor.
If Pan's Labyrinth wins Best Foreign-Language Film ... it'll be the first time a film from Mexico has prevailed in this category, despite six previous Best Foreign-Language Film nominations.
If any film wins Best Documentary Feature (and I'm reasonably sure one will) ... its winner will be batting 1.000 at the Academy Awards; this is the year's only category to feature all first-time nominees.
If a woman wins Best Costume Design ... it won't be the least bit surprising, as the category's nominees this year are all women.
If Flags of Our Fathers wins Best Sound Editing over Letters from Iwo Jima ... Alan Robert Murray probably won't much care, as he's nominated for both.
If "I Need to Wake Up" wins Best Original Song ... and if, as anticipated, An Inconvenient Truth wins Best Documentary Feature, it will be the first time a documentary has won more than one Academy Award. The last doc to even be nominated for more than one was 1970's Woodstock, which was cited for Best Film Editing and won Best Documentary Feature, and the last nonfiction film to get an Original Song nomination was 1963's Mondo Crane.
If Children of Men wins Best Film Editing ... at least director Alfonso Cuarón will have received some recognition for his work; he and Alex Rodriguez are the movie's editors. (Cuarón is the first director to be cited for editing his own movie since James Cameron, who, alongside Conrad Buff and Richard A. Harris, received the Oscar for Titanic.)
If Lifted wins Best Animated Short ... it will be director Gary Rydstrom's eighth Oscar, having won two for Saving Private Ryan, one for Titanic, two for Jurassic Park, and two for Terminator II: Judgment Day. (Like giving one of those to Marty would kill him?)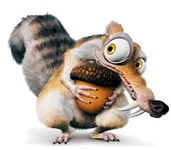 If No Time for Nuts wins Best Animated Short, or if Pirates of the Caribbean: Dead Man's Chest wins anything ... they'll join Spider-Man 2 and Terminator II: Judgment Day as Oscar-winning sequels to Oscar-less originals. (Technically, though, Nuts isn't a sequel so much as a spin-off; the short is an adventure featuring the beleaguered Ice Age rodent Scrat.)
If Click wins for Best Makeup ... I'll freaking kill myself.