Last March, in promoting his eventual blockbuster Furious 7, Vin Diesel made a bold pronouncement to Variety: "It will probably win Best Picture at the Oscars, unless the Oscars don't want to be relevant ever."
Predictably, Diesel's braggadocio about his movie – the latest in a series of genially dopey action thrillers that had never garnered any previous Academy notice – was much repeated, and mocked, in the press. But here we are 11 months later, with Furious 7 nowhere near the 2016 Oscar race, and one wonders if Vin Diesel is not only buff and baritone-voiced, but quite possibly prescient.
No one – probably not even Diesel himself – thought Furious 7 had a hope in hell of scoring a Best Picture nomination, let alone a win. Yet in retrospect, Oscar voters could've done worse than recognize this box-office behemoth – $350-million-plus domestic, $1.5-billion-plus worldwide – that earned numerous rave reviews (81-percent "certified fresh" on RottenTomatoes.com) and boasted the sort of multi-ethnic cast that the global marketplace is more frequently demanding and obviously receptive to.
In truth, voters did do worse.
Just one year after the #OscarsSoWhite public-relations disaster of 2015, in which performers of color – including Selma lead David Oyelowo – were wholly ignored in the acting categories, we're in the midst of #OscarsSoWhite deux with 20 competing Caucasians: another race, another lack of race. But Selma and producer Oprah Winfrey were at least nominated for Best Picture. This year, Creed – a critically acclaimed, hugely popular tale of a struggling African-American boxer that's only peripherally about Rocky Balboa – found Sylvester Stallone its only nominee. Straight Outta Compton, an equally acclaimed, even-more-popular bio-pic on the rap artists of N.W.A., scored a nomination only for its quartet of white screenwriters. Nothing for the African-war drama Beasts of No Nation, despite its raves and co-star Idris Elba's Golden Globe and Screen Actors Guild (SAG) Award citations. Nothing for Tangerine, the innovative indie about black trans life. Nothing for Spike Lee's timely and incendiary Chi-raq ... .
The Twittersphere exploded (because that's what the Twittersphere does best) with charges of racial bias and outright racism, and rather amazingly the Academy didn't try to sweep the accusations, and the larger issue of Hollywood diversity, under the rug; it actually took decisive action. On January 22, just eight days after the nominations were revealed, Academy of Motion Picture Arts & Sciences President Cheryl Boone Isaacs announced major changes designed to weed out voters – a majority of them, presumably, white men of a certain age – who haven't worked in the film industry in decades, and theoretically don't have their fingers on the pulse of the contemporary film scene. (A recent study showed that 94 percent of the Academy is white and 76 percent is male, and the median age of an Oscar voter is 63.)
Isaacs also announced a concentrated effort to radically increase the number of women and artists of color within the Academy over the next several years.
And to nearly everyone but those now in danger of losing their voting rights – an understandably aggrieved and vocal bunch – a motion-picture Academy that more accurately reflects our population, and the movies that are being seen and loved, can only be a good thing for the institution. Especially if, as Diesel suggested, the Academy hopes to stay at all relevant.
But in terms of the Oscar nominations, what exactly happened this year? Why were films about blacks – and, by extension, every other racial minority – so roundly ignored? Why have there been two consecutive goose eggs for performers of color, especially considering that 24 performances by black actors were nominated from 2005 to 2014? (That may not be a superb showing, but it is 12 percent of the total 200 nominees; our most recent census estimated the African-American population at 13.2 percent.)
In lieu of going with the simplest answer to those questions – that the Academy somehow turned collectively racist two years ago – let's look at a few other possibilities.
The Roles Simply Aren't There
Viola Davis received an Emmy Award this past September for her leading role on How to Get Away with Murder, becoming, astonishingly, the first black performer ever to win for Best Actress in a Drama. Davis subtly acknowledged her historic victory in her acceptance speech, saying, "You cannot win an Emmy for roles that are simply not there." You also can't win Oscars for roles that aren't there. And in 2015, where were the roles? Or, more accurately, where were the roles that could have conceivably curried Academy favor?
It's hardly news that Oscar voters, en masse, tend to gravitate toward the serious and the biographical; this year, 12 of the 20 nominated actors are playing real people (including the real-person facsimile Tom Hardy portrays in The Revenant). Of the eight others, six nominees are playing characters written as white in the books their films are based on; one nominee, Jennifer Jason Leigh, is playing an invective-spewing bigot; and one nominee is Rocky Balboa. To be sure, black performers could have been cast in some of these roles. Lupita Nyong'o would no doubt have been just as excellent as Brie Larson in Room, and The Martian would hardly have been less witty, and may have been more so, if Matt Damon and Chiwetel Ejiofor had swapped roles. (Imagine the PR nightmare, and the biting comedic social commentary that might have ensued, if NASA not only left a man stranded on Mars, but a black man stranded on Mars.) Yet there are still valid reasons for all of the Oscar-acknowledged roles to have been played by white actors.
And there are diminishing opportunities for non-whites to crack the Oscar lineup. We all know that Hollywood studios are focusing more and more on the global marketplace – on action-heavy franchise and "event" films with cross-cultural appeal – and are consequently showing less and less interest in making the kind of adult-minded and Academy-oriented fare they once did. (This is part of the reason that the great Anthony Mackie, the second lead in The Hurt Locker, is a star for Avenger-ing next to Chris Evans but not for the meaty roles his talents deserve. They don't make those roles anymore.)
But what about the legitimate contenders this year? There was Beasts of No Nation's Elba, and The Hateful Eight's Samuel L. Jackson, and Creed star Michael B. Jordan (who I originally, mistakenly thought had a good chance to win Best Actor this year). Among less-likely options, there were the ensemble casts of Straight Outta Compton and Chi-raq, plus that film's exquisite lead Teyonah Parris, and trans performers Kitana Kiki Rodriguez and Mya Taylor for Tangerine. And among such limited choices, the best shot, on paper at least, was probably Will Smith for playing head-trauma specialist Bennet Omalu in Concussion, as Smith, his character, and his film ticked off all the Academy-friendly boxes: a big star and two-time Oscar nominee playing a nobly suffering historical figure in a movie with weighty subject matter and a Christmas release date.
Yet despite Smith's Golden Globe nomination, he never had serious support amongst those in the online media whose job (or "job") is to accurately reflect the state of the Oscar race, which leads us to ...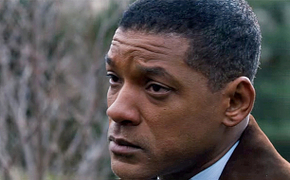 Oscar Bloggers Have Too Much Influence and Too Little Imagination
Unless he miraculously wins the Oscar, which he won't, I promise that I'll soon stop picking on Eddie Redmayne for his mannered, phony, overall terrible performance in The Danish Girl. But for the moment, let's consider him the poster boy for everything that went wrong with the Oscars' acting races this year.
There are numerous Web sites, or sections on those sites, devoted to 24/7/365 coverage of the Oscars: Variety's In Contention, the Hollywood Reporter, GoldDerby, Awards Daily, Hollywood Elsewhere, the Film Experience. And nearly all of them start making annual Academy Awards predictions as early as the period surrounding the Cannes Film Festival in May. (AwardsWatch.com even published its admittedly "early as hell" predictions for the 2017 Oscars last April; better buy some more statuette polish, Spielberg!) But by February 2015, when the first image of Redmayne in full Danish Girl regalia was released, 2016's Oscar season was already off and running; all it took was a photo of the actor as "Lili" for prognosticators to deem him an inevitable Best Actor nominee. Braver souls declared him an inevitable winner. Really brave souls – the ones who also forecast Redmayne's impending Theory of Everything victory – declared him an inevitable two-time winner.
Advance Oscar guesses of this sort, with the performances in question still months away from public viewing, are nothing new; from the moment we saw Daniel Day-Lewis in production stills for Lincoln, his name was practically emblazoned on a trophy. But even when the DiCaprio Express began rolling past him (and for a similarly unseen performance), Redmayne sat near the top of Web-site Best Actor lists for months. Even after the tepid responses to the film's festival showings; even after word got out that Alicia Vikander was handily out-acting her co-star; even after Redmayne's performance received many high-profile pans from major critics; even after the movie failed to ignite at the box office. Redmayne stayed in (online) contention because he'd always been in it, and backing down from firmly entrenched predictions is the only thing professional Oscar prognosticators hate more than being wrong. (How much lack of critical and industry support did it finally take for the Oscar media to realize Unbroken wasn't the lock they forever presumed it to be?)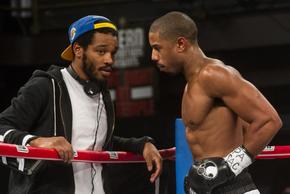 The rub, of course, is that they weren't wrong: Eddie Redmayne is a Best Actor nominee, after also being cited by the Globes and SAG and British Academy of Film & Television Arts. But while it might just be my distaste for the film and performance causing me to say this, I have to believe that the actor's inclusion – and at the expense of more deserving candidates such as Smith, Jordan, and Jackson – is at least partly due to the conversation-killing, snake-eating-its-own-tail nature of the Oscar blogosphere. Predictors had Redmayne as a favorite for so long that it started to feel less like a guess than a truth, so that by the time voters actually saw The Danish Girl, they were rewarding the hype rather than the performance. ("He must be extraordinary – I've been hearing he's an Oscar shoo-in all year long!")
Without question, there are many who find Redmayne eminently worth nominating, and I'm not suggesting that Academy members voted for him out of sheer ignorance. I am, however, suggesting that laziness played a major role. And I also feel that bloggers' insistence on keeping Redmayne – and DiCaprio, and Jennifer Lawrence – in the conversation merely because their roles had Oscar Bait written all over them kept too many others out of that conversation. Why were Redmayne and his indifferently received film championed more energetically than Smith and his indifferently received film? Why didn't Creed's Jordan – who got a too-late-in-the-game January PR boost as the National Society of Film Critics' Best Actor – get online support even after his performance was heralded and his movie a clear hit? Because, sadly ...
There Are Movies and Roles the Academy Supports, and Those It Just Doesn't
For my money, the most heartening Oscar campaign of 2015 was the one the indie studio Magnolia Pictures ran for its Tangerine stars Rodriguez and Taylor, who were vying for Best Actress and Supporting Actress. Not because the performances were deserving, although they definitely were, but because the odds of the Academy nominating two black trans actors for their roles as cheerfully profane Hollywood prostitutes in a micro-budgeted comedy shot on iPhones were ... . Gosh, have odds ever been that low before? Yet there Rodriguez and Taylor were: posing on red carpets; attending "for your consideration" screenings; enduring "Who will you wear?!" questions on the E! channel. The contenders were decided ultra-longshots and no one really expected the studio's promotional efforts to have the hoped-for happy ending. But the Tangerine campaign served as a firm and necessary reminder: This story, and these talents, and these roles, merit consideration. They matter.
To the Academy's deservedly derided stodgy-old-white-man demographic, however, maybe not so much. And maybe not so much for certain other stories and talents and roles. Oscar voters generally love a musical bio-pic ... unless the genre happens to be rap. They love boxing dramas ... unless that boxing drama is a 40-year-old franchise's sixth sequel. They love tireless crusaders bucking the system ... unless the system being bucked is the NFL's. They love terrifying über-villains ... unless that villain is committing genocide and sodomizing young boys. They love powerful women standing up for gender rights ... unless it's a woman leading a worldwide sex embargo and speaking in blank verse. They love newly minted Honorary Oscar recipient Spike Lee ... unless, in truth, they really don't.
Put simply, there's always been a wheelhouse for the kinds of films that tend to get Academy recognition, and, however unfairly, Straight Outta Compton, Creed, Chi-raq (hell, practically the entire Spike Lee oeuvre), and the rest of this year's movies about black lives didn't fall in that wheelhouse.
But there were also no nominations whatsoever for the Beach Boys bio-pic Love & Mercy. Or boxing drama Southpaw. And in the decade and a half leading up to the widespread snubbing of Selma, the disparity in representation didn't look anywhere near as dire as it currently does. Since 2001 alone: nine Oscar wins for black actors (a mere six performers were awarded over the 73 years prior); 20 additional acting nominees of color; directing nods for Lee Daniels and Steve McQueen (compared to one black director nominated through 2009); wins for Precious' Geoffrey Fletcher and 12 Years a Slave's John Ridley, the first Oscars ever awarded to black screenwriters ... .
And here's where my writing about this already loaded subject becomes downright dicey. I'm well aware that, as a white man, the aforementioned examples could read as awkward apologia for Academy negligence, as well as almost unbearably condescending and insensitive: "Hey! They gave awards to Halle and Mo'Nique and Octavia, for Pete's sake ... . What more do people want?!?" You also can't ignore that from 2000 onward, only 17 black people have been nominated in the 19 categories outside of those for acting and original song.
But what I'm really trying to say is that in the recent past, when presented with a viable contender of color, or a film on black themes that resonates with a great swath of viewers, Oscar voters don't instinctively shy away. Precious, Ray, Beasts of the Southern Wild and its star Quvenzhané Wallis, Terrence Howard in Hustle & Flow, Denzel Washington in Flight, Don Cheadle and Sophie Okonedo in Hotel Rwanda, Ruby Dee in American Gangster, Barkhad Abdi in Captain Phillips, Taraji P. Henson in The Curious Case of Benjamin Button, Djimon Houson in In America and Blood Diamond ... . None of them entered their races as done-deal nominees but made the lineups anyway, which leads to what is potentially the most vexing possibility behind the second-annual #OscarsSoWhite conundrum ...
It's Just an Accident ... Two Years Running
When Selma missed out on nods for everything except Best Picture and Original Song, it was easy to blame racial bias. But whatever the truth behind that, there were also so many other factors at work: an unanticipated late-fall American Film Institute debut that kept the movie off the radars of Oscar prognosticators; a rushed post-production schedule that prevented screeners from being sent to SAG Award voters and Hollywood's thousands of Guild members; op-ed outcry over the film's perceived misrepresentation of Lyndon Johnson; an unfortunate lack of counterargument by director Ava DuVernay and screenwriter Paul Webb; widely reported squabbles between DuVernay and Webb over the film's actual authorship; no audience buzz due to the movie not opening wide until after Oscar voting concluded. None of this year's contenders faced anything close to the level of Murphy's Law happenstance that plagued Selma.
The way I see it, however, there were also easy strikes against every single one of this year's potential nominees exploring the black experience.
Creed, as was mentioned and should be obvious, is a sequel to Rocky (a film series that hardly has a consistent track record of quality), and it also didn't get the "for your consideration" push from Warner Bros. and MGM that it could and should have – likely because its excellent notices and effusive audience response surprised even the studios. Spike Lee, to his eternal artistic credit, has never been an Oscar magnet, and even this Chi-raq devotee could see that the movie was always going to be too divisive, too edgy, and simply too weird for Academy notice. The Hateful Eight Best Actor hopeful Jackson could likely have been perceived as a supporting actor masquerading as a lead (a nice change of pace, actually, from all the 2015 leads that were touted as supporting figures). Barring Will Smith, Concussion was just a plain-ol'-bad movie. Tangerine had its trans hookers and, in the iPhone filming, the inherent threat to years of traditional movie-making practices. Beasts of No Nation was released by Netflix, the Mack Daddy of Hollywood threats. ("Catch it on opening day at the cineplex or on your couch. We don't care!") Producers Guild and SAG Award nominee Straight Outta Compton, the title with probably the best chance at recognition, still concerned a musical genre that most elderly Academy members would scream at their grandchildren to stop playing so damned loud.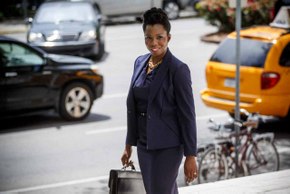 And beyond those examples, 2016's Oscar-validated titles – and most of 2015's, too – were simply, unfortunately, and unusually lacking in actors of color even in supporting roles, whether for "legitimate" reasons or not. There was multi-ethnic casting in The Revenant, of course, and some Aboriginal actors in Mad Max: Fury Road, and Ejiofor was a sizable presence in The Martian, and Adepero Oduye was granted a couple of scenes amidst all the Wall Street douchebags of The Big Short. Otherwise, though, that landscape – which includes Bridge of Spies, Brooklyn, Room, Spotlight, Carol, Steve Jobs, Trumbo, and that dreaded Danish Girl – is nearly blinding, just as it would've been last year were Selma not in the picture. (I mean, really, even Whiplash's jazz virtuosos were white!)
So is it just coincidence – an unhappy accident – that 2015 didn't give us a Precious, or a Last King of Scotland, or a Doubt, or a The Help that actors and filmmakers of color could be nominated for? Is it because so many of our best and brightest talents (Davis, Henson, Howard, and soon Denzel) are more frequently seeking the opportunities provided by TV? Are the opportunities for everyone at Hollywood studios now dictated solely by which superheroes or YA-lit fantasy characters they can convincingly bring to life?
Whatever the answer, something needs to change before Vin Diesel's prophecy comes to fruition, and I personally applaud Cheryl Boone Isaacs and the Academy's Board of Governors for taking swift and necessarily drastic action. One can only hope it has its desired effect both on the results of future Oscar voting and on the types of movies – ones exploring the whole range of human experience, "worthy" or not – that the Academy Awards were originally designed to celebrate. #OscarsSoWhite may have led to our current, dismissive culture of #OscarsSoWhat? regarding the awards' relevance. But I'm cautiously optimistic for the future – #OscarsSoWhatNow?
For Mike's 2016 Oscar predictions, visit "Hollowed-Out Horse Race."
Follow Mike on Twitter at Twitter.com/MikeSchulzNow.