THE GREAT GATSBY
Although, in the end, the film wound up an engaging and surprisingly touching entertainment, and it's visually spellbinding throughout, the first half hour of Baz Luhrmann's The Great Gatsby felt, to me, exactly like the first half hours of all Baz Luhrmann movies: annoying as hell.
As I'm a big fan of William Shakespeare's Romeo + Juliet, and a rather rabid fan of Moulin Rouge, this isn't necessarily the disparagement it might seem; more often than not (2008's grandiose soap opera Australia being the "not"), Luhrmann's movies rally quite nicely after initially off-putting openers, and this latest adaptation of F. Scott Fitzgerald's literary touchstone is no exception. But seriously, what's the deal with this auteur? Why, despite the considerable enjoyment he's delivered over the years, do his pictures always start out so aggressively irritating? When it was originally announced that Luhrmann was taking on Fitzgerald's iconic tale of Jay Gatsby, Daisy Buchanan, and the green light at the end of the dock, we had every reason to suspect that the director would imagine moneyed America in the roaring '20s as a joyously garish, Moulin Rouge-style theme park - Belle Époque with a jazz beat. (With executive producer Jay-Z responsible for the soundtrack, it's actually more of a hip-hop beat.) But even if you're prepared for the gaudy, frequently digitized luxury that Luhrmann puts on-screen, you might be shocked to discover, yet again, just how long it takes to feel welcomed into its director's world. Off-putting is one thing, but until Jay and Daisy finally lock eyes one-fourth of the way through the film, The Great Gatsby is downright alienating.
Admirers of the novel might be thrown off balance beginning with Luhrmann's and co-screenwriter Craig Pearce's decision to add to Fitzgerald's work an unnecessary, intrusive framing device, one in which Daisy's working-class cousin Nick Carraway - now a hospitalized, morbidly depressed alcoholic - tells Gatsby's story from the confines of a sanitarium. (Easily the least interesting figure in Fitzgerald's book, Nick isn't made any more intriguing by recounting his tale exactly the way Ewan McGregor's bohemian author recounted his in Moulin Rouge.) Others might simply be vexed because Nick is played by Tobey Maguire, whose perpetually popping eyes and slack jaw are far less winsome than they were in the actor's Peter Parker days, and help turn his portrayal into camp. But he's got plenty of company; barring the reliably lovely, reliably teary Carey Mulligan as Daisy, and the divinely tart Elizabeth Debicki as socialite Jordan Baker, nearly everyone seen in the film's first 30 minutes comes off as wildly overscaled. Joel Edgerton (a cartoon thug as Tom Buchanan), Jason Clarke, Isla Fisher, and others - even the extras, it seems - mug so shamelessly that they almost seem to be in a contest over who can be the movie's least appealing presence, and their combined fraudulence mixed with Luhrmann's restless, even hyperactive staging ensures that you don't believe in the movie, and can't make sense of its themes, for an instant.
Happily, though, your major qualms subside the moment Leonardo DiCaprio makes his first appearance as the impossibly privileged title character, because his casting is dangerously close to perfect. Magnetic, driven, and more than a little affected, just like Gatsby himself, DiCaprio gives the movie elegance and mystery, but more than anything he gives it heart; the actor's thoughtful, soulful performance - the richest one he's given since Shutter Island - forces Luhrmann to slow down his agitated rhythms and invest in some actual human feeling. The ridiculously lavish costume and production design by frequent Luhrmann collaborator Catherine Martin are extraordinary throughout, but it's DiCaprio, with his romanticism and hopefulness and barely concealed panic, who really gives you something worth watching; when he's on-screen, and especially when he and Carey Mulligan are sharing tortured glances, there seems to be something actually at stake in the candy-colored pinwheel universe of this Great Gatsby.
The film's flaws don't completely end with DiCaprio's arrival, as Luhrmann's proclivity for grandly operatic set pieces leads to some self-conscious goofiness right when events are at their most dramatic, and the postscript - which continues the movie even after we hear one of the most famous closing lines in American literature - is a real botch. Yet Fitzgerald's beautifully simple, sad narrative features so many wonderful scenes, and so many wonderful words, that even Luhrmann's more gauche touches can't completely sully it. And when a film boasts a star turn as wholly satisfying as the one Leonardo DiCaprio gives in The Great Gatsby, you're left with little choice but to sit back contentedly in your seat and thank the Hollywood gods that, sometimes, an entire movie can feel worthwhile thanks to one performer's charisma. When we first see Gatsby's face here, he's photographed against a backdrop of exploding fireworks while Gershwin's Rhapsody in Blue soars on the soundtrack, as if to put the man on equal footing with the New York skyline of Woody Allen's Manhattan. With another actor in the role, the overstuffed grandeur of it all might have seemed silly. With DiCaprio, it just seems fitting.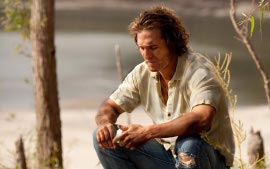 MUD
A modern-day Huckleberry Finn in which two Arkansas-based 14-year-olds (Tye Sheridan and Jacob Lofland) are recruited to help reunite a mysterious, potentially dangerous drifter (Matthew McConaughey) with his lost love (Reese Witherspoon), writer/director Jeff Nichols' Mud is a low-key but terrifically effective dramatic adventure boasting sharp dialogue, evocative imagery, and outstanding performances across the board. By its finale, the film has teetered a bit too irrevocably into melodrama - the lingering air of quiet dread is undone by a shotgun-heavy action climax out of L.A. Confidential - and I'd say a good 20 minutes of the movie's meandering midsection could be cut with no noticeable loss. (I felt the same way about Beasts of the Southern Wild, which was also set in the rural south, and was also a fine film that I fought a strong urge to nap through.) But with his first release since 2011's exceptional Take Shelter, Nichols delivers moving portraits of youthful curiosity and disappointment and complex family dynamics ... and, not for nothing, allows Matthew McConaughey to give yet another in his recent string of tremendously witty and expansive screen performances. Funny, threatening, and utterly hypnotic as the titular vagabond, McConaughey proves a first-rate ringleader to the formidable Mud ensemble that includes Michael Shannon, Sarah Paulson, Sam Shepard, Roy McKinnon, and Joe Don Baker, and the relish with which he's immersed himself in character roles of late is beyond inspiring - it's as if all those unbearable romantic comedies opposite the likes of Kate Hudson and Sarah Jessica Parker never happened. God knows they did, but if McConaughey can keep this streak up (please!), they may not have to ever again.
PEEPLES
Likability counts for a lot, so there's probably little point in discussing the weaknesses - and they are legion - in writer/director Tina Gordon Chism's Peeples, an amiable but comedically toothless Meet the Parents that finds Craig Robinson's abashed children's musician forced to make nice with the wealthy, disapproving father (David Alan Grier) of his live-in girlfriend (Kerry Washington). The movie is filled with obvious contrivances, forced slapstick encounters, and subplots that don't lead anywhere significant, and it's filmed rather atrociously; for most of Peeples' length, Chism's camera fixes itself so oppressively close to the actors' faces that you can practically count their pores. Yet while the picture isn't very funny, and is actually quite hostile toward the ravishing Washington's underwritten character, I'd be lying if I said I didn't smile through nearly all of it. Relaxed and enjoyable even when their material lets them down, S. Epatha Merkerson, Malcolm Barrett, Kali Hawk, Tyler James Williams, and the much-missed, ever-radiant Diahann Carroll are all in stellar form, while Grier delivers some gloriously aggrieved put-downs and stare-downs. As for Robinson, he isn't allowed much chance to stretch his comic talents here, but it's a thrill to finally see him land a lead, and a romantic lead, in a film that takes full advantage of the actor's singular, bad-ass-teddy-bear charms. It's been off its game for a couple of seasons now, but I'm going to miss seeing Robinson on The Office after the show airs its last episode this week. Happily, if his touching and winning work in Peeples is any indication, Robinson won't have to worry about unemployment for long.