When I phone Wizard of Oz historian John Fricke for our scheduled July 21 interview, he doesn't answer the call with a "Hello?", or even a more formal "Yes, this is John Fricke." Instead, the first three words he utters, or rather exclaims, are an exuberant "I love Iowa!"
He asks if I like that intro, and I admit that I do, primarily because it's no doubt sincere. Fricke, after all, enjoyed eight consecutive years (from 1979 to 1986) as emcee and chief entertainer for Davenport's Miss Iowa pageants and even, during that period, co-headlined a two-person Col Ballroom concert alongside an 11-piece orchestra and former Miss Iowa Darla Blocker. So "I love Iowa!" makes total sense.
Given the subject of our conversation, however, "I love Kansas!" might've been more fitting.
A great number of us, it seems safe to say, grew up loving The Wizard of Oz and Dorothy Gale portrayer Judy Garland, and for some of us those combined loves grew into youthful obsessions. Wisconsin native Fricke isn't shy about placing himself in that "some of us" category.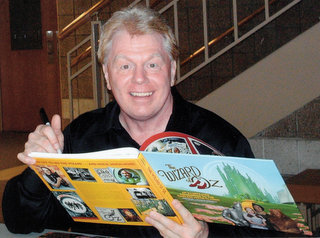 "I was acting out the Oz story in the living room from the time I was five years old," he says, right before referencing one of Garland's most beloved torch songs. "And I was the only first-grader in Milwaukee who wasn't singing 'Old MacDonald.' I was singing 'I'm gonna love you like nobody's loved you come rain or come shine.' There weren't many first-graders who could follow me – tearing myself to shreds on that little Johnny Mercer lyric."
But few such fanatics are able to turn those obsessions into actual careers, which is just what Fricke has done over the past three decades.
In the time since he assisted on a 1985 television special about The Wizard of Oz's star, Fricke has written or co-written seven books on Garland and/or Oz that have collectively sold more than 250,000 copies. He won two Emmy Awards for his work on Garland documentaries for PBS and A&E. He has discussed the Wizard of Oz legacy on NPR and Turner Classic Movies. He earned a Grammy nomination for his liner notes on the 1995 album Judy Garland: 25th Anniversary Retrospective. He provided a commentary track for Oz's 2006, 2009, and 2013 home-video releases.
And Fricke's 2013 book The Wonderful World of Oz: An Illustrated History of the American Classic, boasts more than 300 illustrations drawn from items in the world's largest assemblage of Oz memorabilia – a great many of them currently found in the Figge Art Museum's traveling exhibition The Wonderful World of Oz: Selections from the Willard Carroll/Tom Wilhite Collection (on display through September 25).
In conjunction with the exhibit, Fricke will return to Davenport to host a trio of Oz-related events: his film talk "Over the Rainbow!", taking place at the Figge on August 11, and two Adler Theatre screenings of The Wizard of Oz, shown in a rare 35-millimeter print, that Fricke will introduce on August 13.
"I've seen Oz probably a couple of hundred times over the years," says Fricke, "but there are always new little things to pick up, especially when you see it on a big screen. And especially when I'm watching somebody other than Judy Garland." He laughs. "I pick up on what the other people are doing."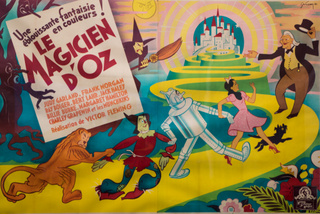 "You Have to Watch This"
Early in our conversation, Fricke, who resides in New York, mentions that he's 65. (He also provides some author-ly assistance, adding, "'Parenthetically,' Mr. Fricke said, 'please warn anybody who remembers me that it's been 30 years since you last saw me.'") Consequently, Fricke states that this autumn, 1939's The Wizard of Oz "will have been part of my day-to-day life for 60 years, because November 3, 1956, was the first time the film was on network television."
He recalls, at age five, being one of those television viewers. "My folks were elementary-school teachers in Milwaukee," says Fricke, "and it was a teachers-convention weekend, and we took the long weekend and went up north to visit my mom's family. And I had two cousins who smashed me down in front of the TV set and said, 'You have to watch this.'"
Five-year-old Fricke did, and says that his adoration for both the L. Frank Baum musical adaptation and its star came about "absolutely immediately. When you're that age, you get into the story and the characters – and the fright. Kids love to be scared by that movie. No question. I've had friends who say, 'You know, when the witch comes on, or the winged monkeys come on, my kids go screaming from the room, or just sit there screaming in front of the TV. And I turn off the set and they go, 'No! Turn it back on!'"
With a laugh, Fricke continues, "But I also – and I don't think I expressed this at the time, certainly not coherently – but I just liked the way Judy Garland sang. Her communicative power leaps off the screen, and every kid watching it gets pulled into this child's concern. I defy anybody to name anybody, then or since, who could've played that part as effectively in terms of song, dance, comedy, and, most of all, communication."
Happily for Fricke, "I had the most supportive parents, and for my sixth birthday a few weeks after that telecast – because I had talked of nothing else during that time – they bought me the Wizard of Oz vinyl soundtrack album that had come out concurrent with the telecast. Before that, there was no soundtrack recording of The Wizard of Oz available. You could buy a studio recording of Judy singing 'Over the Rainbow,' and you could buy chorale versions of 'Munchkinland' and 'If I Only Had a Brain' by anonymous vocalists. But there wasn't a full soundtrack until MGM Records did this album that had most of the songs and some of the dialogue.
"I also got, as one of my sixth-birthday presents, Judy Garland's Capitol album for 1956 [Judy], which I think my parents bought because they were afraid I had a crush on Dorothy Gale of Kansas. They wanted me to know that by then, you know, she was 34 years old.
"And then I got a Wizard of Oz storybook," he continues, "and found out that it was abridged. And when they explained what 'abridged' was, I had to have the full version. And then a year later, by chance, I found Frank Baum's fifth Oz book The Road to Oz in Gimbel's children's book department, and it had a dust jacket that listed 39 Oz books.
"So between the books and finding out that Judy had other albums," says Fricke, "I was set for Christmases and birthdays for about four or five years."
As evidenced by his career trajectory, however, Fricke's adoration of Oz and Garland extended well beyond those years. At age 11, he joined the International Wizard of Oz Club (now at OzClub.org), a group for which Fricke serves as one of the elected directors-at-large for 2016.
"I edited the club magazine," he says of his early years with the organization. "I was one of its officers. And this was not a kids' group. I mean, there were kids in it, but it's also been a lot of first-edition-book collectors and art collectors ... ."
And when Fricke later attended Northwestern University to earn his degree from the Medill School of Journalism, he finally had the chance to see The Wizard of Oz on the big screen – at which point he began to understand how Baum's magical tale speaks very differently to people of different ages.
"As a kid," he says, "you worry about Dorothy, and worry about the pet, and then Miss Gulch comes and takes the pet away, and Toto comes home, and Dorothy runs away, and the storm comes up, and Dorothy opens that door to Muchkinland – pow! That's the first 15 minutes, and everybody is drawn into Baum's world.
"By the time you're a teenager," he continues, "you're going through that whole thing of 'Am I brave? Am I smart? Is anybody ever going to love me?' Maybe you get that subliminally as a kid, but you really get it as a teenager.
"And then, as an adult, you come to realize we all have courage and intelligence and the capacity to love, but it's up to us to use them. Ray Bolger, the Scarecrow, said this in an interview: 'If you use those gifts properly – the gifts God gives everybody – they lead you home.'
"Oz sometimes takes a bum rap for that 'There's no place like home' philosophy," says Fricke. "But 'home,' as we grow older, means the people we love and the people who love us. And if you're at all lucky, you're going to leave your childhood home to find those people."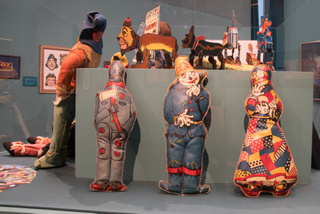 Every Time Judy Sneezed
Despite his journalism degree, it wasn't Fricke's Northwesten experience that led to his full-time role as an Oz and Judy Garland historian; it was his membership in the International Wizard of Oz Club.
Following graduation, Fricke worked in advertising at Milwaukee's now-shuttered Melody Top Theatre, and gradually transitioned to a decade-long performing career, headlining a 1976 one-man show at the Wisconsin venue and touring theatre and nightclub circuits in cities including Boston and Chicago ... and, from 1979 to 1986, Davenport. ("I had such a good time across those eight years," he says of his pageant-hosting tenure, "because we put on a good show and everyone there was determined to be entertaining. I was lucky they gave me a chance.")
Yet thanks to his Oz Club associations, "I did my first, quote, 'professional' Oz job in 1985, when I was creative consultant on a PBS special about Judy Garland's concert years. It was a show in their Great Performances series, and they had brought me in on the advice of one of Judy's ex-husbands, who said, 'John Fricke knows every time Judy sneezed.'
"It wasn't exactly the most diplomatic or glowing recommendation," he admits. "But they found out that I could guide them through what TV shows still survived, where photographs were, where audio recordings were, where interviews were. And so I became part of that team.
"And then a couple of years later," Fricke continues, "I realized that the 50th anniversary of the movie was coming up in 1989, and knew that there'd be great hue and cry, as there always is for pop-culture anniversaries of any merit." (In an aside, he adds, "And sometimes of no merit at all. God help us, you know, if 46 years from now, we're celebrating the 50th anniversary of Sharknado.")
Consequently, says Fricke, he and a pair of Oz Club friends put together a proposal for a coffee-table book on the making of the film – one that would eventually be released as 1989's The Wizard of Oz: The Official 50th Anniversary Pictorial History.
"I'd always had one foot in MGM and one foot in Frank Baum," he says, "and had gotten to know Jack Haley Jr., the man who produced the movie That's Entertainment! and the son of the Oz Tin Man. Jack took my book proposal to the head of Turner [Broadcasting]. Not the licensing people; Jack took it to the CEO of the whole company. And Jack said, 'If you want to do an Oz book for the 50th anniversary, you should have John Fricke do it.'
"So, you know, it all hit the fan in the summer of 1989," says Fricke with a laugh. "That book was a bestseller. I worked simultaneously with MGM on the 50th-anniversary home video, which sold 3.2-million copies, and for which I'd written a little 35-page booklet. I was on the Today Show, on CNN, on Entertainment Tonight ... . And that led to the other books, the CDs, the DVDs, the documentaries, the lectures – all of it."
On August 11, it will also have led to "Over the Rainbow!", Fricke's presentation held in conjunction with the Figge's Wonderful World of Oz exhibit that opened in mid-June.
"I'm going to do an illustrated talk on the making of the movie," he says, "showing bizarre costume and makeup concepts that, fortunately, were flushed, and some of the scenes that were cut, and basically taking people, week by week, through the whole Oz creative process."
He'll also be sharing some of the film's suggested "improvements" on Baum that, for better or worse (though probably better), never came to pass.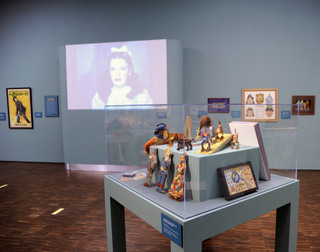 "The early scripts were so different," says Fricke, "with all these added characters and added situations. They had a princess in Oz who was gonna sing opera, and Judy was going to be the orphan from Kansas who sings jazz, as pop music was known then. And the princess was going to have a boyfriend who sang tenor to her soprano ... . I mean, this went on and on and on, and the script drafts kept piling up and piling up. And finally, the more junk they threw out and the more they got back to Frank Baum, the more expectations they fulfilled."
And two days after Fricke's Figge program, he'll speak briefly – "maybe 10 to 15 minutes max, especially if there are a lot of kids in the audience" – before the Adler's August 13 Wizard of Oz screenings. The print being shown is a rare 35-millimeter one, and, as explained on the Figge Web site, "one of a very few manufactured in 1998 when Technicolor briefly resumed a photo-chemical printing method that replicated the 'three-strip' dye-transfer color process used when the picture was made in 1939."
"Warner Bros. is making this archival print available," says Fricke, "and yeah, they don't let it out but periodically. It has to be a special occasion, and they think the Figge exhibition is one."
Beyond making audiences aware of The Wizard of Oz's striking color palette in the 35-millimeter print, Fricke says he'll also "share stuff for people to watch for in the movie. Little glitches and things of note, and some information on why these things happened."
Such as, I dunno ... why we see a dead man hanging from a background tree?
"That's the third version," says Fricke of the pervasive, discredited urban legend surrounding a strange something in the midst of The Wizard of Oz woods. "First, it was a stagehand who wandered into the shot, and they just left it there. Then it was a stagehand who killed himself. Then it was a stagehand who hung himself and was hanging by a tree. Then it became an actress who didn't get the part of Dorothy who was hanging there. Then it was an MGM executive who was terrified that the film was costing too much money who was hanging there. Then it became a Munchkin whom Judy Garland refused to date who hung himself.
"As the prints have been restored, though," he continues, "and have been done in 3D and Blu-ray and all that, and everything gets cleaner, you can see that it's kind of a gray-ish, silver-ish sheen. So now it's become a Munchkin who wrapped himself up in aluminum foil, and then hung himself."
But some viewers' continued fascination with that myth, says Fricke, is a weird kind of testament to The Wizard of Oz's continued, cross-generational appeal.
"My gosh," he says, "entertainment tastes have changed how much in 40, 50, 60, 70 years? But it doesn't matter. Those songs still get across, the performances get across, the wit gets across ... . I mean, it isn't until you're an adult that you pick up on some of the humor in the lyrics, or Dorothy asking Professor Marvel if she can go with him to see the 'The Crowned Heads of Europe' – like it says on his wagon – and he says, 'Do you know any?'
"For the record, I never intended for Oz to be my career," says Fricke. "I never intended to have this amazing list of opportunities I've had. But after 30 years, it's still a pleasure to talk about this stuff. What can I say? We don't choose these things. They choose us."
John Fricke presents his film talk "Over the Rainbow!" at the Figge Art Museum (225 West Second Street, Davenport) at 7 p.m. on August 11, and introduces screenings of The Wizard of Oz at the Adler Theatre (136 East Third Street, Davenport) at 2 and 7 p.m. on August 13. For more information on these events and the current exhibition The Wonderful World of Oz: Selections from the Willard Carroll/Tom Wilhite Collection, call (563)326-7804 or visit FiggeArtMuseum.org.