Another year; another set of Mike's sure-to-be-off-the-mark-with-at-least-a-couple-choices-in-just-about-every-category Oscar predictions!
The following are my best guesses for the 2012 Academy Award nominations - subject to change within minutes of publication - which will be announced on the morning of Tuesday, January 24. (The ceremony will be held on the evening of Sunday, February 26.)
Best Picture
The Artist
The Descendants
The Girl with the Dragon Tattoo
The Help
Hugo
Midnight in Paris
Moneyball
As you've likely heard, in yet another desperate attempt to keep the Oscar race "fresh" and "vital," the Academy has decreed that this year will see five to 10 nominees in the Best Picture category, with films needing to secure at least 5 percent of first-place rankings on voters' ballots - or roughly 250 number-one votes - to make the lineup. (Theoretically, this should mean that as many as 20 movies could make the lineup, but let's hope Academy officials don't figure that out, or they'll just change the damned rules again.) With that in mind, I'm banking on seven contenders in this category ... and am a little worried that there might only be six.
The Artist, The Descendants, and Midnight in Paris have all been short-listed by the five most reliable indicators of Best Picture heat: the Producers Guild of America (PGA), Directors Guild of America (DGA), and Screen Actors Guild (SAG) Awards, the Critics' Choice Awards (CCA), and the Golden Globes. So they're in. The Help's Tate Taylor missed with the DGA, which wasn't very surprising, and Hugo wasn't cited for SAG's Best Ensemble prize, which also wasn't surprising, so they feel safe, too. Dragon Tattoo is a really late-bloomer, having been excluded from top contention in December's SAG-, CCA-, and Globe-nomination announcements. But a January surge from the producers' and directors' (and writers' and cinematographers' and art directors' ...) guilds makes it a likely choice. Meanwhile, I should be feeling more confident about the PGA-, CCA-, and Globe-nominated Moneyball, but the lack of a DGA nod for Bennett Miller stings a bit; I'm going to predict, and hope, that overall affection for the film - and for the SAG-cited Brad Pitt and Jonah Hill - carries it through.
And that, I think, is where this Best Picture train stops. Once upon a time, I would've thought that given the intense admiration it elicits among die-hard fans, finding 250 voters willing to place The Tree of Life at the top of their ballots wouldn't be all that difficult. Given the movie's near-complete dissing by the precursors, with the PGA even unable to find room for it among a roster of 10 titles, I may have been wrong about that. War Horse is the anti-Dragon Tattoo, a movie that started strong (with PGA, CCA, and Globe nods) but eventually wilted so badly that not only was Steven Spielberg denied DGA recognition, but the movie was also dissed by the writing, art-direction, and cinematography guilds. As for Bridesmaids, nominated by the PGA, SAG, and Globes, it would've made for an enjoyable 10th inclusion in the past couple of Oscar races but will probably have to remain content with its happily surprising precursor run. With Globe and PGA nominee The Ides of March the only other mildly conceivable contender here, your Best Picture lineup is no doubt somewhere amidst the aforementioned titles. Many apologies to all of the incredibly patient Harry Potter fans out there; it ain't gonna happen this year, either.
Best Director
Woody Allen, Midnight in Paris
David Fincher, The Girl with the Dragon Tattoo
Michel Hazanavicius, The Artist
Terrence Malick, The Tree of Life
Martin Scorsese, Hugo
So here's the thing: Given his film's scope, its ambition, the degree to which he pulled it off, and his status as a living legend among directors, I don't see how Malick misses in this category. Even his being ignored by the DGA isn't necessarily a deal-breaker; when the Academy's directors' branch veers from the guild's choices, they nearly always go with the directors of challenging, edgy, oftentimes polarizing works with passionate fan bases but minimal support in other categories. In the last decade alone, Oscar nominees without an accompanying DGA citation include David Lynch for Mullholland Dr., Pedro Almodóvar for Talk to Her, Fernando Meirelles for City of God, Paul Greengrass for United 93, and Julian Schnabel for The Diving Bell & the Butterfly, and Malick and Tree of Life would seem to fit that assemblage to perfection.
But here's the other thing: Among the five directors who were short-listed by the DGA, whose place does he usurp? With his film the current Best Picture front-runner and himself the likely Best Director victor, Hazanavicius seems a done deal. Scorsese will be rewarded for Hugo's technical brilliance and artful argument for film preservation (way to play to your base, Marty!), and in case you hadn't noticed, 2011 was Woody's latest comeback year (did you catch that incredible, two-part American Masters bio on PBS?), so chalk up a seventh Best Director nod for each of them. Fincher's DGA recognition was a tad surprising, but Dragon Tattoo's increasing precursor strength bodes well for him, as does - I would hope - the residual guilt felt for his losing last year's Best Director Oscar for The Social Network.
So my guess is that Malick will instead steal a spot from the DGA's fifth contender, The Descendants' Alexander Payne. I fully concede that this might just be my anti-Descendants bias talking, as Payne hasn't yet missed a single precursor nod, and his latest outing is enormously well-regarded. But as he's guaranteed a nomination for the movie's screenplay, does Payne really need another one here, especially when his direction isn't noticeably stronger - and, in my humble opinion, is actually a good deal weaker - than Malick's? Plus, let's not forget the rather shocking omission of Inception's Christopher Nolan last year; unpredictable dissings happen all the time in this category. I'm going out on a major limb (pun intended) and saying Tree of Life over Descendants, although I'd love to see Moneyball's Bennett Miller and Drive's Nicolas Winding Refn awarded the recognition they deserve and likely won't receive. Oh, and as for the chances of Steven Spielberg? Insert the lame- or wounded-horse metaphor of your choice.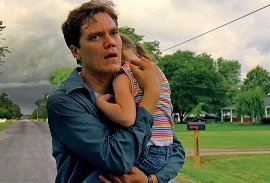 Best Actor
George Clooney, The Descendants
Leonardo DiCaprio, J. Edgar
Jean Dujardin, The Artist
Brad Pitt, Moneyball
Michael Shannon, Take Shelter
I'm hardly one for statistical analysis, even though I am working on it through incessant repeat viewings of Moneyball. So let's just say that the percentage of performers who earn SAG, CCA, and Globe nominations and then don't go on to earn Oscar nominations is really, really low. (Over the past five years, it's only happened to The Departed's Leonardo DiCaprio, A Mighty Heart's Angelina Jolie, Lars & the Real Girl's Ryan Gosling, and Black Swan's Mila Kunis.) I consequently feel incredibly secure about predicting citations for Clooney, Dujardin, and Pitt, the latter of whom seems more and more assured of an eventual victory. DiCaprio also nabbed the precursor trifecta, but J. Edgar's middling reception puts him on shakier ground; I think he'll still make the cut for fine, decade-crossing work under occasionally trying circumstances, for his "bravery" in playing a (maybe) gay historical figure, and for delivering so many recent performances - in The Departed, Revolutionary Road, Shutter Island, and Inception - for which he was probably on the bubble for a Best Actor nod but didn't break into the top five.
It's that fifth slot that's a major head-scratcher. SAG nominee Demián Bichir? Quite possibly, though his A Better Life turn is a low-key (albeit lovely) performance in a mostly forgotten film. Globe nominee Ryan Gosling? Maybe, but while he got the nod for The Ides of March, he might wind up canceling himself out with additional votes for Drive. Globe nominee Michael Fassbender? He's a critics' darling for his Shame portrayal, but those who don't care for his NC-17-rated drama positively detest it, and Fassbender's lack of a SAG nomination feels pretty telling. Barring a huge, unexpected rally for either Tinker Tailor Soldier Spy's Gary Oldman or Rampart's Woody Harrelson, then, I'm going to throw up my hands and pick Shannon, whose said-to-be-astonishing work has gone strangely ignored in the precursor stages. It would be odd for anyone without SAG, CCA, or Globe nominations to make the cut in the Oscars' acting races, but there are a few examples to back up the possibility. Such as Biutiful's Javier Bardem. Or Crazy Heart's Maggie Gyllenhaal. Or ... Revolutionary Road's Michael Shannon.
Best Actress
Viola Davis, The Help
Rooney Mara, The Girl with the Dragon Tattoo
Meryl Streep, The Iron Lady
Tilda Swinton, We Need to Talk About Kevin
Michelle Williams, My Week with Marilyn
Up until last week, I thought this category was locked tight as a drum. Streep, Swinton, Williams, and Davis (the odds-on favorite for the win) all went three-for-three in the precursor stages, and all appear rock-solid for Oscar citation; given the grimness of We Need to Talk About Kevin's subject matter and a few lukewarm reviews, Swinton's inclusion was somewhat unexpected, but there now appears to be no ignoring the strength of her portrayal. And while she was denied CCA recognition, Albert Nobbs' Glenn Close did score SAG and Globe nods and has so much Oscar-bait attached to her story that it's almost overwhelming. A passion project that she stars in, co-wrote, and wrote song lyrics for! A movie she's been trying to get made for 30 years! A legendary star of stage, screen, and television! A five-time Oscar nominee with no previous win! A wait of 23 years since her last nomination! A role as a woman in disguise as a man, for heaven's sake! Just wrap up her Oscar with a bow!
There's just o-o-o-one little hitch: According to many, the movie sucks. (Actually, according to a vocal few, Close also sucks in it.) Still, it's not uncommon for fine performers to be rewarded for subpar films, and everything seemed in place for a sure-fire Close nomination ... until a little movie titled The Girl with the Dragon Tattoo started getting recognized all over the place, and star Rooney Mara became Hollywood's new It Girl, complete with magazine covers and fan pages and the obligatory Internet scandals. (Mara spoke ill of a guest role she played years ago on Law & Order: Special Victims Unit. Horrors!) Close may have the bait - though, like War Horse, maybe too much of it - but fellow Globe nominee Mara has the heat, and besides, it would be wildly unusual for an acting category to boast five previous acting nominees; the last time it happened was actually in this category, but that was back in 1995. Let's go with Mara over Close, with only Young Adult's Chalize Theron and Bridesmaids' Kristen Wiig as possible, yet totally deserving, spoilers.
Best Supporting Actor
Kenneth Branagh, My Week with Marilyn
Albert Brooks, Drive
Jonah Hill, Moneyball
Nick Nolte, Warrior
Christopher Plummer, Beginners
Can this category really be as easy to predict as I think it is? Probably not, but I also can't make a genuine argument for anyone outside of the five listed above. Branagh and Plummer both went three-for-three in the SAG, CCA, and Globe races, so they seem set. Nolte missed out on the Globe nod that instead went to A Dangerous Method's Viggo Mortensen, but that might just be the Hollywood Foreign Press' traditional urge to get as many popular, great-looking movie stars in their banquet room as possible. (Plus, they do serve booze at that function, and memories of Nolte's infamous mug shot might be difficult to erase.) Hill didn't land a CCA nomination, but that barely matters, and he's certainly a more secure bet at this point than the admittedly excellent actors who beat him out for one: Young Adult's Patton Oswalt and Rise of the Planet of the Apes' Andy Serkis. (It was noble of CCA voters to cite Serkis in the Supporting Actor category, but the Academy seems a long way from recognizing motion-capture turns in the competitive acting categories.)
And while a SAG citation instead went to J. Edgar's Armie Hammer - who could easily be punished for that gruelingly awful old-age makeup that was forced upon him - Brooks seems poised to score his first Oscar recognition in 24 years ... even though I'm feeling a bit of an uncomfortable, Bill Murray-in-Rushmore vibe here. Like Murray in that film, Brooks is a beloved comedian who's scored tons of critics' awards for an edgy little darling of the cognoscenti that audiences didn't necessarily take to, and was subsequently dissed by SAG. Ask Murray how that particular Oscar race turned out for him. I'd take a gamble on leaving Brooks out, but while I can think of plenty of performers who could take his (or most any of the others') spot here - Brad Pitt for The Tree of Life, Ben Kingsley for Hugo, Corey Stoll for Midnight in Paris - they seem like the longest of longshots. I'm staying put.
Best Supporting Actress
Bérénice Bejo, The Artist
Jessica Chastain, The Help
Melissa McCarthy, Bridesmaids
Janet McTeer, Albert Nobbs
Octavia Spencer, The Help
Despite all of my hand-wringing in the paragraphs above, welcome to the acting category I'm actually the least comfortable about predicting! And what's especially odd is that Best Supporting Actress seems the category with the fewest number of viable contenders; barring some way-outside possibilities, I'd argue that there are really only seven - and maybe only six - conceivable choices here. I feel absolutely no hesitation about going with the three performers who all made a perfect SAG/CCA/Globe showing: Bejo, Spencer, and Chastain. (And I couldn't be happier that consensus finally formed on exactly which 2011 title Chastain would be cited for, as her award-winning turns in The Tree of Life and Take Shelter threatened to make her one the most egregious Oscar snub-ees of all time.) But that's where my assuredness ends.
Like co-star Glenn Close, McTeer was passed over by the CCA yet did make the SAG and Globe lineups. Unlike Close, it seems that everyone who's seen her Albert Nobbs performance adores her performance. Besides, with Coriolanus' Vanessa Redgrave apparently no longer in the conversation, someone needs to fill this category's requisite respected-British-character-actress slot, so I'm going with McTeer. I probably should be going with The Descendants' Shailene Woodley here, as the performer received CCA and Globe nods, and has picked up more critics' prizes to date than anyone else in this field. But I'm hesitant, because Woodley was left off the SAG list, and because she was previously best known for the TV series The Secret Life of the American Teenager. If we learned anything last year, it's that Oscar voters can occasionally be quite inhospitable toward TV-trained starlets who might be rising to professional acclaim faster than some think is warranted. (Cough cough ... Mila Kunis! ... cough cough ... .) Where does that leave us? With CCA- and SAG-nominated McCarthy. Granted, there's almost no precedent for someone getting nominated for a summertime comedy smash. Okay, there's actually no precedent whatsoever. But unless Woodley can overcome voters' hot-young-thang bias, or voters pull another name totally out of the blue (The Help's Bryce Dallas Howard? Shame's Carey Mulligan?), McCarthy it is. And McCarthy it very much deserves to be.
Best Original Screenplay
50/50, Will Reiser
The Artist, Michel Hazanavicius
Bridesmaids, Kristen Wiig, Annie Mumolo
Midnight in Paris, Woody Allen
A Separation, Asghar Farhadi
In an unprecedented happenstance, all five films nominated for the Writers Guild of America (WGA) Award in this category are comedies ... and The Artist wasn't even eligible. Hazanavicius, though, will certainly make the lineup here, likely taking the place of WGA-cited Diablo Cody and her divisive Young Adult script. And as a wholly comedic roster is unfathomable at the Academy Awards, instead of WGA nominee Thomas McCarthy for his charming Win Win (or John Logan for Rango), let's go with Farhadi for his widely acclaimed Iranian drama, among a crowded field that includes Margin Call's J.C. Chandor, Take Shelter's Jeff Nichols, and The Tree of Life's Terrence Malick.
Best Adapted Screenplay
The Descendants, Alexander Payne, Nat Faxon, Jim Rash
The Help, Tate Taylor
Hugo, John Logan
Moneyball, Aaron Sorkin, Steven Zaillian
Tinker Tailor Soldier Spy, Bridget O'Connor, Peter Straughan
Each of these titles made the WGA Award lineup except for the ineligible Tinker Tailor, with The Girl with the Dragon Tattoo the guild's fifth nominee. But as its script, in my opinion, is the movie's least impressive element - and with Dragon Tattoo screenwriter Steven Zaillian inevitably receiving recognition here via Moneyball - I'm thinking husband-and-wife team O'Connor and Straughan will sneak in instead. Fringe possibility: George Clooney, Grant Heslov, and Beau Willimon for The Ides of March. Next-to-no possibility: Lee Hall and Richard Curtis for War Horse.
Best Animated Feature
Arthur Christmas
Cars 2
Puss in Boots
Rango
Wrinkles
Given a plethora of contenders, five features - as opposed to the traditional three - will be cited in this category. Of all years for this to happen! Are we really going to be living in a world where mention of Cars 2 and Puss in Boots is preceded by the words "Oscar-nominated"? Despite hoping that Kung Fu Panda 2 and Winnie the Pooh (or even Happy Feet Two and Rio) receive those films' recognition, and presuming that the motion-capture of The Adventures of Tintin will be off-putting to voters in the animation branch, I'm going with the lineup above, with the hand-drawn Spanish entry Wrinkles a potentially refreshing alternative to all the computer-animated high jinks.
Best Original Song
"Hello, Hello," Gnomeo & Juliet
"Lay Down Your Head," Albert Nobbs
"Life's a Happy Song," The Muppets
"The Living Proof," The Help
"Pictures in My Head," The Muppets
It breaks my heart a little to leave what I thought was The Muppets' most enjoyable ditty - "Man or Muppet" - off the list. But a recent rule change dictates that only two songs from the same film can be nominated, and the above options are probably the likelier candidates. Throw in Gnomeo & Juliet's lesser Elton John effort, The Help's Mary J. Blige anthem, and Albert Nobbs' consolation nomination for lyricist Glenn Close, and voilà! An instant, typically unnecessary roster of Best Original Song contenders!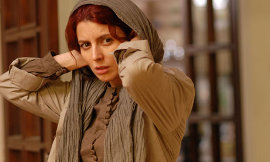 As for the other categories ...
Best Foreign-Language Film
Le Havre (Finland)
In Darkness (Poland)
Monsieur Lazhar (Canada)
Pina (Germany)
A Separation (Iran)
Best Documentary Feature
Bill Cunningham New York
Hell & Back Again
Paradise Lost 3: Purgatory
Pina
Project Nim
Best Original Score
The Adventures of Tintin
The Artist
The Girl with the Dragon Tattoo
Hugo
War Horse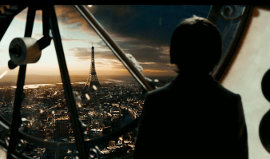 Best Cinematography
The Artist
The Girl with the Dragon Tattoo
Hugo
Tinker Tailor Soldier Spy
The Tree of Life
Best Film Editing
The Artist
The Girl with the Dragon Tattoo
Hugo
Moneyball
The Tree of Life
Best Art Direction
Anonymous
The Artist
Harry Potter & the Deathly Hallows: Part 2
Hugo
Tinker Tailor Soldier Spy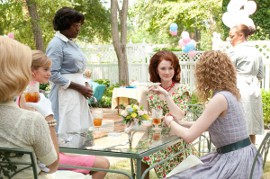 Best Costume Design
Anonymous
The Artist
The Help
Hugo
Midnight in Paris
Best Sound Editing
The Adventures of Tintin
Hugo
Mission: Impossible - Ghost Protocol
Transformers: Dark of the Moon
War Horse
Best Sound Mixing
The Adventures of Tintin
Hugo
Mission: Impossible - Ghost Protocol
Rango
War Horse
Best Visual Effects
Harry Potter & the Deathly Hallows: Part 2
Hugo
Rise of the Planet of the Apes
Transformers: Dark of the Moon
The Tree of Life
Best Makeup
The Artist
Gainsborg: A Heroic Life
The Iron Lady