If you're reading this hot off the (electronic) presses, members of the Academy of Motion Picture Arts & Sciences only have an hour or so to submit their online or - less frequently these days - paper ballots for this year's Oscar race. (Voting officially ends today at 5 p.m. PST.) So this seems like an appropriate time to make my own final guesses for January 15's nominees, even if a better time would be January 15 itself - preferably just after the Academy's official announcement of contenders.
It's not as though I'm flying completely blind here. Nominations have already been announced for numerous guild citations, including those from the cinematography, editing, costume, and visual-effects guilds, all of which have significant voter overlap with Academy branches. The Producers Guild of America (PGA) and Writers Guild of America (WGA) released their lists of nominees, as did the Screen Actors Guild (SAG), whose lineup in the acting races generally matches at least 75 percent of the Oscars'. The Golden Globe nominees were announced mid-December (with winners being revealed on January 11), and so were the hopefuls for the Critics Choice Awards, whose victors will be announced on the night of Oscar-nomination day. (Way to steal the Academy's thunder, critics.)
But here's what we don't yet know: The five Directors Guild of America (DGA) nominees, which are usually excellent precursors for what gets nominated for Best Picture - if not always Best Director. (The DGA contenders will be announced January 13.) Nor do we have the nominees from the British Academy of Film & Television Arts (BAFTA), which will actually be announced tomorrow. They aren't always helpful in clarifying the Oscar race, but considering the sizable percentage of Academy members residing on the other side of the Atlantic, they do frequently suggest surging affection for titles and performers that seem like long shots stateside. (Few predicted, for instance, the eventual Best Actor nods for Biutiful's Javier Bardem or Tinker Tailor Solider Spy's Gary Oldman before BAFTA chimed in.)
And there's so much more we don't know. Is the near-complete guild shutout for Selma thus far just a matter of screeners not being sent out, or do people just not like the film? Would the WGA have nominated The Theory of Everything and Birdman had those scripts actually been eligible? Any chance this'll be the second consecutive year to feature a nominated song we've never heard of from a movie we've never heard of with the nomination rescinded a day later? 'Cause that was fun ... .
In the meantime, here are my guesses for nominations. And to give you a sense of just how unsure I am in numerous categories, I typed all of the following up before composing this intro - and made prediction changes in at least half the categories while I was typing.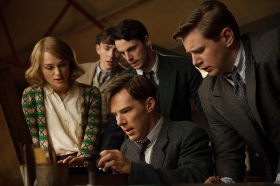 Best Picture
American Sniper
Birdman
Boyhood
The Grand Budapest Hotel
The Imitation Game
Nightcrawler
Selma
The Theory of Everything
Whiplash
I won't waste your time with "why they'll get in" rationales for the obvious Best Picture contenders; suffice it to say that Boyhood, The Imitation Game, and Birdman are all in. Unfortunately, there endeth the obvious.
Ever since the Academy expanded the category's roster to 10 nominees five years ago, and modified that to up-to-10 three years ago, it's been awfully easy to predict at least half of the eventual choices. (This year, by the way, I'm predicting that nine titles will compete for Best Picture. Why? Because nowadays it's always nine. Take it up with PwC.) But this year seems a special, and atypically confusing, case, because while there are plenty of possibilities beyond the leading three, all of them seem to come with at least one really significant drawback.
Take, for instance, The Grand Budapest Hotel. In theory, Wes Anderson's latest should be smooth sailing for a nod. It's the only 2014 film, to date, to receive award nominations from every individual guild; it's a Best Ensemble nominee at SAG (no film since Braveheart has won the top Oscar without Ensemble recognition); it's a Picture and Director nominee at the Globes and CCA; it's considered a career high for its much-admired and currently Oscar-less auteur; and not for nothing, it made a bunch of money, and appears to be one of the few contenders this year that the general public not only saw, but really, really liked. Yet you have to go back to 2000's Erin Brockovich to find the last Best Picture nominee released in early spring. Oscar is also notoriously unkind to comedies. And it's really unkind to Anderson's particular brand of literate, delicate, über-stylized comedies, which have amassed a grand total of four nominations - none in the Best Picture or Director races - over the past 20 years. On paper, the film should make it in. Its nod would also be a rebuke to many years of tradition.
Grand Budapest may be the most glaring example of an imperfect contender this year (although, in my opinion, the movie's damned near perfect), but it's hardly alone. Like the four aforementioned Picture wannabes, The Theory of Everything got SAG's Ensemble recognition, plus best-film nods at the Globes and CCA. But director James Marsh was ignored by both organizations - just like Imitation Game's Morten Tyldum - and an argument could be made that voters might see the movie more as a great actors' showcase than a great work of cinema. Same for Whiplash, which has a can't-miss Supporting Actor victor in J.K. Simmons and a Picture nod from the CCA, but no SAG Ensemble and no Picture nomination from the Globes - and, perhaps most damaging of all, almost no box office (less than $6 million domestic).
In contrast, fellow indie and CCA nominee Nightcrawler has done quite nicely in theaters (more than $30 million to date), and Jake Gyllenhaal is a triple-crown nominee, having scored Best Actor nods with the Globes, CCA, and SAG. But if the movie were a strong Best Picture possibility, shouldn't writer/director Dan Gilroy's name, and wife Rene Russo's name, be popping up more frequently than they have? Clint Eastwood's American Sniper has received a late surge of recognition from most of the craft guilds, and is already making huge dollars in limited release (going wide the day after nominations are announced, which is usually a sign of studio confidence). But no SAG nods? No Globe nods? The backhanded compliment of a "Best Action Movie" nomination by the CCA?
And then there's the vexing problem of Selma, even beyond all the problems its LBJ is currently facing on editorial pages. Because DVD screeners, due to a time crunch in production, weren't sent to any guild voters except Academy members, Ava DuVernay's Martin Luther King drama was wholly ignored by SAG, and by every craft branch thus far except the costumers'. The film did receive Picture and Director recognition at the Globes and CCA - albeit no Screenplay mentions, which hurts - but the question remains: Will Oscar voters have seen it? (It's been doing well in limited release, with its nationwide expansion beginning tomorrow.) And with almost no guild recognition to draw on, will they be fans of it?
But there you have it: My completely uncertain, likely untrustworthy predictions for the nine Best Picture nominees. Be on the lookout, however, for three titles waiting in the wings, none of which are Globe nominees Inherent Vice, Into the Woods, and Pride, critics' darlings Mr. Turner and A Most Violent Year, or done-deal-until-it-actually-opened Interstellar. (1) Bennett Miller's Foxcatcher, which received Globe and PGA nods (plus SAG recognition for Steve Carell and Mark Ruffalo), but which seems destined to be this year's Inside Llewyn Davis - a strongly reviewed title too emotionally neutral for much Academy notice. (2) David Fincher's Gone Girl, an autumnal smash with several assured major nominations that might prove (unfairly) too genre and throwaway for the big prize - just like Fincher's Girl with the Dragon Tattoo a few years back. (3) Angelina Jolie's Unbroken, another sure-thing-that-wasn't that received predictable big-ticket nods from the CCA (they do love having movie stars at their dinners) but high-profile dissings from the Globes, PGA, and SAG. Yet it's making big bucks and has the unstoppable Jolie Publicity Machine behind it, and could easily be this year's Extremely Loud & Incredibly Close (which only had one Oscar nod beyond Picture) or War Horse (the only Picture nominee of the past five years without any acknowledgment in the acting, directing, or writing races).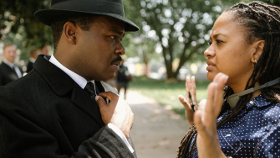 Best Director
Wes Anderson, The Grand Budapest Hotel
Ava DuVernay, Selma
Clint Eastwood, American Sniper
Alejandro González Iñárritu, Birdman
Richard Linklater, Boyhood
As mentioned, without the DGA to go on, I'm pretty much stabbing in the dark here. But if you'd like some predictions within the predictions, I'm leaning toward Tuesday's guild announcement featuring the names of Anderson, Iñárritu, Linklater, Gone Girl's David Fincher (as evidenced by his Dragon Tattoo nod, they clearly love him), and The Imitation Game's Morten Tyldum (because they generally go with the helmers of sure-fire Best Picture nominees regardless of directorial quality ... cough cough Tom Hooper cough cough twice! cough cough ... ). Because of that unfortunate situation with screeners, I'm thinking DuVernay will wind up getting the short end of the DGA's stick. But she should have no problem making the Academy's Best Director lineup; beyond getting there on merit - at least if Selma's considerable acclaim can be trusted - voters might find the temptation to nominate this category's first African-American woman too powerful to resist. And for spot number five, in lieu of either Tyldum or Fincher (the latter of whose Globe and CCA nods might make this a really stupid prediction), I'm going with Eastwood for the late-breaking Sniper. Not to be grim, but how many more chances will the Academy have to reward the 84-year-old?
But as the all-over-the-place collection of Best Picture contenders suggests, there are additional options aplenty, and as Ben Affleck can attest, the directors' branch has absolutely no trouble veering off in its own, unexpected directions. So in addition to the above, I'd watch out especially for Dan Gilroy (whose Nightcrawler is his first feature) and Damien Chazelle (whose Whiplash is his second), as at least one of them appears primed to secure the Benh Zeitlin Slot - so dubbed for the previously unknown Beasts of the Southern Wild artist who made an explosive Oscar debut. (Ah, poor Ben Affleck ... .) I'd also give consideration to Foxcatcher's Bennett Miller, who won Best Director at the Cannes Film Festival, and Mr. Turner's Mike Leigh, a hugely admired veteran whose nod for 2004's Vera Drake remains one of the millennium's biggest and most welcome surprises. And with DuVernay seemingly good to go, will the Academy potentially make further history by including, for the first time ever, two women in its Best Director field, with a nod also going to Unbroken's CCA nominee Angelina Jolie? Nah.
Best Actress
Jennifer Aniston, Cake
Marion Cotillard, Two Days, One Night
Julianne Moore, Still Alice
Rosamund Pike, Gone Girl
Reese Witherspoon, Wild
Speaking of Jolie, check out that first name above. If you're caught up on your Peoples and National Enquirers (Hi, Mom!), I can hear what you're thinking: "Oo-oo-oo-hoo-hoo-hoo-hoo!!! Angie's gonna be pissed!!!" Or at the very least - like many of us, actually - surprised. But yes. America's Sweetheart and Girl Next Door, 20 years running, is a Globe, SAG, and CCA nominee for her dramatic portrayal in the micro-budgeted indie Cake, and looks to join the Best Actress race alongside the similarly trifecta-earning trio of Moore, Pike, and Witherspoon. There's actually one additional performer you can add to that lauded list: Felicity Jones for The Theory of Everything. And predicting Jones for an Oscar nomination makes sense, as critics admired her, audiences loved her, and barring a Gone Girl inclusion, she might be the only nominee with a corresponding Best Picture citation. (The last time this category was wholly devoid of performers in Best Picture contenders was 2006.) I'm still not gonna do it.
This seems as good a time as any to mention the Academy's proportional-voting system, which would take me far too long to adequately explain. (Click here for an incredibly user-friendly account of how it all works for the Oscars.) In short, this system means that passion counts - choices ranked number one on a voter's ballot carry more eventual weight than choices ranked four or five. So with that in mind, who's going to get a significant number of number ones here? I think we can safely assume that the happily inevitable winner Moore will, and as she basically is her movie, I think Witherspoon will, too. Pike, starring in a studio-driven smash (that wasn't a franchise installment or action flick), should garner plenty of top votes for her perverse Amy Dunne. And despite my joshing and the frequent scorn she inspires, Aniston is a proven box-office attraction who's been in the business a long time and is stretching her rom-com stardom with a subtle character turn - the same set of circumstances that earned Sandra Bullock a trip to the podium for The Blind Side. But even among those who really like Jones in The Theory of Everything, is she anyone's first, or even second, pick? While the Oscars have tended to reward "supportive wives," that rarely happens outside the supporting category; nearly across the board, Best Actress nominees are their films' chief protagonists, which you can't truthfully say of Jones in the Stephen Hawking bio-pic. (Of all these contenders this millennium, only two - Kate Winslet in Eternal Sunshine of the Spotless Mind and eventual victor Jennifer Lawrence in Silver Livings Playbook - could be considered, as Jones would be, secondary to the film's male lead.) Consequently, and I could easily be wrong about this, I see CCA nominee Cotillard getting in instead. The La vie en rose Oscar winner, after all, is unquestionably the central figure in her foreign-language title, deserves bonus points for her superb work in 2014's The Immigrant, and her performance - which won Cotillard Best Actress from both the New York Film Critics (NYFC) and National Society of Film Critics (NSFC) - has been described by the New York Times as nothing less than "as fine a piece of screen acting as you will ever see." Critics' raves are still worth something, yes? (Any nominee beyond the aforementioned six, by the way, would be a huge shock, though I can imagine deserved passion votes also going to The Homesman's Hilary Swank or, if voters are feeling particularly adventurous, Under the Skin's Scarlett Johansson.)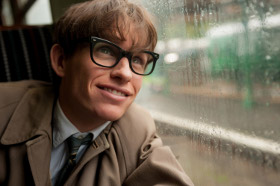 Best Actor
Benedict Cumberbatch, The Imitation Game
Jake Gyllenhaal, Nightcrawler
Michael Keaton, Birdman
David Oyelowo, Selma
Eddie Redmayne, The Theory of Everything
Welcome to the category that's giving me sleepless nights. (Well, just last night, really. But I did lose Zs knowing my incessant waffling on this one would have to end today.) As I see it, there are really only eight likely candidates for Best Actor. To show you just how ridiculously talent-heavy the list of unlikely candidates is - the list that occasionally nets us Biutiful's Bardem or Tinker Tailor's Oldman - it includes Get on Up's Chadwick Boseman, A Most Wanted Man's Philip Seymour Hoffman, A Most Violent Year's Oscar Isaac, Inherent Vice's Joaquin Phoenix, Foxcatcher's Channing Tatum, and Whiplash's Miles Teller. It also includes Mr. Turner's Timothy Spall, and any Oscar season that finds the winner of the NYFC and NSFC Best Actor prizes, plus Best Actor at Cannes, the longest of long shots just might have to be considered a wee bit overstuffed.
So I'm going with the above five, all of whom are Globe- and CCA-certified, with only Oyelowo missing at SAG due to, presumably, that kerfuffle with the screeners. But I'm not feeling at all confident about my choices, because this category seems absolutely ripe for a surprise or two - and barring an enormous surprise, it's going to come from one of three actors. SAG and Globe nominee Steve Carell seemed an early shoo-in for his John du Pont in Foxcatcher, having earned raves for his change-of-pace turn ever since its May premiere at Cannes. Yet considering how frequently voters go for heroic (or at least tragic) in this field, I'm not sure that Carell's super-creep is the sort of thing they want to award - especially since they already have a potential super-creep in Gyllenhaal's Louis Bloom, a character who's also far better-looking and far, far less unpleasant than du Pont. At the height of my Grand Budapest Hotel re-watching a couple weeks back, I had myself convinced that Ralph Fiennes would make the lineup for his instant-classic portrayal of M. Gustave, and I still think the Globe and CCA nominee has a fine shot. (The movie's growing security in its nomination tally - it might wind up receiving more nods than any other film - can only aid Fiennes' cause.) But then I remembered how often the Academy tends to ignore leading men in comedies, and changed my mind. And then I remembered Christian Bale and Bruce Dern and Leonardo DiCaprio last year, and changed it back. See how crazy-making this is?!? Suffice it to say: Fiennes is off the list. For now. Meanwhile, my third option for potential Best Actor spoilers is American Sniper's Bradley Cooper. I probably shouldn't be giving this hunch the weight I am; so far, Cooper's most significant precursor nod this season, I kid you not, is his "Best Actor in an Action Movie" nod with the CCA. (Good God do they love having movie stars at their dinners.) Cooper, though, has earned raves for his titular turn and is riding a wave of popular and Academy support of late, and his current role in Broadway's revival of The Elephant Man can't hurt his performance cred any. And here's another thing: With the exception of Birdman Michael Keaton - like Moore, seemingly an eventual winner - I can see Cooper, and maybe Fiennes, usurping the spot of every single other contender. That may sound nuts, given how central the actors are to their films. But Captain Phillips was nominated without Hanks, and Godfather III was nominated without Pacino, and Sideways was nominated without Giamatti. The guy who unexpectedly took Giamatti's place, by the way? The lead in an Eastwood movie.
Best Supporting Actress
Patricia Arquette, Boyhood
Keira Knightley, The Imitation Game
Rene Russo, Nightcrawler
Emma Stone, Birdman
Meryl Streep, Into the Woods
Here are words you've never seen me write before, and will likely never see me write again: I really hope Meryl Streep doesn't get nominated. I'm sorry, but she's just not deserving for that movie, especially when you factor in the more impressive work, and voices, of co-stars Anna Kendrick (who'll inevitably be overshadowed for not trying so hard) and Emily Blunt (who'll inevitably be overshadowed for Disney idiotically campaigning her for Best Actress instead). Still, I think intense admiration for the performer, interest in giving her a record-re-breaking 19th nomination, and some combination of reflexivity and laziness will get Streep in, along with her similarly Globe-, SAG-, and CCA-cited colleagues Arquette (our hands-down victor-to-be), Knightley, and Stone. Yet instead of SAG nominee Naomi Watts for St. Vincent (or, for that matter, Birdman), CCA nominee Tilda Swinton for Snowpiercer, or Globe and CCA nominee Jessica Chastain for A Most Violent Year, I'm going out on a limb and predicting Russo for spot five. With the exception of 2006's, every Oscar race over the past decade has seen at least one acting nominee show up without any of that precursor recognition, and Russo would seem to be this year's perfect choice to fill that niche: She has a meaty role in a solid Best Picture contender, and also just happens to be a beloved film veteran who's been out of sight for wa-a-a-ay too long. Other, less likely options would have to include Selma's Carmen Ejogo and Wild's Laura Dern - and given that I'm flummoxed as to why they haven't entered the conversation, you certainly wouldn't hear me bitch if Gone Girl's Carrie Coon or Kim Dickens made the lineup. You'd probably hear me scream with delight, though.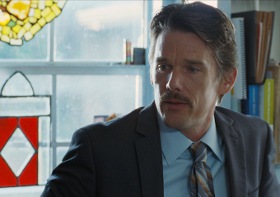 Best Supporting Actor
Robert Duvall, The Judge
Ethan Hawke, Boyhood
Edward Norton, Birdman
Mark Ruffalo, Foxcatcher
J.K. Simmons, Whiplash
Finally! Not only a category that isn't overstuffed, but one that's almost embarrassingly understuffed! The above five are the Globe nominees. They're also the SAG nominees. They're also, with Inherent Vice's Josh Brolin filling spot number six, the CCA nominees. And while I'd love to tell you that there are potential surprises waiting in the wings, guess what! There aren't! Seriously, I don't know what happened this year - whether studios didn't feel like campaigning, or performers didn't feel like campaigning, or the good actors all had bad roles, or the good roles were just non-existent ... . Whatever the reasoning, as far as potential nominees are concerned, this might be the emptiest this category has ever been, and that's coming a mere three years after Kenneth Branagh sailed to an easy nomination for barely bothering to play Laurence Olivier in My Week with Marilyn. On the bright side, if the above lineup does wind up being the Academy's, it's an almost insanely great one - and only "almost" because Duvall is stuck in an awful movie playing little more than Crotchety Old Man (albeit a Crotchety Old Man with a moving bathtub scene that's catnip for elderly Oscar voters). I guess an unexpected name could figure into this category, but I'm not sure at whose expense, and most of the options would have to do some pretty heavy in-fighting with co-stars to get there: Inherent Vice's Brolin, Benicio del Toro, and Martin Short; Selma's Tom Wilkinson and Tim Roth; The Grand Budapest Hotel's F. Murray Abraham and, you know, everyone else. As with its Supporting Actress long shots, it also would've been awesome if more Supporting Actor attention went to Gone Girl's Tyler Perry. And no precursor recognition, or aggressive campaign, on behalf of Into the Woods' Chris Pine?! Agony!!!
Best Original Screenplay
Birdman, Alejandro González Iñárritu, Nicolás Giacobone, Alexander Dinelaris, Armando Bo
Boyhood, Richard Linklater
The Grand Budapest Hotel, Wes Anderson, Hugo Guinness
Mr. Turner, Mike Leigh
Nightcrawler, Dan Gilroy
Best Adapted Screenplay
Gone Girl, Gillian Flynn
The Imitation Game, Graham Moore
Inherent Vice, Paul Thomas Anderson
Whiplash, Damien Chazelle
Wild, Nick Hornby
Feeling okay, if nowhere near fantastic, about all of these. My predictions for Original Screenplay don't include Foxcatcher (a WGA nominee) and Selma (which - surprise! - wasn't WGA-eligible), and my Adapted Screenplay guesses, perhaps moronically, don't include the WGA-ineligible The Theory of Everything or the WGA-cited American Sniper script. (In a bit of a shock, the guild did opt for the comic-book adaptation Guardians of the Galaxy, and I think it's safe to presume that its writers won't be quite as fortunate with the comics-averse Academy.) But my predicted titles in the former category all have the writer/director angle on their sides, and even though Mr. Turner probably won't be a significant Best Picture or Director threat (though it'll likely pop up elsewhere), Leigh is a five-time writing nominee. As for the Adapted side of things, I'm sneaking in Inherent Vice at Theory's expense, primarily because ever since 2000, every single Oscar race has boasted at least one screenplay nominee that wasn't nominated for any other Oscars. This year, I think, that "honor" will go to PTA. (Whiplash, incidentally, was deemed original by the WGA and adapted by the Academy. 'Cause these races weren't confounding already.)
Best Animated Feature
Big Hero 6
The Boxtrolls
How to Train Your Dragon 2
The Lego Movie
The Tale of Princess Kaguya
Each year, it seems, features one animated title that pops into this category from out of nowhere. I'd tell you that this year's could easily be the French cartoon Cheatin', but then it wouldn't pop out from nowhere, would it?
Best Documentary Feature
The Case Against 8
Citizenfour
Last Days in Vietnam
The Overnighters
Virunga
Each year, it seems, also features one omission that makes my heart utterly break. Much as I hate doing it, I'm predicting that the absence of Steve James' Roger Ebert documentary Life Itself will be my Oscar Heartbreak 2015. Given the movie's acclaim and cinema-themed subject, it shouldn't seem possible. But then I remember that voters stupidly ignored James' Hoop Dreams and The Interrupters, too. And then I also think, "Hmmm ... I wonder how many voters Ebert gave a thumbs-down to over the years ... ?"
As for the other categories ...
Best Foreign-Language Film
Force Majeure, Sweden
Ida, Poland
Leviathan, Russia
Tangerines, Estonia
Wild Tales, Argentina
Best Original Song
"Everything Is Awesome," The Lego Movie
"Glory," Selma
"Lost Stars," Begin Again
"Opportunity," Annie
"Poisonous Love," Rio 2
Best Original Score
Gone Girl
The Grand Budapest Hotel
The Imitation Game
The Judge
The Theory of Everything
Best Cinematography
Birdman
The Grand Budapest Hotel
Ida
Mr. Turner
Unbroken
Best Film Editing
American Sniper
Birdman
Boyhood
Gone Girl
Whiplash
Best Production Design
Dawn of the Planet of the Apes
The Grand Budapest Hotel
The Imitation Game
Interstellar
Mr. Turner
Best Costume Design
The Grand Budapest Hotel
The Immigrant
Into the Woods
Maleficent
Mr. Turner
Best Sound Editing
American Sniper
Dawn of the Planet of the Apes
Fury
Interstellar
The Lego Movie
Best Sound Mixing
American Sniper
Dawn of the Planet of the Apes
Fury
Into the Woods
Whiplash
Best Visual Effects
Dawn of the Planet of the Apes
Godzilla
Guardians of the Galaxy
The Hobbit: The Battle of the Five Armies
Interstellar
Best Makeup & Hairstyling
The Grand Budapest Hotel
Guardians of the Galaxy
The Theory of Everything