"So, Mike, what did you think of the other 2012 movies you saw?"
Gosh, how nice of you to ask!
In descending order of appreciation ... .
11) Seven Psychopaths
12) To Rome with Love
13) The Grey
14) How to Survive a Plague
15) Flight
16) Cloud Atlas
17) Snow White & the Huntsman
18) The Master
19) The Impossible
20) Bernie
After another viewing, I'll almost inevitably rank The Master higher amongst my 2012 favorites, but oddly, I'm still in no rush to see it again. Martin McDonagh's and Woody Allen's latest might have made the top 10 if both weren't lesser achievements than their directors' overwhelming In Bruges and Midnight in Paris. The Impossible has big problems, but it's hard to bitch when you're crying for nearly 90 minutes straight. Richard Linklater's docu-comedy Bernie, and the AIDS-activist documentary How to Survive a Plague, are available via streaming. No hard feelings if you decide to visit another Web site for a few hours.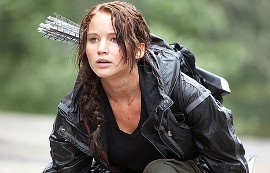 21) End of Watch
22) The Hunger Games
23) Take This Waltz
24) Skyfall
25) Savages
26) Bully
27) Ai Wei-Wei: Never Sorry
28) The Pirates! Band of Misfits
29) Ruby Sparks
30) Hope Springs
End of Watch, I'm sensing, is a movie I'll enjoy more and more each time I see it. It's kind of ridiculous that Salma Hayek isn't in the Oscar conversation - like, at all - for Oliver Stone's Savages. I enjoyed The Hunger Games so much that I actually read the book afterward, which I consider a rather miraculous happenstance. (The book rocks, by the way.) And the Michelle Williams/Seth Rogen adultery drama Take This Waltz and the artist/activist doc Ai Wei-Wei can also be watched instantly, so feel free to switch back to that Web site again.
31) Pitch Perfect
32) The Secret World of Arrietty
33) Beasts of the Southern Wild
34) Marley
35) Brave
36) Lawless
37) Seeking a Friend for the End of the World
38) Men in Black 3
39) Return
40) Safety Not Guaranteed
I watched Beasts a second time, and re-e-eally wish I liked it more than I do. My guess is that I'll eventually purchase Pitch Perfect, and will eventually love it with the same sort of ardor I currently reserve for the Emma Stone comedy Easy A. Marley is a terrifically engaging - and seemingly exhaustive - doc on the late Jamaican singer, and the Iraq-war-returnee drama Return showcases a subtly extraordinary performance by the ever-great Linda Cardellini. (Both films can currently be streamed instantly. You're welcome to ... . Oh, you know the routine.)
41) The Campaign
42) The Guilt Trip
43) Klown
44) The Three Stooges
45) This Is 40
46) The Bourne Legacy
47) Silent House
48) The Raid: Redemption
49) Celeste & Jesse Forever
50) The Queen of Versailles
Had you told me last year at this time that The Three Stooges would make my top 50, I'd have thought you insane. (Now I'm wondering if I'm insane.) The streamable Queen of Versailles is a fun, unimaginable-riches-to-rags doc, but I didn't find it as trenchant as other reviewers appeared to. Also available via streaming, the cheeky Danish comedy Klown is unashamedly crude, so of course an American remake is headed our way. Its filmmakers could do worse than to hire Will Ferrell and Zach Galifianakis for the leads, as the duo didn't fare too shabbily together in The Campaign.
51) Les Misérables
52) Hit & Run
53) Jeff, Who Lives at Home
54) Think Like a Man
55) The Cabin in the Woods
56) The Best Exotic Marigold Hotel
57) The Invisible War
58) Casa de Mi Padre
59) Chico & Rita
60) John Carter
Kirby Dick's heartrending rape-in-the-military doc The Invisible War is, sadly, also a bit stiff, as is the similarly streamable Chico & Rita, a nominee for last year's Best Animated Feature Oscar. After loving it in March, I made the mistake of watching Casa de Mi Padre again, and found it way less entertaining on viewing two. That my All-Time Most Anticipated Movie Musical doesn't crack the top 50 doesn't mean I won't eventually own it; we Les Mis die-hards are funny like that. And yes, I thought 100 movies from 2012 were less impressive than John Carter. Mock if you must.
61) American Reunion
62) Wanderlust
63) The Sessions
64) The Hobbit: An Unexpected Journey
65) The Possession
66) Friends with Kids
67) The Five-Year Engagement
68) Act of Valor
69) Battleship
70) The Vow
John Hawkes and Helen Hunt are amazing in The Sessions. It's the movie itself I find overly cutesy and twee. That American Reunion was actually pretty good qualifies as one of 2012's bigger surprises. I'm feeling the urge to see Five-Year Engagement again, strictly for Chris Pratt's and Alison Brie's scenes. Friends with Kids is a relationship comedy/drama featuring four Bridesmaids veterans, but it's only about one-fourth as strong as Bridesmaids. (I saw it on DVD, as it's not currently streaming. Surprise!) Oh yeah ... and I didn't hate Battleship. I swear I'm not moonlighting as Taylor Kitsch's agent.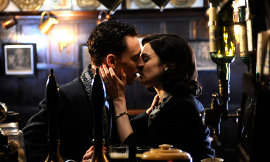 71) Contraband
72) Haywire
73) Anna Karenina
74) Ted
75) The Deep Blue Sea
76) The Expendables 2
77) Dark Shadows
78) Cirque du Soleil: Worlds Away
79) Sinister
80) Moonrise Kingdom
The Deep Blue Sea is glum and slow and veddy veddy British, but worth watching, once, for the performances of Rachel Weisz and Tom Hiddleston. For an astonishing Cirque experience, catch Dralion or Quidam instead. I'm glad the spook-fest Sinister made decent money, because for a movie of its type, it's really not bad. I needed to see Moonrise Kingdom again to see if my initial, lukewarm-at-best feelings toward the movie had changed; they hadn't. And I also, rather accidentally, wound up viewing Haywire a second time. It's kind of blah. Awesome fight scenes, though.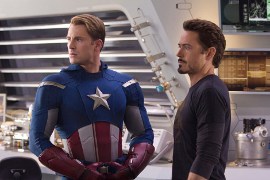 81) Safe
82) Prometheus
83) The Avengers
84) The Woman in Black
85) Promised Land
86) Big Miracle
87) Chronicle
88) Man on a Ledge
89) The Amazing Spider-Man
90) Damsels in Distress
"The Avengers at 83?! Come on!" Sorry. Just channeling my brother there. But yeah, I was underwhelmed with that and the new Spider-Man, so my childhood Marvel Comics Fan Club membership has probably been officially rescinded. The anti-fracking drama Promised Land is wishy-washy and underdeveloped, but 86-year-old Hal Holbrook sure looks incredible, doesn't he? I'm still bummed at how unsatisfying the Alien prequel was, considering I stayed conscious for a midnight showing of the damned thing. Meanwhile, we Whit Stillman fans wait 13 years for a Last Days of Disco follow-up, and Damsels is what we get? Not fair.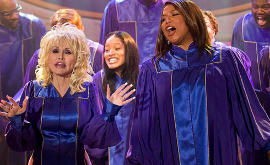 91) Wreck-It Ralph
92) The Words
93) Total Recall
94) Django Unchained
95) Nitro Circus: The Movie
96) Hotel Transylvania
97) Joyful Noise
98) Katy Perry: Part of Me
99) The Twilight Saga: Breaking Dawn, Part 2
100) Killing Them Softly
I was totally psyched to see Andrew Dominik's first movie since 2007's The Assassination of Jesse James ... , but I truly wish that movie wasn't Killing Them Softly. Joyful Noise should almost definitely fall lower on the list, but those Queen Latifah and Dolly Parton numbers are lovely. I've decided that 90 minutes spent with the Nitro Circus gang and Katy Perry are about 60 too many for my tastes. As for Breaking Dawn, Part 2, it ranks nearly identically to where Part 1 did last year. They could've just combined them into one big-ass mediocre movie.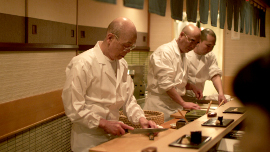 101) Frankenweenie
102) Mirror Mirror
103) What to Expect When You're Expecting
104) Madagascar 3: Europe's Most Wanted
105) For Greater Glory
106) Diary of a Wimpy Kid: Dog Days
107) Rock of Ages
108) Taken 2
109) Jiro Dreams of Sushi
110) Won't Back Down
The streamable Jiro Dreams of Sushi is a documentary about sushi preparation, and not half as fascinating as that sounds, if you can imagine. (I know, I know ... the movie's about way more than that. It's still boring.) It might really be time to give the Diary and Madagascar sequels a rest, though I'd still welcome spin-offs featuring the former's Rodrick and the latter's squat little Edith Piaf clone. Viola Davis deserves far better than Won't Back Down. (We all do.) Yup - I actually did prefer Hotel Transylvania to Frankenweenie. And Rock of Ages, I think, makes Les Misérables look like Citizen Kane. But, you know, a musical version of Kane.
111) Step Up Revolution
112) October Baby
113) Journey 2: The Mysterious Island
114) Lockout
115) Red Tails
116) Paranormal Activity 4
117) People Like Us
118) The Man with the Iron Fists
119) Parental Guidance
120) Tyler Perry's Madea's Witness Protection
If Lockout didn't have Guy Pearce, People Like Us didn't have Michelle Pfeiffer, and Iron Fists didn't have Russell Crowe, all those movies would drop 15 or 20 notches on the list. Tyler Perry keeps making noise about retiring Madea, which wouldn't be the worst idea in the world. (Frankly, neither would retiring the Paranormal and Step Up franchises.) Red Tails is actually a film I'm hoping gets remade, as its story deserves a much better presentation than the one it got. Oh, and apparently Billy Crystal and Bette Midler are big box office again. Have we collectively time-traveled to 1987?
121) The Raven
122) House at the End of the Street
123) Trouble with the Curve
124) Hitchcock
125) Ice Age: Continental Drift
126) Chernobyl Diaries
127) Underworld: Awakening
128) Premium Rush
129) Tyler Perry's Good Deeds
130) Chasing Mavericks
Hmm ... or maybe, given Good Deeds, Perry should consider retiring his characters who aren't Madea ... ? Watching Clint in Curve was just slightly less embarrassing than watching him chat with the chair. Riding surfboards and bikes with no brakes has got to be more enjoyable than Chasing Mavericks and Premium Rush made those activities appear, right? As for Hitchcock, I caught it in the Chicago area on Christmas Eve, and am delighted that it hasn't made its way to the Quad Cities. The movie's so obvious and deathly bland that I have no interest whatsoever in reviewing it.
131) Jack Reacher
132) Ghost Rider: Spirit of Vengeance
133) Playing for Keeps
134) Safe House
135) The Lucky One
136) Mansome
137) That's My Boy
138) Resident Evil: Retribution
139) Rise of the Guardians
140) A Thousand Words
Mansome is a Morgan Spurlock documentary about male grooming techniques, and if you thought sushi was a dull subject for a doc ... . The Ghost Rider sequel may be the trashiest movie of the year, which is the only reason it doesn't rank lower; it's so trashy that it's actually kind of impressive. Ruby Dee singlehandedly keeps A Thousand Words out of the bottom 10, and she's only it in for five minutes. (She's that great.) The Gerard Butler flick Playing for Keeps, meanwhile, is actually worse than its star, which doesn't happen often.
141) Last Ounce of Courage
142) Alex Cross
143) This Means War
144) The Devil Inside
145) Dr. Seuss' The Lorax
146) The Dictator
147) Silent Hill: Revelation
148) Chimpanzee
149) The Cold Light of Day
150) 2016: Obama's America
Hmm ... or maybe, given Alex Cross, Perry should just consider retiring his characters from other people's movies ... ? I could've easily placed 2016 in the bottom 10, but Obama won, so why gloat? Please, God, let it never get worse for Tom Hardy (or Reese Witherspoon, or Chris Pine) than This Means War. Dr. Seuss should sue from the grave over The Lorax. The Dictator's Sacha Baron Cohen redeemed his 2012 with his Les Mis turn ... barely. And rather than merely composing a bad review for Disneynature's Chimpanzee, I wish throwing feces at it were an option.
151) Abraham Lincoln: Vampire Hunter
152) One for the Money
153) Red Dawn
154) Wrath of the Titans
155) The Watch
156) Gone
157) The Odd Life of Timothy Green
158) The Collection
159) The Apparition
160) Project X
The Collection, The Apparition ... do you notice a "shun"-ing theme in there? Within two weeks, Gone deservedly was. A bunch of usually winning comics made The Watch, and happily, almost no one did watch. One for the Money's Jason O'Mara was the answer to the burning question "Who does Katherine Heigl get when Gerard Butler's not available?" Timothy Green was Disney's other movie this year that deserved a face-full of feces. As for Project X? It marked the spot. The spot where all my hopes for the youth of America died.
For a look at Mike's 10 favorites of 2012, see "Magic / Mike."
Follow Mike on Twitter at Twitter.com/MikeSchulzNow.