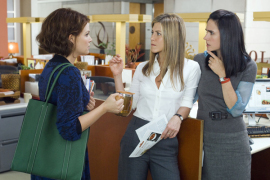 HE'S JUST NOT THAT INTO YOU
With its nine central roles, dovetailing narratives, and 129-minute running length, He's Just Not That Into You is like a chick flick on steroids. Based on a jokey "self-help" book by Greg Behrendt and Liz Tuccillo, director Ken Kwapis' comedy concerns the romantic tribulations of a bunch of young (or young-ish) hotties in present-day Baltimore, and it's all pretty easy to pick apart; the characters are too archetypal, the plotting is too convenient, and none of the movie's frequent dating advice is as insightful as it clearly wants to be. Even that "present-day" aspect is problematic, as the film, completed in 2007, finds a character hooking up through MySpace, for Pete's sake.
Yet for what it is - a happily disposable rom-com expanded to borderline-epic proportions - He's Just Not That Into You turns out to be really, really good, a genial, reasonably level-headed, and unexpectedly sincere entertainment that's also, thus far, the least boring movie of 2009. Nothing that happens will come as much of a surprise, but Kwapis directs the mostly formulaic proceedings with snap and ingratiating energy, screenwriters Abby Kohn and Marc Silverstein are (refreshingly) unafraid of mixing the yuks with moments of legitimate pathos, and the cast ensures that even the film's less inspired excursions go down painlessly; for its genre, He's Just Not ... is a veritable triumph of personality.
It's even a near-triumph for the performers who don't have a lot of personality. Prior to this movie, I couldn't imagine any circumstances under which I'd want to watch Kevin Connolly on-screen, as his one-note laziness on HBO's Entourage has been undermining my interest in the show for five seasons running. Here, though, he's just about perfectly cast, as Connolly's typical dullness actually works in his favor; the actor gives a rather touching portrayal of an unimaginative but sweet young man seeking a woman who wants a little dullness in her life. (Kwapis is obviously aware of Connolly's limited charms, and employs them accordingly; all it takes is one shot of the actor cuddled up in bed with Scarlett Johansson, his hairy leg draped over her, to glean how crushingly wrong these characters are for one another.)
Similarly, and sadly, I'd previously had it about up to here with Jennifer Aniston. It's not that she hasn't shown much willingness to grow as a performer in the decade-and-a-half since Friends' debut (though she hasn't); it's that, since the dawning of Brangelina, there's been a distracting but all-too-apparent air of lethargy and self-pity in her work - this formerly inspired comedienne has morphed into our national show-biz martyr. (A friend recently pointed out, astutely, that Aniston now suggests a woman who once knew True Love and who keeps insisting that she'll never find it again.) But as with Connolly, what are usually performance deficiencies for Aniston wind up being distinct advantages here. Playing a tightly wound thritysomething whose live-in beau (Ben Affleck, wonderfully relaxed and real in an underwritten role) refuses to marry her, the actress' melancholy and dejection make total sense for her character, and her martyrdom is finally given a point; Aniston delivers a lovely, nuanced portrayal of the insecurities embedded in seemingly secure relationships, and the fears of a bright young woman suddenly feeling very, very old. (It spoils nothing to say that her character receives a Happily Ever After here, and in the audience I sat with, the moment led to the most deserved, communal outcry of "Aw-w-w-w!" I've heard at a rom-com in years.)
The rest of He's Just Not ...'s cast is no less revelatory. Justin Long tones down his enjoyably sardonic snarkiness and, for the first time on-screen, emerges as a sensible, completely viable romantic lead, and Ginnifer Goodwin takes what could've been a horribly demeaning role - the determined, clueless single gal whose pep is fundamentally indistinguishable from psychosis - and instead fashions her as a bubbly, endearing eccentric. Johansson and Bradley Cooper are a fantastic pair of (platonic, for a while) flirts, so turned on by each other's sexiness that they're blind to the foolish decisions fueled by their characters' narcissism. Jennifer Connelly, in a rare and long-overdue return to comedy, makes her cheated-on spouse an enjoyably neurotic wreck - the movie's best scene finds her taking her ire out on an understandably perplexed, and deeply funny, Luis Guzmán - yet her anguish is filled with contradictory and complex emotions. Tough as it might be to believe, He's Just Not That Into You showcases what is handily the Oscar winner's best screen work since 2003's House of Sand & Fog.
And every so often, Drew Barrymore pops into the picture as a lovelorn single frustrated with how modern technology has made modern dating a living hell, and her every appearance makes you grin. Like most people, I wish Barrymore was a better, or at least a more believable, actress - she hasn't really seemed one with a role since Gertie - but she's so terrifically charming here that it barely matters; all it takes is one of her buoyantly happy grins to kick all the unpleasant thoughts out of your head. He's Just Not That Into You might be little more than an over-extended sitcom, but it has much of the same appeal as the best sitcoms - it's filled with performers whose company you're never quite ready to part with.