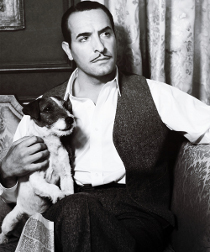 [Author's note: Well, considering that these original Oscar predictions are in print, I guess I'm stuck with them, right? Au contraire! Over the 13 days since this article was originally published online, Hollywood's arts & crafts guilds announced their winners, the British Academy of Film & Television Awards (BAFTA) were handed out, and numerous prognosticators far more in-the-loop than I am have weighed in. And so I'm finally prepared to offer my absolute, final, turn-in-your-Oscar-pool-guesses-now choices, having changed my original guesses on a full seven of the 24 categories. My final picks, along with some commentary, follow the originally published predictions. And don't forget to follow my reactions to the ceremony at Twitter.com/MikeSchulzNow. Let's see how awful my spelling gets as the night rolls on and I get more and more dru- ... ! Um-m-m ... . More and more excited, I mean!]
After tying my personal best two years ago, when I guessed correctly in 18 of the 24 individual Academy Award races, I experienced a rather sizable setback in 2011, amassing only 13 right. How am I feeling about my predictions this year?
Well ... I've certainly felt worse.
I'll likely feel better when I invariably change several of my selections in the technical categories, after their respective guilds name their winners prior to February 26's Academy Awards ceremony. (Last year, all of the eventual victors in the Oscars' cinematography, editing, art-direction, costume-design, and sound categories received guild awards beforehand.) And I'll probably feel even better than that if - as I promise to every damned year - I start predicting more with my brain than my heart, the latter organ causing me to wrongly back Hailee Steinfeld and David Fincher last year ... and a certain Best Actor candidate this year.
Nevertheless, here's where we stand at the moment. For you fellow participants in annual Oscar pools, feel free to use this as a cheat sheet when marking Xs on your ballots ... though I beg you: Until you're absolutely ready to turn in your guesses, mark them in pencil.
BEST PICTURE
The Artist
The Descendants
Extremely Loud & Incredibly Close
The Help
Hugo
Midnight in Paris
Moneyball
The Tree of Life
War Horse
It's a comedy. It's a black-and-white film. It's a (mostly) silent film. It's a foreign film. Hell, it's a French film. And after The Artist's Golden Globe, Producers Guild Award, Directors Guild Award (DGA), and Screen Actors Guild Award (SAG) wins, it's your Best Picture for 2012. You realize you're running out of excuses for not seeing it, right?
(Update: The Artist won the BAFTA, and by this point it's won practically everything but the Nobel Peace Prize, so check this one off with full confidence.)
BEST DIRECTOR
Woody Allen, Midnight in Paris
Michel Hazanavicius, The Artist
Terrence Malick, The Tree of Life
Alexander Payne, The Descendants
Martin Scorsese, Hugo
The winner of the DGA has won the Best Director Oscar 56 times over the former's 63-year history, and the victors have matched up every year over the past eight. I see no reason for the streak to be broken just because The Artist is a comedy. And black-and-white. And silent. And French.
(Update: Hazanavicius won at BAFTA, too, This one's another sure bet.)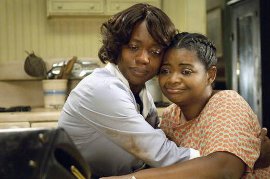 BEST ACTRESS
Glenn Close, Albert Nobbs
Viola Davis, The Help
Rooney Mara, The Girl with the Dragon Tattoo
Meryl Streep, The Iron Lady
Michelle Williams, My Week with Marilyn
After seeing The Help, I tweeted, "Just give Viola Davis the Oscar now." It'll have taken six months, but I'd bet money that even Streep is voting for her.
(Update: Streep actually won the BAFTA, but let's face it - within that particular voting bloc, her victory was practically a done deal the moment she signed the Iron Lady contract. Davis is gonna walk away win this one, and will receive a deserved standing ovation when she does.)
BEST ACTOR
Demián Bichir, A Better Life
George Clooney, The Descendants
Jean Dujardin, The Artist
Gary Oldman, Tinker Tailor Soldier Spy
Brad Pitt, Moneyball
If you're looking to make money in your office's Oscar pool, do not go with Pitt. Go with Globe and SAG winner Dujardin. (Or the Globe-winning, slightly-less-likely choice Clooney.) But as my immediate response to Pitt's performance was the same as it was to Viola Davis', I'm sticking with my guns, and with my gut feeling that this category is totally ripe for an upset.
(Update: Heartbreaking as it is to do it, I'm giving up the ghost on a Pitt victory here. I probably would've stuck with him had Oldman been awarded Best Actor at BAFTA - lending credence to my theory that this particular Oscar category was totally up for grabs - but Dujardin snagged that one, too. I'm not totally counting out the chances of a Clooney win, but as it stands, this looks like The Artist star's to lose.)
BEST SUPPORTING ACTRESS
Bérénice Bejo, The Artist
Jessica Chastain, The Help
Melissa McCarthy, Bridesmaids
Janet McTeer, Albert Nobbs
Octavia Spencer, The Help
The chances of Spencer losing this category are about equal to my chances of winning it.
(Update: And they still are.)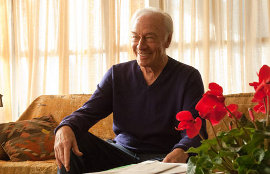 BEST SUPPORTING ACTOR
Kenneth Branagh, My Week with Marilyn
Jonah Hill, Moneyball
Nick Nolte, Warrior
Christopher Plummer, Beginners
Max von Sydow, Extremely Loud & Incredibly Close
A late-breaking studio push for von Sydow makes this a tighter race than it was a few weeks ago. After his numerous precursor wins, however - to say nothing of the standing ovations he's received for them - Plummer not emerging victorious would look like an intentional dissing, and considering the breadth of the 82-year-old's astonishing career, does anyone have the heart to dis Captain von Trapp?
(Update: Like Spencer, Plummer won the BAFTA, and looks unstoppable. I will join millions of others in being very, very happy about that.)
BEST ORIGINAL SCREENPLAY
The Artist, Michel Hazanavicius
Bridesmaids, Annie Mumolo, Kristen Wiig
Margin Call, J.C. Chandor
Midnight in Paris, Woody Allen
A Separation, Asghar Farhadi
This could easily go to Hazanavicius, despite (or perhaps because of) the irony in a screenplay award going to a movie with fewer than two dozen spoken words. But it's been a quarter-century since an Oscar presenter began an acceptance with, "Woody Allen couldn't be here tonight ... ," and haven't we all kind of missed that?
(Update: Hazanavicius won the BAFTA. Woody won the writers'-guild award ... which would carry more weight in predicting this category if The Artist had been eligible  for the guild award. I'm holding tight, though, thinking that Hazanavicius' probable Best Director and Best Film Editing triumphs will be reward enough for the man, and that voters will want to give something to the Woodman for the highest-grossing movie of his career ... and one that, not for nothing, also happens to be one of his very best.)
BEST ADAPTED SCREENPLAY
The Descendants, Alexander Payne, Nat Faxon, Jim Rash
Hugo, John Logan
The Ides of March, Georle Clooney, Grant Heslov, Beau Willimon
Moneyball, Aaron Sorkin, Steven Zaillian, Stan Chervin
Tinker Tailor Soldier Spy, Bridget O'Connor, Peter Straughan
At the moment, I'm thinking degree of adaptation difficulty will allow the Moneyball team to edge out the Descendants team. Yet for Oscar-pool purposes, just go with whichever screenwriters win this category at the February 19 Writers Guild Awards ... though you should keep an eye out for Tinker Tailor, which maybe boasted the highest degree-of-difficulty challenge of all, and whose O'Connor passed away not long after she and husband Straughan completed the script.
(Update: With a BAFTA win behind them, a victory for the Tinker Tailor duo still doesn't seem completely unfathomable, despite the film not receiving Best Picture and Director recognition. But the winner of the writers guild's adapted-screenplay prize went to the Descendants team, so I'm now backing those guys. And hating the realization that Moneyball is probably going to go 0-for-6 on Sunday.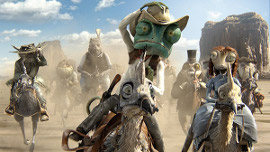 BEST ANIMATED FEATURE
A Cat in Paris
Chico & Rita
Kung Fu Panda 2
Puss in Boots
Rango
Viewed comparatively, Octavia Spencer is the longest of longshots.
(Update: A done deal. Even the Brits went for it.)
BEST ORIGINAL SONG
"Man or Muppet?", The Muppets
"Real in Rio," Rio
The Muppets - and Flight of the Conchords' Bret McKenzie, who wrote the tune's music and lyrics - are taking this one. And if I'm allowed a runner-up guess ... hmmm ... gosh, I dunno ... maybe the Rio song ... ?
(Update: You're not gonna believe this. But even with only two nominees in this category, I'm changing my guess here, based almost solely on the fact that the Rio song has the legendary, 71-year-old Brazilian musician Sergio Mendes as one of its nominees, a man who actually performed on the Academy Awards ... in 1968, for Pete's sake. He's like the freakin' Christopher Plummer of the Best Original Song category.)
BEST FOREIGN-LANGUAGE FILM
Bullhead (Belgium)
Footnote (Israel)
In Darkness (Poland)
Monsieur Lazhar (Canada)
A Separation (Iran)
I'd say the film's inclusion among the screenplay nominees gives A Separation the edge, but that reasoning sure didn't help recent contenders (and presumed front-runners) Amélie and Pan's Labyrinth in this category. With no equally acclaimed competitor in the foreign-language field, though, I'm staying put. And will no doubt regret it.
(Update: Still predicting A Separation, considering that the movie that wound up winning the BAFTA - Pedro Almodovar's The Skin I Live in - isn't nominated here. Still thinking I might regret it.)
BEST DOCUMENTARY FEATURE
Hell & Back Again
If a Tree Falls: A Story of the Earth Liberation Front
Paradise Lost 3: Purgatory
Pina
Undefeated
I've only seen the moving (though directorially intrusive) wounded-soldier doc Hell & Back Again and the fascinating eco-terrorist study If a Tree Falls, and either would be a deserving choice here. But I'm really, really hoping for a Paradise Lost 3 victory, as it would be fitting public acknowledgment of Joe Berlinger's and Bruce Sinofsky's indefinably vital roles in bringing attention to the notorious West Memphis Three case. If the filmmakers do win, expect a lengthy, thunderously loud ovation.
(Update: Again, the BAFTA went to another non-nominee for the Oscar, so I'm letting my prediction ride here, and am really hoping that Paradise Lost directors Joe Berlinger and Bruce Sinofsky can soon call themselves Oscar winners. Have you seen Brother's Keeper? Metallica: Some Kind of Monster? The other Paradise Lost films? Those guys rule!)
BEST ORIGINAL SCORE
The Adventures of Tintin
The Artist
Hugo
Tinker Tailor Soldier Spy
War Horse
A silent movie?! Tell that to composer Ludovic Bource and his nearly uninterrupted 100 minutes of pitch-perfect music!
(Update: I have nothing to say.)
BEST CINEMATOGRAPHY
The Artist
The Girl with the Dragon Tattoo
Hugo
The Tree of Life
War Horse
Aside from Dragon Tattoo, I'd say that the other films all have a decent shot, yet even the haters have to concede that if Tree of Life is about anything, it's about cinematography. It's actually about far, far more than that, but you know, you don't wanna rankle the haters.
(Update: Yes! Tree of Life won this award from the cinematography guild, so Emmanuel Lubezki is one step closer to his victory! Of course, he won that award five years ago for Children of Men, too, and where the hell did that get him on Oscar night ... ?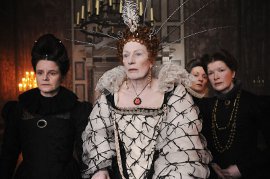 BEST COSTUME DESIGN
Anonymous
The Artist
Hugo
Jane Eyre
W.E.
In contrast, I think every single title here has a solid chance. But since 2007, all of the Costume Design winners have been films featuring European royalty (if you count Alice in Wonderland's Queen of Hearts, and I do). So chalk up a win for Anonymous - this category's third win in the past 15 years for a movie that finds a Queen Elizabeth among its characters. Then again, one of the Elizabeths is also a character in W.E., so ... .
(Update: Of the three costume-guild winners - as the guild votes in contemporary, period, and fantasy categories - the only one nominated for the Oscar was W.E. But is the Academy quite ready to reward a movie directed by Madonna? The Artist won at BAFTA, but I'm actually changing my vote to Sandy Powell for Hugo, as Anonymous maybe didn't feature quite as many frocks as voters would prefer, and is generally, and correctly, regarded as tony trash. For the record, this is the Oscar category I'm the absolute least comfortable in predicting, and might be the reason I go 23-for-24 on Sunday. Because, you know, that'll happen.)
BEST FILM EDITING
The Artist
The Descendants
The Girl with the Dragon Tattoo
Hugo
Moneyball
I think its editing is far more clever and accomplished than many realize, and The Artist's Best Picture front-runner status makes me want to back it all the more here. But don't count Hugo out by any means. Thelma Schoonmaker is a star among editors the way Scorsese is among directors, and his films have landed her two more Oscars that he's received.
(Update: The guild went with The Descendants in the drama category and The Artist in comedy. When in doubt, go with the eventual Best Picture winner.)
BEST ART DIRECTION
The Artist
Harry Potter & the Deathly Hallows: Part 2
Hugo
Midnight in Paris
War Horse
An early Artist win here would portend a major sweep, but if Hugo has any category in the bag, it's this one.
(Update: Hugo's a lock. Like an Octavia Spencer, Rango kind of lock.)
BEST SOUND EDITING
Drive
The Girl with the Dragon Tattoo
Hugo
Transformers: Dark of the Moon
War Horse

BEST SOUND MIXING
The Girl with the Dragon Tattoo
Hugo
Moneyball
Transformers: Dark of the Moon
War Horse
Hugo, however, definitely doesn't have these awards in the bag. In four instances over the past six years, one film won both sound categories, and that seems entirely possible this year, too. So let's presume that voters will want to reward the Best Picture also-ran (and total-nomination victor) with at least a few tech wins, though a War Horse - or even a Transformers - two-fer wouldn't shock me.
(Update: A major change - a Transformers win in both categories would now totally shock me. An even more major change - I'm going with War Horse for both. I somehow forgot that Spielberg's opus has the words "war" and "horse" baked right into the title. When it comes to the sound categories, how could voters resist?)
BEST VISUAL EFFECTS
Harry Potter & the Deathly Hallows: Part 2
Hugo
Real Steel
Rise of the Planet of the Apes
Transformers: Dark of the Moon
Hail Caesar!
(Update: This is likely going to be a tighter race than my two-word assessment indicated, but I'm staying put. Movies in which Andy Serkis gives a motion-capture performance never lose in this category.)
BEST MAKEUP
Albert Nobbs
Harry Potter & the Deathly Hallows: Part 2
The Iron Lady
And I pray that, while watching the Meryl Streep movie, those responsible for the aging makeup in J. Edgar took notes. Lots and lots and lots of notes.
(Update: It's really the Potter series' only serious chance for an Oscar, despite outside chances in its other two categories this year. It still ain't gonna happen.)
BEST DOCUMENTARY SHORT
The Barber of Birmingham: Foot Soldier of the Civil Rights Movement
God Is the Bigger Elvis
Incident in New Baghdad
Saving Face
The Tsunami & the Cherry Blossom
At last! The categories in which nobody ever knows what the hell is gonna happen! Having seen a grand total of zero of the above offerings, and based solely on their subject matter, I'm going with the film about the Japanese-tsunami aftermath. However, a moderately effective rule-of-thumb in correctly predicting the short-film victors is to always go with the longest title, so I might've just picked the category's runner-up instead.
[Update: From what I understand, Tsunami  - when not focusing on the horrific devastation of its title - is incredibly artful and meditative. Since when did that ever push the Academy's buttons? (He said, silently hoping that "artful" and "meditative" will actually win out in the Best Cinematography category.)  I'm officially changing my guess here to Saving Face, which is about Pakistani women who survive nightmarish physical assaults by family members, and is one of those movies that lead trustworthy Oscar prognosticators to say things like, "If you see that movie, you can't not vote for it." I'm going with the experts.]
BEST LIVE-ACTION SHORT
Pentecost
Raju
The Shore
Time Freak
Tuba Atlantic
A choice based solely on the film being written and directed by previous Oscar nominee Terry George (Hotel Rwanda, In the Name of the Father), and its starring the great Irish actor Ciarán Hinds, who'll hopefully receive an Oscar of his own one day soon.
(Update: I'm hearing amazing things about both Raju and Tuba Atlantic, but my adoration and respect for Ciarán Hinds is keeping me steadfast. And that's despite his currently co-starring in the Ghost Rider sequel.)
BEST ANIMATED SHORT
Dimanche/Sunday
The Fantastic Flying Books of Mr. Norris Lessmore
La Luna
A Morning Stroll
Wild Life
You can view this ode to the joys of literature on YouTube, and I highly recommend that you do; it's funny, moving, inventive, and gorgeously animated. And check it out! Longest title, too!
(Update: Everyone seems to think this one will win. You've been warned. "Everyone" is nearly always wrong in this category.)
So ... to sum up ... .
FINAL OSCAR PREDICTIONS:
PICTURE: The Artist
DIRECTOR: Michel Hazanavicius, The Artist
ACTOR: Jean Dujardin, The Artist
ACTRESS: Viola Davis, The Help
SUPPORTING ACTOR: Christopher Plummer, Beginners
SUPPORTING ACTRESS: Octavia Spencer, The Help
ORIGINAL SCREENPLAY: Midnight in Paris, Woody Allen
ADAPTED SCREENPLAY: The Descendants, Alexander Payne, Nat Faxon, Jim Rash
ANIMATED FEATURE: Rango
ORIGINAL SONG: "Real in Rio," Rio
FOREIGN-LANGUAGE FILM: A Separation
DOCUMENTARY FEATURE: Paradise Lost 3: Purgatory
ORIGINAL SCORE: The Artist
CINEMATOGRAPHY: The Tree of Life
COSTUME DESIGN: Hugo
FILM EDITING: The Artist
ART DIRECTION: Hugo
SOUND EDITING: War Horse
SOUND MIXING: War Horse
VISUAL EFFECTS: Rise of the Planet of the Apes
MAKEUP: The Iron Lady
DOCUMENTARY SHORT: Saving Face
LIVE-ACTION SHORT: The Shore
ANIMATED SHORT: The Fantastic Flying Books of Mr. Norris Lessmore
The 2012 Academy Awards ceremony will be telecast on Sunday, February 26, at 7 p.m. on ABC. Follow Mike's reactions to the broadcast at Twitter.com/MikeSchulzNow.