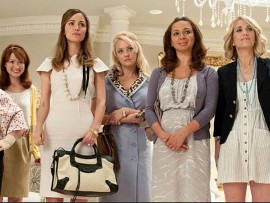 BRIDESMAIDS
You wouldn't necessarily think that exhaustion and depression would be fertile subjects for a big-screen slapstick - at least, for a big-screen slapstick that didn't star Paul Giamatti. Yet in director Paul Feig's buoyant and brainy Bridesmaids, Kristen Wiig plays a sad, discouraged, frequently humiliated maid of honor with such inventiveness and style that she seems to be creating a new comic archetype right before your eyes. Hiding her misery behind a thinly veiled mask of courtesy and good cheer, and letting her anger and resentment spill out in sarcastic asides and messy, chaotic bursts, Wiig's Annie - like many of the brilliantly talented performer's most memorable characters - is a singular creation. And so, too, is Bridesmaids, a female-driven Judd Apatow comedy (he's a co-producer) with the rare distinction of being smarter than it is funny, though it's still plenty funny.
The film opens with Annie having loud, acrobatic sex with an occasional boyfriend played by Jon Hamm ... and for the majority of the film, that's about as good as things get for Annie. (For those of you thinking that's good enough, know that Annie isn't really enjoying the sex, as the ever-game Hamm, here, is portraying a more toxic version of his great-looking moron Dr. Drew from 30 Rock.) A fledgling professional baker saddled with two creepy roommates and an unfulfilling job at a jewelry store - her recently closed cake shop a victim of the economic meltdown - Annie's sole comfort seems to come from childhood pal Lillian (Maya Rudolph), who's the sort of reliable, nearly telepathic friend who finishes your sentences before you've even properly thought them out. Yet when the newly engaged Lillian announces her plans to move from Milwaukee to Chicago, and asks Annie to serve as maid of honor, Annie's smiling-on-the-outside anguish hits new depths - especially after meeting the chic, beautiful, über-wealthy bridesmaid Helen (Rose Byrne), who appears hell-bent on usurping Annie's position as Lillian's BFF.
What follows is a tug-of-war, between Annie and Helen, for Lillian's approval, and Bridesmaids is rife with comedic set pieces that end in spectacularly disastrous fashion: lunch at a low-cost Brazilian restaurant that leads to gastronomic hell in a high-end bridal boutique; a beyond-gaudy, Paris-themed wedding shower with beret-wearing puppies given as parting gifts; a trip to Las Vegas waylaid by Annie's unwise mixing of tranquilizers and booze. (The punchline to the Vegas sequence, by the by, couldn't possibly be more satisfying.) Beneath the film's outré physical comedy and fiercely clever (and sometimes literal) gags, though, is a wholly unexpected seriousness. Even in the film's most aggressive stabs at gross-out humor, co-screenwriters Wiig and Annie Mumolo remind us of the humanity at their core - that the characters' predicaments, even their more absurd ones, are the result of Annie's neediness and desperation, and her fear about losing the one constant, the one happiness, currently left in her life.
Consequently, you can sense that the filmmakers' hearts are not entirely into some of the high-comedy high jinks being staged; that food-poisoning scene, especially - which feels a bit like something tacked on to assuage the male Apatow fans in the audience - doesn't so much explode as sputter and dribble. (Forgive the disgusting imagery.) And as events begin to tip toward the melancholic, Bridesmaids all but completely forgets about the wedding-party participants played by Wendi McLendon-Covey and Ellie Kemper, who'd previously been delivering laughs equal to any they generated in their roles on Reno 911! and The Office. The film is terrifically intelligent throughout, but it doesn't fully embrace its slapstick possibilities, and like most Apatow productions, it runs on too long. Given the cast's delightful riffing, it's understandable that Feig may have been loath to shout "Cut!", but there's still no good reason for this amiable farce (or any amiable farce, really) to clock in at over two hours.
Still, for those of us who've been waiting - and waiting - for Wiig to score a big, juicy leading role in a Hollywood comedy, the film's 120-plus minutes are to be cherished. And Wiig's heartfelt, richly drawn, supremely witty, and frequently hysterical portrayal flourishes further whenever she shares the screen with the magnificent Rudolph and Byrne, the late, great Jill Clayburgh (as Annie's mom), and Chris O'Dowd, the charming Irish actor who plays Annie's potential love interest and, apparently, the only working police officer in Milwaukee. (They say a cop is never around when you want one, but O'Dowd's cop is, miraculously, always around when the script needs him to be.) Meanwhile, if any performer comes close to stealing the film from its star, it's Melissa McCarthy, in a genius-level turn as Lillian's tough-talking, level-headed, and sexually voracious bridesmaid - the tomboy as femme fatale. In general, Bridesmaids is an expert version of a comedy you've sat through numerous times in the past. Whenever McCarthy is onscreen, it's a comedy of the sort you've never seen before.
JUMPING THE BROOM
Loretta Devine is such a great, empathetic, effervescent screen presence that it may not dawn on you until halfway through the marital comedy Jumping the Broom that she's actually playing a total monster - a rude, judgmental, and mostly one-note gorgon whose effrontery would be hateful if Devine herself weren't so damned likable. The actress turns out to be pretty emblematic of director Salim Akil's movie as a whole, a culture-clash comedy filled with dimensionless, barely believable stereotypes, yet one enacted with such ingratiating warmth and skill that you have little choice but to give in to its relaxed, friendly vibe. As the pampered, beleaguered bride-to-be, the beautiful Paula Patton (Gabourey Sidibe's salt-of-the-earth teacher in Precious) is pitched too high, and Elizabeth Hunter's and Arlene Gibbs' overstuffed script boasts a few too many subplots; the romance between Patton's maid-of-honor (Meagan Good) and the wedding chef (Gary Dourdan), in particular, could've been excised with no noticeable loss. But we're at least treated to supremely enjoyable, bitchy verbal duels between warring mothers-in-law-to-be Devine and Angela Bassett, and there's stellar support provided by Laz Alonso, Valerie Pettiford, Mike Epps, Brian Stokes Mitchell, Julie Bowen, and the consistently great Tasha Smith. (This actress who has played so many hilarious, mean-spirited harridans over the years is given the chance to play a radiantly happy woman here, and the change of pace is most welcome; with her dazzling smile and buoyant cheer, Smith seems lit from within.) Little about Jumping the Broom is memorable, but it's a tasty little canapé of a movie, and a surprisingly unpretentious one, considering the leads' wedding tent is big enough to comfortably store a Boeing 747.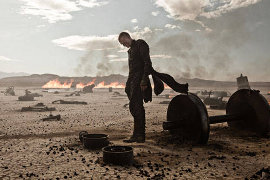 PRIEST
The first words heard in the graphic-novel adaptation Priest come from a soon-to-be-offed character who's seen wandering around in one of the film's many, many dimly lit locales: "I dunno ... it feels like our grave." For the next 85 minutes, Priest certainly felt like mine. An incoherently plotted and visually murky tale of priests trained in the art of vampire-slaying - not a course, I'm guessing, available to most theology majors - director Scott Charles Stewart's laughably serious thriller is like what you'd get if a pissed-off and really high lapsed-Catholic blended The Searchers, Jonah Hex, and any given vampire-movie-of-the-week. And it's still no fun. Paul Bettany borrows Clint Eastwood's gravelly baritone, Brad Dourif shows up as a weirdo medicine man, Cam Gigandet tries not to bump into the furniture, and between the stoic dialogue and the routine action violence and the blah CGI effects (in 3D!) it's all too tiresome to be believed. (Co-star Christopher Plummer certainly appears to think so; the veteran actor can pull off roles like this film's dour monsignor in his sleep, but his disconnected performance here suggests that Plummer actually was asleep.) "The war is over," says Maggie Q's ass-kicking female priest late in the film. "No," growls Bettany, "it's just beginning." If you attended a screening of Priest and thought you heard an anguished "No-o-o-o-o!" following that line, I apologize for the disruption.