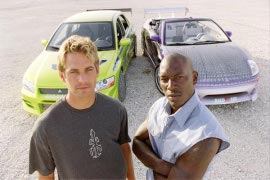 2 FAST 2 FURIOUS
How did this happen? How, in a summer chockablock with megahit wannabes of all sorts, did the major studios agree to get out of Universal's way and allow 2 Fast 2 Furious to be the only new release of the June 6 weekend? Are the powers-that-be at Universal holding compromising photos involving the rival studio heads? Are they holding their pets hostage? Why, for the love of God, are Universal's competitors letting this terrible movie become a hit? Granted, the opening five minutes are fun, and there's a squirmy torture scene involving a rat attempting to burrow through a man's stomach.
But John Singleton's (!) sequel to 2001's The Fast & The Furious is a stupid, uninvolving and, yes, dull waste of time; I was so bored at 2 Fast 2 Furious that I spent the entire movie entertaining myself by reading into the (unintentional, I'm sure) gay subtext between Paul Walker's and Tyrese's characters. (Tyrese spends his screen time whining and moping about Walker's flirtations with women, the duo engage in love/hate banter like a grade-D Sam and Diane from Cheers, and their one physical fight scene looks a lot more, um, physical than it probably should.) The instantly disposable 2 Fast 2 Furious isn't worth wasting ink, not to mention eight-plus dollars, on, so let's move along to films whose mediocrity makes them infinitely superior ... .
WRONG TURN
In a Hollywood Blockbuster summer, even depressingly wispy works like The In-Laws and Daddy Day Care look like they cost a hundred million dollars - and aren't worth a tenth of that - so it's refreshing as hell to land on a cheapo little scare flick such as Wrong Turn. Deep in the backwoods of West Virginia, a group of inbred cannibals capture and kill random passersby, which seems horrific until you realize these victims could've encountered Nell instead, which seems like a far more gruesome prospect. This mostly plotless piece provides the murderous half-wits with a youthful sextet of babes-in-the-woods; we get to be entertained by guessing the order of their annihilation. (It's pretty easy.) Wrong Turn is as trashy and silly as you'd expect, and lead Desmond Harrington's blank stoicism will bring back unpleasant memories of Darkness Falls' Chaney Kley, yet all things considered, it's disreputable fun. Like almost every modern horror film, the opening is nice and scary, yet unlike almost every modern film, there are still more scares to come; director Rob Schmidt doesn't blow his whole wad on the pre-credits action. His jolts come at sneaky, unpredictable times throughout, and he provides a beauty of a sustained sequence in which the kids are trapped in the killers' ramshackle house while the brothers are sleeping, and have to exit without making a peep. (Hard to do when surrounded by human entrails.) The movie is satisfyingly gory, showcases a couple of impressive turns by Eliza Dushku and Jeremy Sisto, and features an execution I've never seen before, involving a girl, a tree, an axe, and a really long drop. And in a derivative, though enjoyable, genre work like Wrong Turn, a slaying that's gross, funny, and clever is a huge accomplishment all by itself.
THE GURU
After watching the DVD of The Guru, I'm a little shocked that the movie, despite receiving a national release, didn't make it to our area earlier this year. It's predictable stuff, but it contains laughs, memorable production numbers, and a terrific cast, and as romantic comedies go, it's more original than anything Sandra Bullock has starred in lately; the film practically defines the phrase "worth a rental." The plot involves an Indian (Jimi Mistry) with eyes on Hollywood stardom who becomes an accidental "sexual guru," adored by a New Age-y fruitcake (Marisa Tomei) and adoring of a sweet porn star (Heather Graham), and although the romantic-comedy elements feature zero surprises and are a tad moist for tolerance, The Guru is brisk, occasionally witty, and a bit rude; the rudeness keeps the film's sappier instincts in check. Among its many minor pleasures is the Bollywood-style rendition of "You're the One That I Want," which is hysterical and absolutely joyous (as is the zanily-inspired musical finale), the contributions of demented scene-stealers such as Michael McKean, Christine Baranski, and Dwight Ewell, and Heather Graham doing a delightful comic riff on her legendary Rollergirl. There might never be consensus on whether Ms. Graham can actually act, but when she's as utterly winning and yummy as she is here, who's gonna bitch?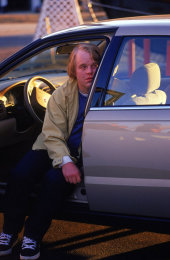 LOVE LIZA
Unlike Heather Graham, Philip Seymour Hoffman will never be accused of coasting on looks or charm, but beginning with his arresting debut in Scent of a Woman, in which he managed to steal best-performance honors from a hoo-hahing Al Pacino, he might just be the finest American actor this country has produced in the past 15 years. Consider this résumé: since 1997 alone, Hard Eight, Boogie Nights, The Big Lebowski, Happiness - here we pause to forget about Patch Adams - The Talented Mr. Ripley, Magnolia, Flawless, State & Main, Almost Famous, Red Dragon, Punch-Drunk Love, 25th Hour. Every performance is precise, lived-in, brilliantly thought-out, and wholly engaging; though Hoffman often gets pigeonholed as a very specific type of grubby loser - for some reason, his masturbating loner in Happiness appears to be the role for which viewers best remember him - he continually displays astonishing range, a wicked sense of humor, and absolute truth. (He was the only human being among the cardboard cutouts of Twister.) Add to his filmography oodles of work for the New York stage - picking up two Tony nominations (for True West and the current Long Day's Journey Into Night) along the way - and you'd be hard-pressed to find a young actor who even comes close to rivaling his abilities.
Needless to say, anything featuring Hoffman in a major role is worth checking out - again, let's agree to ignore Patch Adams - so for his followers, the new DVD release of 2002's Love Liza, in which he appears in nearly every scene, is a joyous occasion, even though the movie itself is utterly negligible. In the film, scripted by Hoffman's brother, Gordy, PSH plays a recent widower who is unable to open the suicide note left by his beloved wife, and who turns to gasoline-sniffing and model-plane-flying to ease his pain. Yes, you read that correctly. Director Todd Louiso's movie is awkward and graceless, but good God, does Hoffman give it all he's got. Even though, as with all good performers, Hoffman is more effective when he isn't acting all over the landscape, Love Liza gives him some powerful rants and a character with aching poignancy; he outclasses the movie, and then some. This latest addition to his résumé is like Flawless without the drag act, worth sitting through just to see what new wonders Philip Seymour Hoffman is going to deliver.