If you will, please permit me a quick public apology before I expound on my 10 favorite movies of this past year:
Sorry, Muppets. If I hadn't caught that out-of-town flick a week ago, you totally would've made the list. (Instead, you top the list of the 150 other 2011 movies I saw.)
Of course, had I actually viewed every new film 2011 had to offer, I might've owed apologies to J.C. Chandor and Steven Soderbergh and Harry Potter, too. As usual for this Midwestern film critic without access to DVD screeners or a blank check to regularly travel to New York and L.A., there are a bunch of thus-far-unseen 2011 titles that I may wind up loving, including plenty that will likely merit "For Your Consideration" consideration from Oscar voters: Tinker, Tailor, Solider, Spy; Shame; Take Shelter; The Iron Lady; We Need to Talk About Kevin; Coriolanus; Albert Nobbs; A Dangerous Method; A Separation; Martha Marcy May Marlene; Bucky Larson: Born to Be a Star; Extremely Loud & Incredibly Close; Rampart ... .
(I threw Bucky Larson in there just to see if you were still with me.)
But while my collective moviegoing experience in 2011 may have been incomplete, it was hardly unsatisfying, and oftentimes during the year - especially during the hours I spent watching the 10 titles below - it was awfully satisfying. Naturally, once I've played our area's annual midwinter game of art-film catch-up, the following list will likely change. But what I'm certain won't change is my delight, surprise, and (to be perfectly honest) relief that my favorite living filmmaker released a movie that I can, without hesitation, call my favorite of the year ... .
1) Midnight in Paris. The last Woody Allen movie to land on my annual 10-favorites list was 2000's Small Time Crooks. The last Woody movie to land at the top of my list would've been Hannah & Her Sisters, had I been composing such lists in 1986. And the last Woody movie to boast Midnight in Paris' combined levels of craftsmanship, romanticism, cleverness, hilarity, thematic depth, and confidence was ... . Hmm. Let me get back to you on that. As you're probably aware, the auteur's latest comedy became the biggest domestic hit of his career. And for good reason; with a never-better Owen Wilson traversing between modern-day France (and Rachel McAdams as his riotously entitled fiancée) and Paris of the 1920s, this timeless charmer so skillfully blended the highbrow with the high-concept that it managed to appeal to just about everyone. But I wonder if the acclaimed film would've been even more rightfully acclaimed if Woody, at age 76, weren't still so damned prolific. If instead of a movie every year, he made one, say, every four years, would a bigger deal have been made of Darius Khondji's exquisite cinematography, with numerous shots the (color) equivalents of any found in Woody's Manhattan? Would more attention have been paid to the script's classically farcical structure, and Alisa Lepselter's precise editing, and the brilliantly funny punchlines that, by now, we've come to take for granted? ("I don't know what it is about this city! It's like I gotta write a note to the Chamber of Commerce!") Perhaps. Yet whether the movie is underrated or not, we'll always have that gorgeous opening montage, and the hobnobbing at the Moulin Rouge, and the climactic walk in the rain. We'll have Michael Sheen as a pedantic blowhard, and Corey Stoll as the Hemingway of your dreams, and Adrien Brody as an endearingly obsessed Salvador Dalí. ("I see ... a rhinoceros ... .") We'll have Marion Cotillard. ('Nuff said.) And we'll have 90 minutes of utter, undiluted joy, and in a movie year full of marvels, the closest that motion pictures came to delivering literal magic. In short, happily, we'll always have Paris.
2) Moneyball. When the Oakland A's won 20 consecutive games during baseball's 2002 season, it was considered something of a miracle. You know what else was something of a miracle? Director Bennett Miller and screenwriters Aaron Sorkin and Steve Zaillian taking author Michael Lewis' nonfiction exploration of the cost-saving methods behind that stunning run and turning it into a fascinating, funny, dramatic, intense, unexpectedly moving entertainment. I mean, it's a movie about sabermetrics, for crying out loud! A triumph-of-the-underdog sports flick in which the actual underdogs are the deal-brokers making the behind-the-scenes plays, the beautifully paced, visually expressive Moneyball is a true original, a devastatingly smart piece of work that, despite the reams of statistical analysis thrown your way, never leaves you feeling stupid. And with Jonah Hill offering pitch-perfect support as a man almost certain of his risky hunches, Brad Pitt - as A's General Manager Billy Beane - gives what is easily the performance of his career, a star turn so relaxed and magnetic and deeply soulful that, in a perfect world, it would net him the Best Actor Academy Award he richly deserves. It's shaping up to be a close race, but I'm thinking that come February - at least in this one instance - it might prove to be a perfect world, after all.
3) The Artist. I caught writer/director Michel Hazanavicius' black-and-white, silent-film ode to old Hollywood while in the Chicago area during Christmas weekend. Oh, man, are you in for a treat when this thing hits the Quad Cities! Both a lightly satiric re-creation of a silent classic and the genuine article, The Artist tells the riches-to-rags-to-riches story of a beloved matinée idol (the faultless Jean Dujardin) who refuses to adjust to the world of talkies, and it casts an intoxicating spell within its first few minutes. Who needs sound when you have stars as charismatic as Dujardin and the dazzling spitfire Bérénice Bejo, or period design this lushly evocative, or gasps and tears and laughs as colossally well-earned as they are here? (The simplest of the movie's title cards - "BANG!" - could very well make you gasp, tear up, and laugh.) It should be noted that Hazanavicius' masterful offering isn't completely silent; beyond a few wonderfully audible surprises, composer Ludovic Bource contributes nearly 100 solid minutes of lovely, sublimely appropriate background music. Plus, if you catch the movie with a receptive crowd, you'll likely be hearing - and contributing to - frequent bursts of delighted astonishment, particularly whenever that scene-stealing Jack Russell terrier named Uggie shows up. There's apparently a viral campaign underway to award the pooch an Oscar. He's got my vote.
4) Rango. Despite random winners such as Arthur Christmas, Kung Fu Panda 2, and Winnie the Pooh, 2011 didn't seem to me a very strong year for animated offerings. (When a new Pixar release fails to appear among my personal top 100, something is definitely amiss.) 2011 did, however, give us Rango, so I really don't see much point in complaining. In its way, director Gore Verbinski's and screenwriter John Logan's tale of The Little Lizard Who Could is as much a celebration of Hollywood as The Artist, a vibrantly detailed, stunningly well-photographed (if that's the correct term) homage to classic Westerns and Roman Polanski's Chinatown and Sergio Leone's "Man with No Name" series. (If I ever meet him, I'm going to genuflect before Timothy Olyphant for his peerless channeling of Clint Eastwood here.) For all of the movie's thrilling evocations of the past, however, the film's sparkling wit, curveball humor, and technical virtuosity are distinctly present-day, with Johnny Depp delivering a sweetly eccentric, multi-layered vocal turn that's more nuanced - and even a good deal funnier - than any flesh-and-blood portrayal the man has given in more than a decade, and that includes Captain Jack Sparrow. All this, plus cinema's most hysterical campfire scene since Blazing Saddles. Let's ri-i-ide!
5) The Tree of Life. Will it sound like a backhanded compliment, if not a direct insult, to say that writer/director Terrence Malick's wildly divisive meditation on life, love, and family is my new favorite Nap Movie? After purchasing this thunderously ambitious, aesthetically jaw-dropping saga this past autumn - having previously seen it at the cineplex this past summer - I watched the film again in its entirety, and was again astounded by the grace with which Malick and his collaborators (principally cinematographer Emmanuel Lubeszki) crafted such a delicate, small-town memoir of such cosmic dimensions. While attempting to watch this mostly plotless, deliberately paced outing a third time, though, I fell asleep roughly 45 minutes in, waking up about an hour later ... at which point, after a few more minutes of focused attention, I conked out again. Yet perhaps strangely, I consider that a telling demonstration of the movie's repeat-viewing appeal: The Tree of Life is so hypnotic, so serene, so quietly powerful (with untrained youth Hunter McCracken the performance equal of exceptional co-stars Brad Pitt and Jessica Chastain), and so theologically and metaphysically profound that it leaves you in a state of blissful tranquility, like the cinematic equivalent of an amazing massage. You can nap during Malick's film, but you'll likely be smiling while you're sleeping, and a host of visual and aural and thematic wonders will still be waiting for you when you wake up.
6) Drive. To misquote the Bard: "Some are born cool, some achieve coolness, and some have coolness thrust upon them." Ryan Gosling, I'm guessing, was just born cool. To be sure, Drive's star achieves coolness (and then some) in his role as the unnamed stunt driver of director Nicolas Winding Refn's viciously exuberant thriller, and certainly has coolness thrust upon him during a number of the film's unforgettable set pieces. (That motel-room attack! That elevator kiss! That climactic stare!) Yet only an actor this dyed-in-the-wool-cool could take a character this reticent and inscrutable and fill him with such explosively vivid detail. Driver, as he's called in the end credits, doesn't get many lines in Hossein Amini's terrifically biting script. Gosling's silences, though, speak volumes about the man's conflicted ethics, and his untapped reservoirs of rage, and just how far he's willing to go to protect the woman he loves (a fabulously beguiling Carey Mulligan) - the first woman, you sense, he's ever dared to love. The film's haunting moodiness is superbly rendered, the chase scenes are wizardly, and enough can't be said about Albert Brooks' joyously acidic portrayal of a Hollywood mensch with a really dangerous side. But as his performance here affirmed, and his work in Crazy, Stupid, Love and The Ides of March confirmed, 2011 was Ryan Gosling's year. We were just lucky enough to drive around in it.
7) Hugo. Continued proof that Martin Scorsese should never, ever, be underestimated. Watching the early Hugo previews that somehow made the movie seem simultaneously hyperactive and duller than hell, I was convinced that the director's first foray into family fare was going to bomb, and rather spectacularly at that. Now I'm wondering just how many Oscar nominations - among them Best Picture and Director - it's going to receive. (Ten? Eleven?) A serious-minded, touching coming-of-age story tucked into a grandly scaled reverie for the early days of cinema, Scorsese's nimble, extraordinarily well-designed adventure is in a live-action-family-film class by itself ... or, at least, in a class that only contains Babe, Where the Wild Things Are, and maybe a few others. With his heartbreaking emotional directness, Asa Butterfield gave a deeply empathetic performance, and his scenes alongside Ben Kingsley - wondrous as film pioneer George Méliès - were every bit as captivating as the mechanical intricacies visualized by cinematographer Robert Richardson. I had a ball at this latest endeavor from Scorsese and Rango screenwriter John Logan (you had a helluva fine 2011, John!), and in a terrific surprise, I was positively floored by Hugo's 3D presentation, the best employment of the surcharge-loaded format I've yet seen. That Scorsese, I'm tellin' ya. Still crazy-gifted after all of these years.
8) Margin Call. If, like many of us, you've been waiting patiently for Kevin Spacey to return to the greatness of his 1990s heyday, or Jeremy Irons to play a mellifluously voiced villain who doesn't have an animated mane, or Demi Moore to, you know, step up and act already, this debut feature from writer/director J.C. Chandor is the movie for you. It's actually a movie for anyone who appreciates it when words have the sting of punches to the gut; this tight, trenchant, only-lightly-fictionalized exploration of how and why the global economic meltdown occurred transforms standard boardroom conversation into exhilarating, and terrifying, screen intrigue. Key to the film's success is that its Wall Street figures - Spacey's grieving corporate head, Moore's taciturn lawyer, Paul Bettany's brash stockbroker - are constantly surprising us by revealing unexpected (and sometimes unexpectedly generous) depths of character, and always right when you think you have them all figured out. In Margin Call, no one's motivations are completely what they seem, and as acted by a stellar ensemble that also features Stanley Tucci, Zachary Quinto, Penn Badgley, and Simon Baker, there are supremely human faces placed on the film's inhumane financial practices. It's a first-rate thriller without car chases or explosions or guns, and given the violence inherent in the words and deeds here, the movie doesn't need them.
9) Contagion. Among the five titles on this list that I've only seen once thus far (which includes selections three, six, seven, and 10), I'm not sure I'm looking forward to a second viewing of any of them more than this fantastically frightening, all-too-believable horror film by director Steven Soderbergh. And despite the absence of monsters and serial killers, a horror film is precisely what Contagion is; in telling of a viral pandemic that decimates the globe - and the widespread public panic that ensues - no other 2011 release delivered quite as much suspense, dread, and bone-deep fear. Blessedly, Soderbergh and his frequent screenwriter Scott Z. Burns are also topnotch entertainers, and handily prevent the goings-on from becoming relentlessly, oppressively grim. (The pair opens the movie with an exemplary sick joke: a black screen, with the silence eventually interrupted by the sound of coughing, as if to say, "You know that guy who's hacking his brains out a couple rows behind you? The end of the world might start with him.") But by shrewdly killing off Gwyneth Paltrow's character in the first 10 minutes, not long before offing another above-the-marquee star, Contagion's filmmakers also stress that they mean business here, and deliver a potent, evocative freak-out in which no one - not even Matt Damon, Kate Winslet, Marion Cotillard, Jude Law, or Laurence Fishburne - is safe.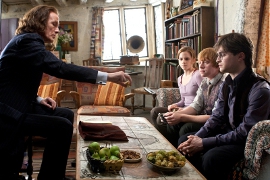 10) Harry Potter & the Deathly Hallows: Part 2. Surprised? Me, too. After being underwhelmed by all but one of the previous screen Potters (I still applaud you, Alfonso Cuarón, for 2004's outing), I left director David Yates' concluding chapter of J.K. Rowling adaptations exhausted, but also borderline-giddy. It should go without saying that I was blown away by the stunning visuals and exceptional production design, and enraptured by the palpable air of doom that suffused nearly every image. Yet considering how little attachment I had - or thought I had - to the series, I was flabbergasted to discover that what I responded to most in Harry Potter & the Deathly Hallows: Part 2 were the characters, and the crushing finality of the enterprise. Was it really 10 years ago that Daniel Radcliffe, Emma Watson, and Rupert Grint first donned their wizard-wear? Suddenly, it was clear just how marvelously this trio had morphed from adorable tyros into thoughtful, nuanced actors who easily held the screen alongside Alan Rickman, Ralph Fieness, Maggie Smith, and dozens of other esteemed British thespians. And with that beautiful climactic fade-out, it was clear that we were witnessing the end of a truly extraordinary cinematic odyssey ... and I bawled like a baby. Hats off to all for this splendid finale. When Hollywood inevitably reboots the franchise, let's hope it isn't mucked up too badly.
For Mike's numerical ranking of 150 additional 2011 titles, visit " ... And Jack & Jill Came Tumbling After."
Follow Mike on Twitter at Twitter.com/MikeSchulzNow.