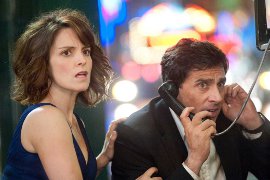 DATE NIGHT
Playing husband and wife in the marital action comedy Date Night, Steve Carell and Tina Fey partner each other with such skillful ease, and radiate such genuine affection for one another, that my issues with the film have come to feel insignificant, and even a little petty. I had a not-bad time at director Shawn Levy's latest. But reflecting on the experience, I've found it awfully difficult to wipe the grin from my face; surrounded by an exceptional cast of second bananas, Carell and Fey are so genial and inventive together that it's easy to ignore the dully synthetic, determinedly formulaic Hollywood product they're appearing in.
Few cineplex sights get me yawning quicker than the image of a leather-clad villain pointing a gun at our hero (sideways) while demanding he hand over some ultimately meaningless doohickey, à la this film's "Give us the flash drive!" Consequently, it took about 20 minutes for my yawning to commence at Date Night, in which a contented-but-bored New Jersey couple is mistaken for blackmailers while dining, under another couple's reservation, at an upscale Manhattan eatery. Story-wise, nearly everything that happens next happens just as you expect it will; the movie is a by-the-numbers, PG-13-rated, action-comedy blockbuster down to its rote car chases, exploding windshields, and lone, seemingly mandated dropping of the F bomb. Yet despite Date Night's built-in predictability, Levy does manage an occasionally clever sight gag - the Central Park escape on a slow-moving speedboat was particularly enjoyable - and I'm thinking the man deserves an award of some kind for having the entire picture, credit cookies and all, clock in at a brisk 85 minutes. The film may be a time-waster, but thankfully, not much time is being wasted.
Of course, with Carell and Fey headlining, Levy's endeavor could've run even longer without complaint. Their roles as suburban grinds Phil and Claire Foster don't really require much from either performer beyond good-natured likability, and this they deliver with all the effortless aplomb and agreeable dorkiness that we fans of The Office and 30 Rock have come to cherish. The actors, however, aren't merely coasting here. Their performances, especially when Carell and Fey engage in some Second City-style sketch-comedy antics, have snap and drive, and when their characters share a laugh or a blessed respite from the frenetically busy action, it's clear that Phil and Claire not only love each other, but really, really like each other. Watching Date Night, you realize just how rare, and welcome, it is to see an on-screen couple making marriage look like incredible fun.
And speaking of fun, I'm not sure that any 2010 supporting cast has delivered more of it than the one assembled here; even the performers who seem oddly mismatched with their roles keep you smiling. (Taraji P. Henson, in her cream-colored pantsuit, is probably more adorable than any no-nonsense NYPD detective should be, but any excuse to see Henson is a good one.) James Franco and Mila Kunis are hysterical as a pair of downtown slackers, arguing about her selfishness and his refusal to acknowledge her pole-dancing abilities ("I won a ribbon!"), and William Fichtner is grossly funny as a coked-out D.A. Kristen Wiig and Mark Ruffalo make smart, savvy drop-ins as recently separated friends of the Fosters; you're only disappointed that they don't stick around longer. And while the joke of Mark Wahlberg's appearance has probably been ruined by the movie's incessant trailers, that doesn't make the joke any less satisfying. (Wahlberg would tuck the movie in his shirt pocket and walk off with it if, you know, he were wearing a shirt.) The film may just be an innocuous genre diversion, but it yields a surprisingly hearty amount of pleasure, especially considering its genre; compared to that action-rom-com toothache The Bounty Hunter, Date Night is practically Battleship Potemkin.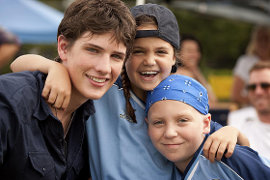 LETTERS TO GOD
I was praying that the inspirational drama Letters to God, which concerns an eight-year-old boy (Tanner Maguire) bravely fighting cancer, wouldn't be as hopelessly maudlin, manipulative, and insufferable as indicated by the poster, with its reaching-to-the-heavens imagery and homemade-lemonade-stand handwriting. And lo and behold, it wasn't. To be sure, this tearjerker for Christian audiences (advertised, amusingly, as "from one of the producers of Fireproof and Facing the Giants") has plenty of trite, obvious scenes, and if you're the sort of viewer who'd reflexively wince upon hearing the line "I'll do what Jesus would do" delivered with utter earnestness, you're advised to stay far away. Yet for all of its ham-fisted preaching and sequences that verge on, or teeter into, pure camp, Letters to God is actually rather touching, and leads Robyn Lively (who's like a more conventionally pretty Lili Taylor) and Jeffrey Johnson (a more grizzled Greg Kinnear) are quite wonderful in it. The film may be borderline-amateurish, but it's sweet and sincere, and it's impossible to hate any movie - especially a proudly nonsecular one - wherein a pastor asks our alcoholic adult protagonist if he can pray for him, and the guy squirms away with an offhanded, "No, I'm good."