ADVENTURELAND
My first awareness of writer/director Greg Mottola's Adventureland came at Christmastime, when some family members and I saw a trailer for the comedy before, of all things, a screening of Doubt. The movie's my-summer-at-an-amusement-park setup looked kind of promising, but given the preview's one-liners and visual gags, the supporting cast (Bill Hader, Ryan Reynolds, Kristen Wiig), and Mottola's credit as the director of Superbad, it seemed like an incredibly inappropriate teaser to run before John Patrick Shanley's nonsecular drama. When the trailer ended, my brother and I shared an incredulous look and a chuckle at the apparent incongruity. "Know your audience," he said with a laugh.
Yet in a wonderful shock, it turns out that whoever chose to plug this new release before Doubt really did know his or her audience, as Mottola's film displays all the seriousness of purpose that Shanley's does, only it's a lot more fun. Despite its freewheeling title, Adventureland is an observational comedy about idleness, and rarely has on-screen inactivity seemed as exhilarating - at least emotionally - as it does in this sweet, hilarious, and graceful coming-of-age tale; the film is fantastically smart, unexpectedly literate, and beautifully performed, and it will surely have far greater resonance for adults than for the youth audiences it would appear to be geared toward.
Set in the summer of 1987, Adventureland follows recent college graduate James Brennan (Jesse Eisenberg) through one season as a minimum-wage drone at a failing Pittsburgh-based amusement park. A jittery, book-smart virgin who spends his days getting high and listening to endless replays of "Rock Me Amadeus," James finds himself contending with eccentric co-workers and hostile customers, all the while tentatively romancing NYU student Em Lewin (a stunningly good Kristen Stewart), and there's really nothing about that synopsis that shouldn't lead you to expect a raucous, rowdy good time. Yet it winds up being a completely different kind of good time - one that's quieter and more contemplative, yet utterly, disarmingly satisfying.
Bypassing easy laughs (particularly in regards to the movie's parody-ready, mid-'80s time period) and stereotypes, Mottola crafts a wholly believable, lived-in world in Adventureland, and nothing that happens in the film happens quite the way you anticipate. We keep meeting characters that we presume we've met a thousand times before - Martin Starr's monotone nerd, Margarita Leviera's playful flirt, Reynolds' seen-it-all handyman - but every last one of them proves to be complex and thoughtful, and when they're funny, they're funny in realistically human ways; no one's dialogue and actions seem dictated by the necessities of the plot. Mottola displays an inspiring knack for loopy, offhanded conversation that gives away character without the characters themselves realizing it, and he's confident enough to let scenes slowly drift away, ending on subtle notes of melancholy and regret. There's a sadness and longing to Adventureland that's deeply felt, yet never pushed; Mottola wisely realizes that the wordless sight of two youths falling in love over a mediocre fireworks display and Crowded House's "Don't Dream It's Over" doesn't need its poignancy oversold.
To be sure, the movie is oftentimes deeply funny. Eisenberg, as he proved with his exceptional performance in The Squid & the Whale, is a young master at deadpan dejection, and Hader and Starr - seen way too infrequently since his Freaks & Geeks days - offer continually priceless readings. (For her part, Wiig delivers the movie year's most explosive laugh with a bit involving an eye patch and a cotton-filled banana.) Yet Adventureland's exploration of post-collegiate malaise is so legitimately moving, and its clear-eyed look at growing up so profoundly hopeful, that it seems that rarest of movie-going experiences: a comedy in which the comedy is almost beside the point.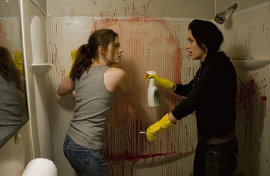 SUNSHINE CLEANING
In the years since her Oscar-nominated turn in 2005's Junebug, Amy Adams has seemed incapable of appearing in a bad movie. She cuts it awfully close, though, with Sunshine Cleaning, the slice-of-indie-life dramatic comedy that casts Adams and Emily Blunt as down-on-their-luck siblings who (rather too easily) initiate their very own crime-scene cleanup service. Even beyond its title, much has been made of the movie's uncanny resemblance to Little Miss Sunshine, what with the Albuquerque setting, the beater van, the precocious moppet, and the barking Alan Arkin. But Sunshine Cleaning's most glaring similarity to that 2006 hit is that it, too, is a mess; slapstick silliness and death-can-be-funny yuks sit uncomfortably beside maudlin sentiment and scenes of legitimate feeling, and there are about five or six more plotlines in Megan Holley's screenplay than the movie can reasonably manage. (At least one of them, in which Blunt becomes pals with the misused Mary Lynn Rajskub, could've been excised with no loss whatsoever.)
Yet with so much going on, you certainly can't accuse director Christine Jeffs' outing of being boring (another quality it shares with Little Miss Sunshine), and Adams is radiantly fine in it; given her sterling dramatic and comedic skills and seemingly effortless ability to suggest a character who truly deserves happiness, the star is spectacularly touching and empathetic throughout. Sunshine Cleaning is too slight and presentationally confused for its own good, but Adams gives it everything she's got, and she finds topnotch support in Blunt (with her haunting, faraway sadness) and the excellent Clifton Collins Jr. I'll admit that it wasn't until a visit to the Internet Movie Database Web site that I recognized Collins as the same actor who played Perry Smith in Capote, not because his friendly supply-store manager here is a 180-degree turn from his convicted killer, but because his Sunshine Cleaning character has only one arm, and the effect is so believable that I presumed Jeffs had simply found a first-rate performer with a missing appendage. Collins' welcome participation makes perfect sense, though. Heaven knows I'd give my right arm for the chance to play opposite Amy Adams. Collins opted for his left.