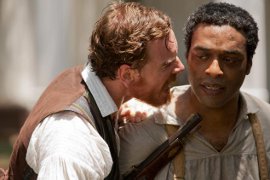 When it comes to the films and individuals that win Academy Awards, it's easy to get defensive, and even a little pissy, about voters' collective choices. "How could those people ever vote for ______," you find yourself asking, "when ______ is so obviously better? Don't they have any integrity at all?!"
Well, I'd certainly like to believe they do. But I'll also posit that, when it comes to a ritual as wholly subjective as this one, personal integrity - Academy members only voting for what they believe really, truly deserves to win in each category - is only part of the process. I mean, it's not like we're dealing with the results of the general election here; the fate of the nation isn't going to rest on whether Leonardo DiCaprio can eke out a win over Matthew McConaughey, or a cheerful little ditty for Minions triumphs over a Disney power ballad. It's the Oscars. It's a big deal, but it's also no big deal.
Predicting what might transpire, however, can be a helluva lot of fun, particularly if you really try to put yourself in the mindset of an Oscar voter. Do you vote for what you feel is "the best" in a particular category even if that "best" has no hope in hell of actually winning? Do you vote for a sweep for your favorite Best Picture nominee, or do you spread the category wealth among several films you loved? Even if his Book Thief score moved you to tears, do you really want to give John Williams yet another Oscar?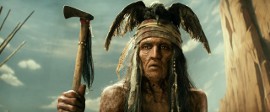 Consequently, this year I'm taking an experimental approach to my annual guess-the-Oscars article, making distinctions - and they exist in 14 of the 24 categories - between what I'm guessing will win and how I'd actually vote if I were a member of the motion-picture academy. Usually the latter means siding with personal favorites, but not always. (Sorry, Jennifer Lawrence and Emmanuel Lubezki.) Sometimes it means voting for movies I actively dislike. (Hello, Lone Ranger.) And sometimes it means voting without having seen all of the nominees in a category, or even without having seen any of the nominees in a category ... you know, just like a real Oscar voter!
The boldface nominees below are my official Oscar predictions, while my personal choices are marked with asterisks.
The 2014 Academy Awards are set to air on ABC on Sunday, March 2, beginning at 7 p.m. Central.
Best Picture
* 12 Years a Slave
American Hustle
Captain Phillips
Dallas Buyers Club
Gravity
Her
Nebraska
Philomena
The Wolf of Wall Street
I guess American Hustle could still emerge as the consensus choice among those who find 12 Years a Slave too cold and/or too harrowing, and those who find Gravity too sci-fi and/or too (pardon the pun) lightweight. But in the end, I think this is going to be a fight to the finish between those latter titles, with Gravity ultimately prevailing for a simple reason: People, by and large, are crazy about it. (Gut-level affection is how we get Best Picture victories for Shakespeare in Love over Saving Private Ryan, Crash over Brokeback Mountain, The King's Speech over The Social Network ... .) My vote goes to 12 Years a Slave, though, because in a squeaker race such as this one, I want to side with the movie I personally prefer. Plus, it gives me the chance to share the love among films I adore by instead opting for Gravity for ...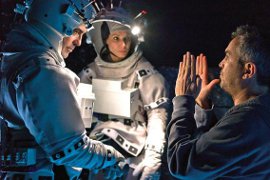 Best Director
* Alfonso Cuarón (Gravity)
Steve McQueen (12 Years a Slave)
Alexander Payne (Nebraska)
David O. Russell (American Hustle)
Martin Scorsese (The Wolf of Wall Street)
Cuarón won the Directors Guild of America Award - and nearly every other award bestowed to directors this year - and should be a lock here regardless of whether 12 Years a Slave (or American Hustle) snags Best Picture. He's also my personal choice for his formal brilliance, his technical innovation, and his fabulously eclectic résumé that includes Children of Men, Y Tu Mamá También, and the absolute finest of the eight Harry Potters. (That would be Prisoner of Azkaban.)
Best Actress
Amy Adams (American Hustle)
* Cate Blanchett (Blue Jasmine)
Sandra Bullock (Gravity)
Judi Dench (Philomena)
Meryl Streep (August: Osage County)
No, the re-ignited Woody Allen scandal isn't going to hurt Blanchett's chances one bit - not when the previous Best Supporting Actress winner (for 2004's The Aviator) gives the kind of performance she gives here. But with five acting nominations in nine years, expect the thus-far-Oscar-less Adams to receive her Lifetime Achievement Award any day now.
Best Actor
Christian Bale (American Hustle)
Bruce Dern (Nebraska)
Leonardo DiCaprio (The Wolf of Wall Street)
* Chiwetel Ejiofor (12 Years a Slave)
Matthew McConaughey (Dallas Buyers Club)
It's been a decade since we've had a bona-fide three-way race in this category, and what's even more amazing is that 77-year-old Dern - who would seem to have a lock on the "career best" and "it's finally his turn" angles - isn't one of those racers. (Neither is Bale, the only nominee here with an Oscar already on his mantle.) Presently, I'm thinking McConaughey's Golden Globe and Screen Actors Guild wins indicate a victory here, too ... but am I alone in finding his string of gonzo "All right all right all ri-i-i-ight ... !" acceptance speeches a little tiresome? If there's gonna be an upset in any acting race this year, expect it to be in this category; DiCaprio, especially, is coming on incredibly strong, and with four nominations now and no wins, he might just steal all those "it's his turn" votes that may have otherwise gone to Dern. However, my choice - and the very possible choice of Oscar voters en masse - is Ejiofor, because like Blanchett's, his is a portrayal that can't be denied. Or, at any rate, shouldn't be.
Best Supporting Actress
Sally Hawkins (Blue Jasmine)
Jennifer Lawrence (American Hustle)
* Lupita Nyong'o (12 Years a Slave)
Julia Roberts (August: Osage County)
June Squibb (Nebraska)
My favorite of these performances? Lawrence's. Would I vote for her? Nope. Not when the 23-year-old already has an Oscar, and won it just last year. (There is such a thing as too much too soon.) I'm tempted to throw my support toward Hawkins, but as she was one of the year's more unexpected nominees, it'd feel a bit like I was throwing away my vote; Hawkins' nomination, I think, is her reward. I'm going with Nyong'o, then, and think that if voters feel similarly Lawrence-leery, the 12 Years co-star will also wind up with a deserved real-world victory.
Best Supporting Actor
Barkhad Abdi (Captain Phillips)
Bradley Cooper (American Hustle)
Michael Fassbender (12 Years a Slave)
Jonah Hill (The Wolf of Wall Street)
* Jared Leto (Dallas Buyers Club)
Had Cooper won the Golden Globe the way I thought he was going to, I would've said that a victory for him here would've marked the perfect way for American Hustle to triumph in a major category. But it looks like there's just no stopping the Jared Leto express - and given how excellent he is in Dallas Buyers, and how much professional integrity the man exudes, that's totally fine with me. Plus, you know, they always give it to the old guy, right? (I'm kidding, of course, but among these nominees, 42-year-old Leto is the old guy: Abdi is 28, Hill is 30, Fassbender is 36, and Cooper is 39.)
Best Original Screenplay
American Hustle, David O. Russell, Eric Warren Singer
Blue Jasmine, Woody Allen
Dallas Buyers Club, Craig Borten, Melisa Wallack
* Her, Spike Jonze
Nebraska, Bob Nelson
Here's another, far more likely opportunity for American Hustle to make a dent in the major races, and with his recent track record, David O. Russell has to get one of these things eventually, doesn't he? But Her is nothing if not a writer's showcase, and a spectacular one, and the best way for the Academy to acknowledge the brilliance of both the film and the visionary who directed Being John Malkovich, Adaptation, and Where the Wild Things Are. (It may also be worth noting that while Russell's movies boast three Oscar-winning performances to date, they haven't yet been awarded outside the acting categories.)
Best Adapted Screenplay
12 Years a Slave, John Ridley
* Before Midnight, Julie Delpy, Ethan Hawke, Richard Linklater
Captain Phillips, Billy Ray
Philomena, Steve Coogan, Jeff Pope
The Wolf of Wall Street, Terence Winter
Ridley's victory is such a complete, and completely deserving, done deal that I feel absolutely no qualms about tossing my vote toward an option that has, I'm sorry to say, almost no chance at all. Besides, if my favorite movie of the year somehow did prevail here and I didn't contribute to the cause, I'd never stop hating myself.
Best Animated Feature
The Croods
Despicable Me 2
Ernest & Celestine
* Frozen
The Wind Rises
Frozen's a lock, and the best of the three titles I did see, so why be a contrarian? (Do I feel guilty giving it my vote even though I haven't yet caught up with Ernest & Celestine and The Wind Rises? Sure. But don't think this kind of thing doesn't happen with Oscar voters, too.)
Best Original Song
* "Happy," Despicable Me 2
"Let It Go," Frozen
"The Moon Song," Her
"Ordinary People," Mandela: Long Walk to Freedom
A vote for Frozen can be seen as a de facto vote for the film's entire score - including the songs, such as "For the First Time in Forever" and "In Summer," that are even better than "Let It Go" - so it'll likely emerge victorious here. But Pharrell Williams' "Happy" makes me feel that way every single time I hear it.
Best Foreign-Language Film
The Broken Circle Breakdown (Belgium)
The Great Beauty (Italy)
* The Hunt (Denmark)
The Missing Picture (Cambodia)
Omar (Palestine)
I can really only vote for The Hunt, as it's the only one I've seen, and it helps that the Danish drama is great. It helps even more that it's the only one here available for streaming on Netflix - a happenstance that, I'm thinking, might result in an eventual win. Why should voters deal with screenings, or even screeners, when they can instead catch up with a nominee in between episodes of House of Cards?
Best Documentary Feature
20 Feet from Stardom
* The Act of Killing
Cutie & the Boxer
Dirty Wars
The Square
I've seen 'em all, and the daring, haunting, horrifying The Act of Killing is, in my view, the best of the bunch, so in a pretty wide-open race, it gets my vote. Expect actual voters, though, to be more taken with 20 Feet from Stardom's look at background artists who toil for years without proper recognition - a circumstance that, oh, probably 99 percent of everyone in Hollywood can relate to.
Best Original Score
The Book Thief, John Williams
Gravity, Steven Price
* Her, William Butler, Owen Pallett
Philomena, Alexandre Desplat
Saving Mr. Banks, Thomas Newman
I'm going with Her because it featured the only score among the nominees that didn't, at any point, cause me to think, "The music is doing way too much in this scene." But I'm predicting the way-too-muchness of Gravity's climactic anthem - and, to be fair, the score's earlier, more plaintive, far more resonant strains - will net it the win, even though Desplat and Newman are insultingly overdue for Oscars, and five-time winner Williams is gearing up for his 18th loss in a row.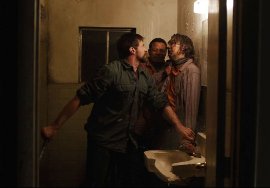 Best Cinematography
The Grandmaster
Gravity
Inside Llewyn Davis
Nebraska
* Prisoners
Even though the achievement of Gravity's Emmanuel Lubezki is my favorite in this field, I will continue to back Prisoners' Roger Deakins - whom I consider the finest cinematographer on the planet - until the 11-time nominee actually wins one of these damned things. But you'll hear no griping from me about Lubezki's inevitable victory, one that will finally, blessedly, end his Deakins-like string of losses. (Nothing for Children of Men or The New World or The Tree of freaking Life?!? Come on!)
Best Film Editing
12 Years a Slave
* American Hustle
Captain Phillips
Dallas Buyers Club
Gravity
If Gravity wins here, Best Picture goes to Gravity. If Film Editing goes to 12 Years, 12 Years gets the ultimate prize. As a way to continue sharing the wealth among my 2013 favorites, this is the bone I'm throwing to American Hustle, surprising though its actual victory here would be. As for Oscar voters, I think this is the spread-the-wealth bone they throw to Captain Phillips - just like in 2008, when Best Picture front-runners No Country for Old Men and There Will Be Blood were bested by The Bourne Ultimatum ... which, like Captain Phillips, was directed by Paul Greengrass.
Best Production Design
12 Years a Slave
American Hustle
Gravity
The Great Gatsby
* Her
A total toss-up and, I'm thinking, the best way for voters to acknowledge 12 Years' considerable period achievement. Any of the other films winning, however, wouldn't surprise me at all, so my nod goes to the just-recognizable-enough, just-futuristic-enough landscape of Her, which didn't announce its greatness so much as sneak in and subtly reveal it. And I would kill for Joaquin Phoenix's apartment.
Best Costume Design
* 12 Years a Slave
American Hustle
The Grandmaster
The Great Gatsby
The Invisible Woman
I haven't seen either The Grandmaster or The Invisible Woman, as I'd imagine many real voters haven't, and am expecting the Baz Luhrmann-ness of The Great Gatsby to secure it a Moulin Rouge-style victory. But my personal preference is for 12 Years, because of the three films here I did see, it was the only one where the wardrobe seemed appropriately, unconsciously lived-in, and I didn't spend any undue time thinking, "Wow, those actors sure look great in those costumes!"
Best Sound Editing
* All Is Lost
Captain Phillips
Gravity
The Hobbit: The Desolation of Smaug
Lone Survivor
Best Sound Mixing
Captain Phillips
Gravity
The Hobbit: The Desolation of Smaug
* Inside Llewyn Davis
Lone Survivor
For those confused about the difference between these categories, sound editing is the process by which individual sounds (such as gunshots and explosions) are created or captured, and sound mixing is the process by which contrasting sounds (such as voices and music) are blended together. But this year, who cares? Both awards are going to Gravity. Consequently, I'm happy to instead go with the long shots that are All Is Lost, because the movie is practically nothing but sound, and Llewyn Davis, because I gotta vote for that awesome Coen-brothers flick somewhere.
Best Visual Effects
* Gravity
The Hobbit: The Desolation of Smaug
Iron Man 3
The Lone Ranger
Star Trek Into Darkness
Yeah. Like I'm gonna fight the majority on this one.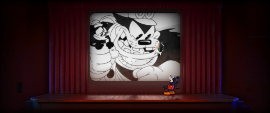 Best Makeup & Hairstyling
Dallas Buyers Club
Jackass Presents: Bad Grandpa
* The Lone Ranger
As voters generally go with the least embarrassing choice in this category, especially if it also happens to be a Best Picture nominee, I'd be awfully surprised if Dallas Buyers doesn't pull off the win. I doff my cap, however, to The Lone Ranger's prosthetics, as much as the movie itself irritated and bored me. Seriously, it took two scenes for me to realize that was Johnny Depp behind the glass, and not an incredibly old, incredibly eccentric, Native American character actor.
Best Documentary Short
CaveDigger
Facing Fear
Karama Has No Walls
* The Lady in Number 6: Music Saved My Life
Prison Terminal: The Last Days of Private Jack Hall
Best Live-Action Short
Aquel No Era Yo (That Wasn't Me)
Avant Que De Tout Perdre (Just Before Losing Everything)
* Helium
Pitääkö Mun Kaikki Hoitaa? (Do I Have to Take Care of Everything?)
The Voorman Problem
Best Animated Short
Feral
* Get a Horse!
Mr. Hublot
Possessions
Room on the Broom
Back in the old, pre-Internet days, I used to make guesses in these categories based on which shorts had the best titles. But we're in the 21st Century! Now we can vote based on the best trailers! (Thank you, Oscar.com, for this wonderful modern convenience.) While I preferred the visually ravishing preview for Helium - despite a dying-child storyline that already feels overly manipulative - I think Academy members will side with The Voorman Problem for Live-Action Short, as they oftentimes go with options featuring recognizable actors, and this one stars Martin Freeman and Tom Hollander. Like myself, I believe voters will opt for The Lady in Number 6 - which you can see online in its entirety - for Documentary Short, considering its beyond-inspiring subject: 109-year-old Alice Herz-Sommer, who is the world's oldest pianist, and the world's oldest Holocaust survivor. (The Oscar cynic in me also knows that, nearly every year, at least one Holocaust-themed offering winds up with a trophy.) [February 23 update: Herz-Sommer passed away this morning at the age of 110.] And if you saw Frozen, you likely saw its preceding featurette Get a Horse!, and will consequently find it impossible not to predict, and completely rally behind, this Mickey Mouse stunner for Best Animated Short. If you haven't seen it yet, make plans to immediately. It's like The Purple Rose of Cairo meets Who Framed Roger Rabbit. It's awesome.