INTO THE WOODS
"Do you know what you wish? Are you certain what you wish is what you want?" - lyrics from Into the Woods
Like a lot of stage-musical fans, I've been wishing - patiently but eagerly for more than 25 years now - for a film version of Stephen Sondheim's modern classic Into the Woods. Now, thanks to Sondheim, original book and screenplay author James Lapine, director Rob Marshall, and the fairytale-happy folks at Disney, we have one.
So here's the good news: Barring some minor changes, the movie is incredibly faithful to the show's stage roots. But here's the bad news: It's so faithful that it's under-imagined and kind of suffocating. And here's the worst news: It isn't much fun.
It's certainly occasional fun. Given the cast, those brilliant Sondheim compositions, and the crafty narrative that sends Cinderella, Little Red Riding Hood, beanstalk-climber Jack, and assorted others on a series of woodland quests, it couldn't help but be. Chris Pine, in particular, is outrageously entertaining as Cinderella's hilariously vain and louche prince; Pine's "Agony" duet with Billy Magnussen's fellow royal - a pose-striking, shirt-ripping, crotch-thrusting pièce de résistance atop a waterfall - is, hands down, the movie's highlight. Lilla Crawford is a pert and dryly riotous Little Red, while Daniel Huttlestone is a peppy, feisty Jack - even though, whenever the kid sang, I could never quite get his Cockney crooning as Les Misérables' Gavroche out of my head. Anna Kendrick is in lovely voice as Cinderella, delivering a particularly knockout, and funny, rendition of "On the Steps of the Palace." And the similarly gifted Emily Blunt, as the Baker's Wife, appears to be truly feeling the words she's singing; among all the talent assembled, her lyrical interpretations are the most classically Sondheim-ian, and the most consistently pleasurable.
But why, I ask with no small measure of heartbreak, is the mood of this thing so roundly dejected? Sure, Sondheim's fairytale characters are wary of the potential peril when they make their initial treks through the forest, and the material, as with most of the composer's creations, grows increasingly introspective and melancholic as it progresses. But in Marshall's hands, there's a palpable sense of gloom even in the early, briskly funny songs. When Meryl Streep first arrives as the plot-goosing Witch, delivering backstory in a lighthearted-tongue-twister number, her tortured intensity more accurately suggests readings from the Book of Revelation. (All throughout, and despite her impressive soprano, Streep gives an uncharacteristically lethargic portrayal, and doesn't appear to possess the breath control necessary to make it through Sondheim's compositions without strain.) And across the board, the inherent excitement in these characters' journeys through uncharted terrain is wholly scrapped in favor of trepidation and anxiety and fear; Marshall has his leads playing subtext even before they're allowed to play text.
And for a grandly scaled musical adventure that, on screen, even has the luxury of CGI beanstalks and such at its disposal, Into the Woods sure looks puny. As the show's admirers are aware, Cinderella, enacting her comic indecision, makes three separate retreats from her prince's palace over three successive nights. Couldn't we have, you know, maybe entered the palace on one of them? Not allowing us a view of the castle's interior may be in keeping with the design of the stage production, but it feels like a cheat - and reveals a depressing lack of invention - in a $50-million-plus Hollywood venture, just as it does when Jack sings about visiting the Giants' home in the clouds and we spend all of our time earthbound. (Visually underwhelming though it is, at least Marshall does provide a peek inside the roomy stomach of the Big Bad Wolf, whom Johnny Depp plays with a lazily self-satisfied purr and, as in his Sweeney Todd turn, not much musicality. How does this man keep getting cast in Sondheim?) All told, the woodland scenes, with their "realist" vibe, feel oppressive, and the more fantastical effects - such as the arrival of Frances de la Tour's destructive Giant - look tacky. Cinematographer Dion Beebe's excessively dim lighting, meanwhile, just adds to the overall defeatist air; this Into the Woods is a "dark" musical only in the sense that it's so hard to see anything.
You wind up inordinately grateful for the little things. Blessedly, though, there are quite a few little things to choose from, be it the cackling vivacity of Cinderella's stepmother (Christine Baranski) and stepsisters (Tammy Blanchard and Lucy Punch) or Tracey Ullman's pitch-perfect peasant, who seems to have wandered in, appropriately shit-covered, from the set of Monty Python & the Holy Grail. And several bigger things, such as James Corden's charm and friendly tenor as the harried Baker, make the film a not-uncomfortable sit. But for this musical lover and Sondheim devotee, Into the Woods is still, to a larger-than-hoped-for degree, a bummer. Marshall has made a musical for people who don't like musicals ... who, after seeing this one, will probably continue to not like musicals.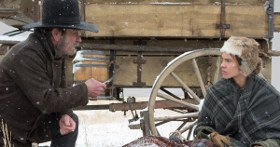 THE HOMESMAN
In director/co-writer/co-star Tommy Lee Jones' very unusual Western The Homesman, Hilary Swank gives a pretty great performance that, once you've witnessed her character arc in full, is bound to be even greater on a second viewing. The problem is, I can't imagine many people wanting to give the movie a second viewing. In numerous uncomfortable scenes during my screening at Iowa City's FilmScene, I was regretting giving it a first. The premise for Jones' outing, which is based on a novel by Glendon Swarthout, finds Swank's independent frontier woman Mary Bee Cuddy entrusted with the care of three women who've gone mad on the plains, and the safe delivery of each, via makeshift stagecoach, from Nebraska to Iowa. Jones plays the ornery lout George Briggs, who accompanies Mary on the trek. And together, the pair and their charges are forced to contend with all manner of obstacles, including the women's frequent bouts of hysteria, crippling hunger, rattlesnakes, threatening Pawnee tribesmen, and the gratuitous overacting of Tim Blake Nelson. It would be an effective, if relatively standard, setup for a classical Western if not for one thing: Tommy Lee Jones, who also directed the similarly unusual modern Western The Three Burials of Melquiades Estrada, isn't much interested in giving audiences what they expect. If possible, he's even less interested in giving audiences what they want.
Tonally, I think the movie is a mess. Scenes of overt slapstick brush against sequences of almost unbearable cruelty, and frequent flashbacks to the suffering of Mary's charges (heartrendingly played by Miranda Otto, Sonja Richter, and Meryl Streep's daughter Grace Gummer) interrupt the narrative with jarring and pointless consistency. The acting, too, is all over the map. For every beautifully soulful portrayal (including those of William Fichtner, Barry Corbin, and Jesse Plemons) there's a performer (Nelson, James Spader, Streep herself) whose awkwardly mannered turn can't help but pull you out of the moment. (Hailee Steinfeld, meanwhile, shows up in a small role as if to remind us, "This ain't True Grit, y'all.") Yet The Homesman is an utterly fascinating misfire, and one that confronts the aching hardship and borderline insanity of early frontier life with a clearer eye than any Western I can think of; Jones' movie doesn't play by traditional narrative rules because prairie life in the 1800s didn't play by the rules, either (whatever those might've been). Characters here, even the empathetic ones you think you understand, frequently behave in despicable ways and commit reprehensible crimes; one of George's late-film acts of sabotage, deserved though it may have been, left me literally open-mouthed in shock. But once you get used to Jones' directorial M.O. here, you realize that what initially seems improbable or frustratingly out-of-character is simply a natural reaction to a world out of whack - one where living conditions have forced everyone to go crazy. Filled with arresting images and roiling emotion, perhaps especially when the film appears to be careening off its rails, The Homesman may be too confused and off-kilter to be considered a "good" movie. But it's entirely possible that it'll also prove to be an unforgettable one.