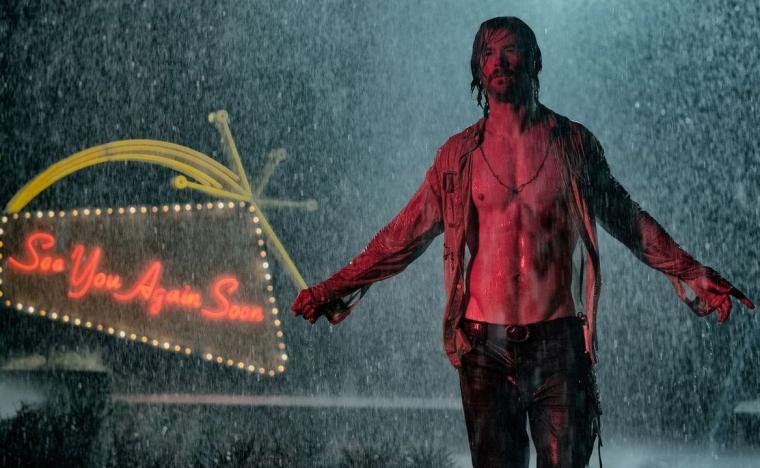 BAD TIMES AT THE EL ROYALE
In the black-comedy-thriller Bad Times at the El Royale, Jon Hamm plays a Southern vacuum-cleaner salesman who is neither Southern nor a vacuum-cleaner salesman. Jeff Bridges plays a priest who's not a priest. Chris Hemsworth plays a barefoot beachcomber who's not nearly the pacifist he initially appears to be. And writer/director Drew Goddard is doing an impersonation, as well – that of early-to-mid-'90s Quentin Tarantino. Happily, at least until the film's final half hour or so, he pulls off the ruse rather spectacularly.
In addition to writing the scripts for The Martian, World War Z, and Cloverfield, as well as episodes of Lost, Alias, and Buffy the Vampire Slayer, the genre-savvy Goddard embarked on his first, and only previous, directing endeavor with 2012's The Cabin in the Woods, a profoundly meta horror comedy that deconstructed decades of slasher-in-the-woods trifles (and a whole lot more). Bad Times at the El Royale, in turn, deconstructs the tenets that made Tarantino's Reservoir Dogs, Pulp Fiction, and Jackie Brown so iconic, boasting parallel narratives, reams of dialogue, the upending of recognizable archetypes, a fractured chronology that leaps between years and decades at will, and, it should go without saying, sudden and unexpected blasts of grisly violence. All told, I ate this thing up with a spoon, even if I left feeling some mild indigestion. Goddard clearly knows his Tarantino. But what makes the film a particular treat is that he knows how to accurately replicate Tarantino's style – or rather, the thrillingly grubby, B-picture style the auteur demonstrated before landing in his current, retribution-for-past-atrocities mode of Inglourious Basterds, Django Unchained, and The Hateful Eight. To my eyes, Bad Times doesn't have anything on its mind other than giving us a good bad time, and while that may not justify the movie's 140-minute running length, it was something of a relief – especially seeing the film right after a screening of First Man – to confront an epically scaled entertainment that merely wanted to entertain.
The less said about the plot, the better for your enjoyment. Suffice it to say that in addition to the untrustworthy figures portrayed by Hamm, Bridges, and Hemsworth, the cheesy hotel of the title – a venue straddling Nevada and California, with the décor of each half themed to its corresponding state – will also welcome a struggling Motown singer (Cynthia Erivo), a surly hippie (Dakota Johnson), and the latter's guest (Cailee Spaeny) who arrived bound and gagged in the trunk of the hippie's car. Secrets are carefully hidden and accidentally revealed. Rambling monologues lead to unforeseen attacks. Points-of-view are quickly shifted through title cards reading "Room Four," "Room One," and, my personal uh-oh favorite, "The Maintenance Closet." Plus, the manager of this decaying roadside attraction is Miles Miller (Lewis Pullman), a twitchy, obviously unstable figure who's as well-acquainted with the hotel's pedigreed past – the film is set circa 1969, a decade after the venue's glory days – as he is with the hidden hallway that connects all of the rooms and serves as the vantage point for gazing into them via two-way mirrors. Let the Bad Times roll!
For most of the movie's length, they do, and with such aggressive snap and electricity that several sequences here could handily qualify for the citation "Best Tarantino scene Tarantino never filmed." One of them is our first stroll down that darkened passageway, which not only allows us to peer at the mysterious doings of the guests – and see precisely why Miles is so twitchy – but listen to the magnificent Erivo belting Motown hits underscored with a haunting echo-chamber effect. (Erivo won a Tony Award for playing Celie in the Broadway-musical version of The Color Purple, and earns best-in-show honors here for both her cagey performance and priceless a cappella crooning.) Another masterful segment is Erivo's long barroom conversation with Bridges, who delivers a heartbreaking account of his fading memory that sounds almost convincing given the circumstances. But Bad Times is overflowing with similar scenes of tension and fascination: Hamm's steely determination as he finds in his room one eavesdropping device after another; Johnson's suspicious stare as she watches Erivo unseen while an equally unseen Bridges digs at the floorboards; Pullman nearing an emotional meltdown as he describes the hideous acts he's witnessed, and participated in, on the order of "the management." It's all great, nasty fun, shot and edited with panache and teeming with narrative and visual shocks. And then Chris Hemsworth has to show up and ruin everything.
Okay, he doesn't ruin everything, and I'll concede that the sight of Hemsworth performing a slithery, open-shirted dance to Deep Purple qualifies as one of the movie year's most hypnotic images (even if no one in 1969 could have conceivably boasted such impossibly sculpted abs). But without giving away his character intent, I will say that the overall energy drops precipitously with Hemsworth's late arrival, and stays at the same level of blandly threatening for the remainder of the film, which also goes off the rails with one too many flashbacks and several too many fortuitous coincidences. (I hadn't noticed the movie's excessive length until Hemsworth showed up, at which point, had I been wearing a watch, I would've begun glancing at it with regularity.) But despite its haphazard finale and underwhelming Avenger, the otherwise superbly acted and produced Bad Times at the El Royale is a vicious little kick. Tarantino is by no means gone, yet it's nice to know that in Drew Goddard, we also have a more-than-acceptable spare.
COLETTE
During the opening scenes of Colette, director Wash Westmoreland's bio-pic on author, stage figure, and woman of the world Sidionie-Gabrielle Colette, I felt I'd seen it all before. Look at the copious, decorous, late-19th-Century production design! Listen to the beautifully enunciated British dialects of characters who should be speaking French! Bask in the doe-eyed, strong-jawed majesty of Keira Knightly in a corset! Yet about 15 minutes into the film, the strangest thing happened: Colette's caddish husband Henry Gauthier-Villars – a.k.a. the literary sensation Willy – bent over to pick up his dropped top hat, and promptly farted. Hmm, I thought. Never saw that on Masterpiece Theatre.
Heretical though the sentiment may be, I felt that Westmoreland's film could've done with fewer top hats and more broken wind – or at least more moments that suggested the period figures on display were capable of spontaneity, surprise, and occasionally sloppy humanity. Certainly Colette's remarkable life could have inspired such a movie, given her plethora of affairs with members of both sexes and her career that took her from ghostwriting her husband's novels to performing at the Moulin Rouge to publishing Gigi (plus dozens of additional works) under her own name to being nominated for the Nobel Prize in Literature. Unfortunately, though, Colette is ultra-refined even when it's being daring; the scene of Colette and her friend Missy (Denise Gough) consummating their love could easily play on PBS in the 7 p.m. slot, and when Colette poses half-nude for a portrait, we may as well be staring at a bowl of Cezanne fruit. Knightley, it should be said, is typically lovely and engaging and does a fine job of physicalizing her age progression from late-teens to 30s, and Michael West, as Willy, is more jovially animated than the actor's film roles generally allow him to be. But while the stars are impressive and the narrative strands are fascinating – particularly the exploration of how Willy's/Colette's literary creation Claudine initiated a marketing frenzy in everything from clothing to bars of soap – Colette remains rather dull and severely under-populated, with the abusive elements of the spouses' relationship oddly, annoyingly glossed over. (When Willy locks his wife in their den and demands that she write his latest book for him, Colette is outraged for all of five seconds before taking pen to inkwell and composing a future classic.) Westmoreland's outing is certainly pretty. I wish he had trusted it to be a bit more ugly.
GOOSEBUMPS 2: HAUNTED HALLOWEEN
As someone who feels we're already given healthy servings of Jack Black in our annual cineplex diets, I didn't need more than the five minutes of him we get in Goosebumps 2: Haunted Halloween, not including the many more minutes he spends delivering God-awful puns as the evil ventriloquist's dummy Slappy. (While this ambulatory plaything is suitably creepy/funny when silent, the effect is diminished once he starts talking, and completely wrecked when you realize how much Slappy's malevolent laugh sounds like the giggle of the Pillsbury Doughboy.) But even though I was content to see Black's eccentric author R.L. Stine relegated to a mere cameo here, this sequel to 2015's kiddie scare comedy sure could've used something, even if that something was more Jack Black, to enliven the manic tedium.
There are, granted, a few ticklish images in director Ari Sandel's tale of suburban Halloween decorations – and, again, R.L. Stine's Goosebumps books – that come menacingly to life: a house-sized tarantula composed entirely of black and purple balloons; a child being swallowed by a six-foot Gummi Bear; Wendi McLendon-Covey eerily redesigned with Slappy's wooden jaw. Yet while even the far-superior original Goosebumps was hit-or-miss, this one is more accurately miss-or-miss, with the teen and pre-teen heroes and villains unremittingly bland, the comic talents of Chris Parnell wasted under unconvincing Shrek makeup, and the incessant shrieking and unvarying pacing of the second half making nearly every scene feel the same. This is true whether the kids' assailants are garden gnomes, Yetis, or the sorts of floating jack-o'-lanterns that are much more amusing, and gooier, in the current The House with a Clock in Its Walls. (Honestly, we get a lo-o-ot of Jack Black in a year.) I did, however, chuckle when Stine registered the presence of a single, red, It-like balloon by a street gutter and exclaimed, "I knew I thought of that first!" Thank goodness for that brief flash of Goosebumps 2 cleverness, because it's not every movie that makes you long for the wit and sophistication of Boo 2! A Madea Halloween.
For reviews of First Man and Gosnell: The Trial of America's Biggest Serial Killer, visit "A Trip to the Moon."