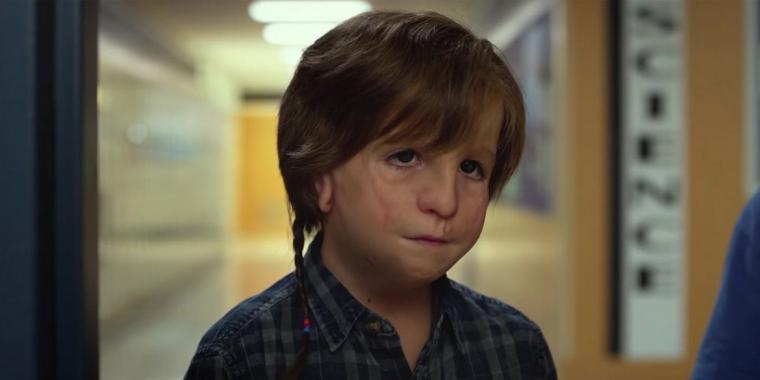 WONDER
If you saw Wonder over the weekend – and based on the film's unexpectedly massive box office, a bunch of you likely did – you may have seen it alongside a hefty number of elementary- and middle-school students. If so, I hope you experienced this family melodrama the way I did during my sold-old screening: hearing, with immense gratitude, a young crowd cheer and applaud a cineplex entertainment that wasn't a superhero epic, a Disney reboot, a Pixar animation, or anything that involved robots transforming into cars. Wonder has a lot going for it, but nothing about this kids'-lit adaptation made me happier than its unadorned sincerity – the type that can't be faked (at least not effectively), and that speaks to its target audience clearly and directly, and without pandering or excess mawkishness. It is perhaps the ideal family movie, and not just because your first impulse as the credits roll is to immediately hug your family.
Granted, Wonder's trailers were enough to give me pause, considering how strenuous the button-pushing appeared to be. Suggesting a prepubescent take on the 1985 Cher drama Mask, the previews showcased August "Auggie" Pullman (Room wunderkind Jacob Tremblay), an otherwise healthy 10-year-old whose Treacher Collins syndrome has left him, even after 27 surgeries, with significant facial deformities. Following years of home-schooling, the brainy and funny Auggie is finally, nervously, ready to enter prep school, and the film seemed to promise a checklist of manipulative, preordained plot points: tender words of support from Auggie's folks Isabel and Nate (Julia Roberts and Owen Wilson); teasing and bullying from fellow students; Auggie eventually making true friends; a rousing ovation at a school assembly; adorable reaction shots from a dog. Sure, I welled up at the two-minute sneak peek; did anyone not? I still girded myself for two hours, touching or otherwise, that weren't going to supply anything close to a surprise.
I was, however, initially unaware of a couple things. One was that the movie was directed and co-written by Stephen Chbosky, the Perks of Being a Wallflower author whose subsequent film version remains one of the millennium's most vivid, honest, and affecting young-adult sagas. Yet I also didn't know that Wonder was inspired not only by the R.J. Palacio bestseller of the same name, but by Palacio's companion book Auggie & Me, which explored the events of the previous novel through different characters' perspectives. Chbosky's movie, to my delighted shock, followed suit, and after roughly 20 minutes of Auggie-specific incident and voice-over narration, the film's focus and point-of-view gracefully shifted to the boy's frequently ignored sister Via (Izabela Vidovic). And then, later, to Auggie's best friend Jack Will (Noah Jupe). And then, even later, to Via's former best friend Miranda (Danielle Rose Russell). In Perks, Chbosky demonstrated astounding empathy for nearly every character on-screen, and Wonder – co-written by Steven Conrad and Jack Thorne – proves just as even-handed and openhearted. This may be Auggie's story, but its narrative generosity reminds you that even seemingly peripheral figures always have stories of their own.
By inviting us to walk around in so many different pairs of shoes, Wonder feels multi-dimensional, and inherently curious, in ways that few family entertainments ever do. Who hasn't wanted insight into why a family member or close pal would suddenly turn remote, or lie about personal circumstances, or say something needlessly cruel? Chbosky's concern for his on-screen figures, though, extends even beyond his voice-over surrogates. Roberts and Wilson, delivering legitimately moving speeches and priceless silent reactions, are allowed to express complex waves of emotion regarding their children without letting their roles as parents wholly define them. (A quick, joyful scene of the pair celebrating the completion of Isabel's master's thesis – "Let's get drunk!" – lands like a gift to the performers, and the audience.) But the uniformly well-acted Wonder opens its arms to just about everyone else, too. From Auggie's charismatic homeroom teacher (Daveed Diggs) to Via's potential beau (Nadji Jeter) to the siblings' many schoolmates – even the token jerk Julian (Bryce Gheisar) – the individuals here feel truly individual, and just as worthy of consideration and compassion as Tremblay's young, magnificently played hero.
Movies never seem to get school theatre right, and the scenes here involving Via's drama club don't do anything to change matters. (Vidovic gives superb readings as Our Town's Emily, but in the history of time, no student has ever once backed out of a leading role five minutes before curtain so her best friend could revel in the spotlight instead.) And for all of the throat lumps guaranteed by the material, I really could've done without the dying-dog subplot; just because Owen Wilson was around didn't mean the film had to momentarily turn into Marley & Me. Yet for the most part, and in the most important ways, Wonder really is one, and that's not even counting the frequent cameos by none other than Chewbacca, whose potentially distracting appearances are instead rather beautifully, and hilariously, handled. Speaking on behalf of my equally amused fellow patrons, we laughed it up, Fuzzball.
MUDBOUND and JIM & ANDY: THE GREAT BEYOND – FEATURING A VERY SPECIAL, CONTRACTUALLY OBLIGATED MENTION OF TONY CLIFTON
I was feeling a bit under-the-weather this past Saturday – doin' much better now, thanks! – which gave me the perfect excuse to curl up with a triple-feature of Netflix debuts: Dee Rees' period drama Mudbound, and Chris Smith's intriguingly (and wordily) titled documentary Jim & Andy: The Great Beyond – Featuring a Very Special, Contractually Obligated Mention of Tony Clifton. Granted, that technically constitutes a double-feature. I watched the latter movie twice.
At some point, I'm sure I'll give the first-rate Mudbound another go, too, but on Saturday, I was too emotionally wiped out for an instant repeat. Set principally in rural Mississippi just before, during, and just after World War II, director Rees' and co-screenwriter Virgil Williams' adaptation of Hillary Jordan's novel introduces us to two families: the McAllans, a formerly prosperous clan forced to live in the shabby farmstead home owned by proprietor Henry (Jason Clarke), and the Jacksons, the farm's actual workers who live in a rented domicile on the McAllan acreage. A tale of haves and have-nots whose fates converge with the returns of combat veterans Jamie McAllan (Garrett Hedlund) and Ronsel Jackson (Jason Mitchell), Rees' film is episodic and sprawling, with no less than six characters taking turns as voice-over narrator. (Take that, Wonder!) But the cacophony of voices doesn't produce noise. It produces a veritable symphony of alternating perspectives and lyrical reflections, and entrenches itself so deeply in the ugly racism of its time and place that you have to frequently remind yourself that this isn't, in fact, a slavery drama. It's a drama of free blacks who, for all intents and purposes, are still treated as slaves, and whites whose privileged behavior makes them inseparable from slave owners.
Not all of Mudbound is grim. The Jacksons, in the privacy of their home, are warm and quick to laugh, and Jamie and Ronsel develop a strong bond based on shared wartime experiences (and love of alcohol) that wholly, and movingly, transcends race. But even while you're enjoying the movie's lighter passages and scenes of relaxed camaraderie, you're silently dreading the other shoe that will inevitably drop, and that eventually does with a horrific force to make you physically ill – and I wasn't feeling that hot on Saturday to begin with. This isn't, however, a knock on Rees' achievement. Gorgeously photographed by Rachel Morrison and featuring stellar ensemble performances by a cast that also includes Carey Mulligan, Rob Morgan, Mary J. Blige, and a peerlessly frightening Jonathan Banks, this novel in cinematic form has a few too many subplots (the Hedlund/Mulligan flirtation could've been excised completely) and doesn't give all of its narrators' journeys the closure they deserve. Yet Mudbound is resolutely gripping and powerful even given its infrequent failings, and numerous images – a terrified Jamie trapped in a freshly dug grave; Blige's Florence, behind sunglasses, staring at a McAllan with withing contempt – are sure to stay with you for days.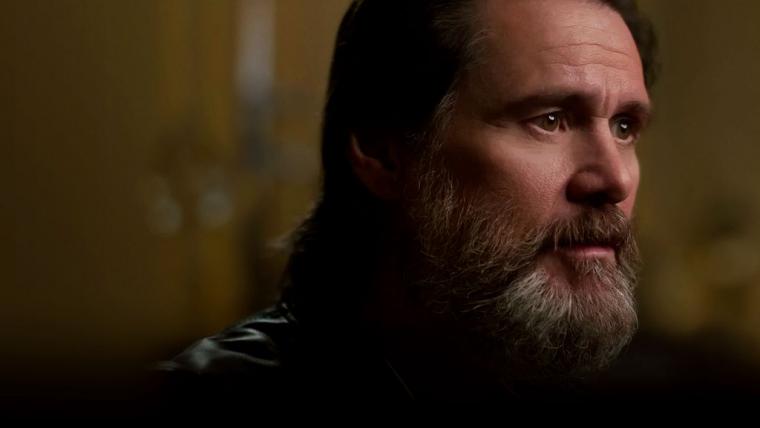 Meanwhile, Jim & Andy already boasts images that have stayed with me for years, given that this doc on Jim Carrey, Andy Kaufman, and Carrey's filming of the Kaufman bio-pic Man on the Moon is a spellbindingly overstuffed treasure trove of snippets from In Living Color, Taxi, Eternal Sunshine of the Spotless Mind, Saturday Night Live, and more, along with seemingly every talk-show appearance the performers ever made. (Yes, Kaufman's Letterman segment with wrestler Jerry Lawler and Carrey's notorious drunk act on Arsenio both made the cut – but then again, so did cable-access footage of Kaufman, plus a Canadian interview with Carrey when he was a teenager.) If you're a fan of either comedian, which would be totally understandable, the film is a must-see. If you're a fan of Miloš Forman's Man on the Moon, which would be a little harder to comprehend, the film is transcendent, full-to-bursting with newly released footage of its star refusing to break character – as either Kaufman or the comic's noxious lounge-lizard alter ego "Tony Clifton" – even after Forman shouts "Cut!"
In truth, Jim & Andy is transcendent even if, like me, you thought Man on the Moon was a depressingly mediocre work housing an astounding portrayal. With its extraordinary TV and film footage complementing an on-camera interview with present-day Carrey – appearing serene and thoughtful, yet still recognizably animated (and doing killer impressions), behind a bushy gray beard – Smith's movie really is a miracle of shifting identities. We're shown Carrey, and then Kaufman, and then Carrey-as-Kaufman, and then Kaufman-as-Latka, and then Carrey-as-Kaufman-as-Latka, and so on and so on until you're dizzy with interchanging personalities that, you gradually realize, may all be extensions of some shared subset of comedic genius that only the rarest of talents have ever possessed. I ate this thing up and immediately went back for seconds, and the next day, am still giggling at its bevy of thrilling moments, from Kaufman's guest spot on The Dating Game to Carrey's surreal prank at the Playboy Mansion to the perfectly timed arrival of The Truman Show's best line: "Cue the sun." Jim & Andy is one of the movie year's great love stories – at least from a personal perspective, based on how thoroughly I fell in love with it.
For reviews of Justice League and The Star, visit "Pall of Justice."