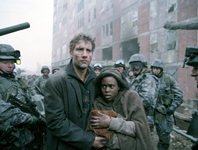 The following are the nominations for the 2007 Academy Awards, scheduled to air on ABC affiliate WQAD-TV at 7 p.m. on Sunday, February 25. If all goes the way I think it will (ha ha!), the winner of the most Oscars - a whopping three - will, for the first time ever, be a foreign-language film, and the Best Picture winner will have received the same amount of Oscars as the Best Documentary Feature winner. (That this is even a possibility marks this as a zany-ass year.)
And if you're planning to use my predictions to win your office Oscar pool, know that last year I only guessed correctly in 15 of the 24 categories, so I don't wanna hear any bitching if my prognosticating leads to your embarrassment. This means you, Mom.
Boldface denotes my predictions.
BEST PICTURE
Babel
The Departed
Letters from Iwo Jima
Little Miss Sunshine
The Queen
Because, for the love of God, nothing seems to be stopping it. And if I do predict Little Miss Sunshine, then maybe The Departed actually has a chance. (I've guessed wrong in this category three out of the past five years. Here's hoping it's four out of six.)
BEST DIRECTOR
Clint Eastwood, Letters from Iwo Jima
Stephen Frears, The Queen
Paul Greengrass, United 93
Alejandro González Iñárritu, Babel
Martin Scorsese, The Departed
And after typing that, I threw salt over my shoulder, knocked wood, and spun around three times. You know. Just in case.
BEST ACTOR
Leonardo DiCaprio, Blood Diamond
Ryan Gosling, Half Nelson
Peter O'Toole, Venus
Will Smith, The Pursuit of Happyness
Forest Whitaker, The Last King of Scotland
After seven losses, only a performance as universally revered as Whitaker's could prevent an O'Toole victory. And will.
BEST ACTRESS
Penélope Cruz, Volver
Judi Dench, Notes on a Scandal
Helen Mirren, The Queen
Meryl Streep, The Devil Wears Prada
Kate Winslet, Little Children
Perhaps the biggest Done Deal in Academy Awards history. You are allowed to bet your kids' college funds. You are allowed to bet your kids.
BEST SUPPORTING ACTOR
Alan Arkin, Little Miss Sunshine
Jackie Earle Haley, Little Children
Djimon Hounsou, Blood Diamond
Eddie Murphy, Dreamgirls
Mark Wahlberg, The Departed
If there's gonna be a surprise in the acting categories, it's gonna be here, and it's gonna be Arkin. But with great uncertainty, I'm sticking with Murphy: He's won all the important, pre-Oscar trophies (the Golden Globe, the SAG Award, the Broadcast Film Critics' award), he's made billions for Hollywood over the years, and -seriously - if not now, when?
BEST SUPPORTING ACTRESS
Adriana Barraza, Babel
Cate Blanchett, Notes on a Scandal
Abigail Breslin, Little Miss Sunshine
Jennifer Hudson, Dreamgirls
Rinko Kikuchi, Babel
Clay Aiken's agent is ecstatic.
BEST ADAPTED SCREENPLAY
Borat: Cultural Learnings of America for Make Benefit Glorious Nation of Kazakhstan
Children of Men
The Departed
Little Children
Notes on a Scandal
For burgeoning screenwriters, Children of Men could be a master class on structure and dramatic economy, not to mention the exquisite use of silence. But for exquisite banter, nothing this year tops The Departed. (And, for the record, its structure and dramatic economy are nothing to sniff at.) A Scorsese film, by the way, has never won in this category, either. Can the madness please end this year?
BEST ORIGINAL SCREENPLAY
Babel
Letters from Iwo Jima
Little Miss Sunshine
Pan's Labyrinth
The Queen
For my money, the screenplay is the weakest thing about it, but Little Miss Sunshine has to win something besides Best Picture. Uh ... right?
BEST FOREIGN-LANGUAGE FILM
After the Wedding, Denmark
Days of Glory, Algeria
The Lives of Others, Germany
Pan's Labyrinth, Mexico
Water, Canada
The Lives of Others is developing enormous buzz, but it's hard to imagine any film triumphing over Guillermo del Toro's breathtaking faun-tasy.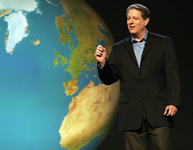 BEST DOCUMENTARY FEATURE
Deliver Us from Evil, directed by Amy Berg & Frank Donner
An Inconvenient Truth, directed by Davis Guggenheim
Iraq in Fragments, directed by James Longley & John Sinno
Jesus Camp, directed by Heidi Ewing & Rachel Grady
My Country, My Country, directed by Laura Poitras & Jocelyn Glatzer
And voters will instantly feel less guilty about driving home in their SUVs.
BEST ANIMATED FEATURE
Cars, directed by John Lasseter
Happy Feet, directed by George Miller
Monster House, directed by Gil Kenan
An Inconvenient Truth for the tap-dancing-penguin set.
BEST CINEMATOGRAPHY
The Black Dahlia
Children of Men
The Illusionist
Pan's Labyrinth
The Prestige
You may notice no Best Picture nominees in this lineup. Wanna know the last time that happened? When the very first Oscar nominations were announced, back in 1929. (I told you it was a weird year.) Pan's Labyrinth could easily dominate its tech categories, but for that astonishing, climactic battle scene alone, I'm pulling for a Children of Men win.
BEST ORIGINAL SCORE
Babel, Gustavo Santaolalla
The Good German, Thomas Newman
Notes on a Scandal, Philip Glass
Pan's Labyrinth, Javier Navarette
The Queen, Alexandre Desplat
What?! No John Williams?! Heresy! (And, I must say, relief.) If Santaolalla hadn't just won last year, I'd go with his memorable Babel strumming. Instead, I'm predicting that Desplat will be rewarded for his 2006 two-fer, as he also composed the music - and won the Golden Globe - for The Painted Veil.
BEST ORIGINAL SONG
"I Need to Wake Up," An Inconvenient Truth; music and lyrics by Melissa Etheridge
"Listen," Dreamgirls; music by Henry Krieger & Scott Cutler; lyrics by Anne Preven
"Love You I Do," Dreamgirls; music by Henry Krieger; lyrics by Siedah Garrett
"Our Town," Cars; music and lyrics by Randy Newman
"Patience," Dreamgirls; music by Henry Krieger; lyrics by Willie Reale
Because this category has become increasingly impossible to predict - Eminem? Three 6 Mafia? - and because Oscar host Ellen Degeneres just might have a funny response to Etheridge's victory. Not that there's anything wrong with that.
BEST FILM EDITING
Babel
Blood Diamond
Children of Men
The Departed
United 93
United 93 or Children of Men deserves the win here, but if Babel is about anything - and I'm not entirely convinced that it is - it's editing.
BEST VISUAL EFFECTS
Pirates of the Caribbean: Dead Man's Chest
Poseidon
Superman Returns
Poor Bill Nighy. He finally winds up in a blockbuster and you can't freakin' see him.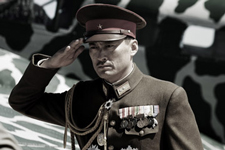 BEST SOUND EDITING
Apocalypto
Blood Diamond
Flags of Our Fathers
Letters from Iwo Jima
Pirates of the Caribbean: Dead Man's Chest
BEST SOUND MIXING
Apocalypto
Blood Diamond
Dreamgirls
Flags of Our Fathers
Pirates of the Caribbean: Dead Man's Chest
To be honest, I don't really understand the difference between these categories, but I'm assuming that a majority of voters don't, either. Consider this the best way for the Academy to recognize both of Clint's achievements. (Sound Editing is also Letters' best shot at an Oscar.) Message to Kevin O'Connell, nominated for Apocalypto's Sound Mixing: The 20th time has to be the charm, right?
BEST COSTUME DESIGN
Curse of the Golden Flower
The Devil Wears Prada
Dreamgirls
Marie Antoinette
The Queen
Question for discussion: Did you, or did you not, find the film's exquisite period design thrown out of whack with the appearance of the Chuck Taylors? Converse.
BEST ART DIRECTION
Dreamgirls
The Good Shepherd
Pan's Labyrinth
Pirates of the Caribbean: Dead Man's Chest
The Prestige
As with Best Cinematography, there are no Best Picture nominees in this category, either, which hasn't happened since 1945, when the category was still called Best Interior Decoration. (I have friends who would kill for that honor.) And this year, no interiors were more imaginatively decorated than Eugene Caballero's and Pilar Revuelta's.
BEST MAKEUP
Apocalypto
Click
Pan's Labyrinth
The eyes have it.
BEST DOCUMENTARY SHORT SUBJECT
The Blood of Yingzhou District
Recycled Life
Rehearsing a Dream
Two Hands
The Blood of Yingzhou District (about the plight of a Chinese orphan with AIDS) and Recycled Life (about Guatemalans who make their living by rummaging through trash) sound unbearably depressing - I'd probably love them - and Rehearsing a Dream, which concerns high-schoolers in the performing arts, doesn't sound depressing enough. I'm opting for Two Hands, the inspiring tale of pianist Leon Fleisher, who triumphed over a mysterious ailment that caused him to lose the use of his right hand. Daniel Day-Lewis and Geoffrey Rush are probably battling one another for the feature-film rights.
BEST LIVE ACTION SHORT FILM
Binta & the Great Idea
One Too Many
Helmer & Son
The Saviour
West Bank Story
According to (http://www.oscar.com), West Bank Story is "a musical-comedy set in the fast-paced, fast-food world of competing falafel stands." Like Dreamgirls, but, you know ... breaded.
BEST ANIMATED SHORT FILM
The Danish Poet
Lifted
The Little Matchgirl
Maestro
No Time for Nuts
With no go-with-the-funniest-title choice this year (unless you're the sort who reflexively giggles at the word "nuts" ... hee hee ... ), instead go with the funniest storyline: Lifted concerns an alien abductor who has enormous difficulty navigating a sleeping farmer onto his spaceship. Oscar mumber eight for Gary Rydstrom! And Kevin O'Connell is pissed.