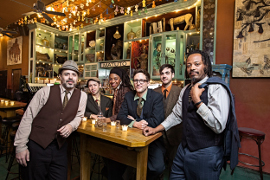 Depending on the source, the English-language equivalent of the Brazilian slang term "matuto" appears to be "country boy" or "bumpkin" or "hillbilly." What it absolutely isn't is "critically lauded ensemble selected as American Musical Ambassadors for the U.S. State Department."
Yet that is indeed a fitting description for the capitalized Matuto, the sextet of touring musicians appearing locally as Quad City Arts' latest Visiting Artists. After a week spent conducting workshops and performing for area students, these dynamic, adventurous artists and educators will present a September 21 concert at St. Ambrose University's Galvin Fine Arts Center, where they hope to excite many more listeners with the infectious thrill of Brazilian bluegrass.
That's right: Brazilian bluegrass. Don't feel embarrassed if you've never heard of it.
"We call our music 'Brazilian bluegrass,'" says Matuto co-founder and accordion player Rob Curto, "but that's sort of a joke, because we invented it. We created a vocabulary for what we do. 'Brazilian bluegrass' is our genre, and we're the pioneers of the genre."
And it doesn't take long - maybe 10 seconds into one of Matuto's numbers - to recognize that the genre Curto and co-founder/guitarist Clay Ross have pioneered is a truly unique and exhilarating one. A blend of traditional, percussion-heavy South American rhythms and the roots and bluegrass stylings of the southern United States, Matuto's resulting sound fusion exudes a propulsive, foot-stomping energy, and has jazzed concert and festival crowds from Ghana, Africa, to the Lincoln Center.
That fusion has also garnered extraordinary praise from reviewers, with the Chicago Tribune lauding Matuto's "joyous, ebullient music" and "seductively cross-cultural appeal," and Jazz Times Magazine raving that at a Matuto concert, "countrified licks and insinuating samba grooves merge in weird and wonderful ways."
"It's really not an intellectual project," says Curto, during a recent phone interview, of Matuto and its signature blend of musical styles. "Not in a sort of musicologist way - proving that the music of Brazil and bluegrass are the same. It's much more playful than that. Everyone in the band just likes these sorts of roots elements and Brazilian elements, and it's just a kind of pure pleasure to put them together. It's just fun."
A New York native who played the clarinet, guitar, keyboard, and piano in his youth, Curto says that his interest in the accordion - and, eventually, in the music of Brazil - didn't originate until he was 25.
"That happened through an interest in roots/Americana music," he says. "Listening to Cajun and zydeco music, and hearing a bit of Celtic music. And the pivotal event for me in beginning to play the accordion was when I saw Stanley Dural Jr. [of Buckwheat Zydeco]. He was in New York, playing for the hundredth anniversary of the Museum of Natural History, and that was the moment for me. I went home and became obsessed with playing the accordion.
"And one thing led to another," continues Curto. "I bought an instrument, and played on a few recordings with some singer/songwriters here in New York, and that kind of opened up a whole world of music - including Brazilian music, which eventually led to me being in this group."
Before Matuto's 2009 formation, however, Curto's interest in Brazilian music led him to five years ("off and on") spent in Brazil, where he became fascinated by the career and talents of one famed accordion player in particular.
"In Brazil," says Curto, "the piano accordion became very popular during the 1940s, mostly because of one artist named Luiz Gonzaga. He was from the northeast of Brazil, and when he moved to the south of Brazil - in Rio and São Paulo, which is where you needed to be to have any connection with media - he sort of re-invented and modernized what was a very provincial, unknown style of northeastern roots music called forró.
"It would be like if someone from some very small town in Louisiana came to New York City, and then made zydeco music a national dance craze. It's analogous to that, or maybe to what somebody like Elvis Presley did, where rural music from a more localized region becomes national music. But Luiz Gonzaga's music became part of the fabric of Brazilian culture, and half of our band's influence comes from that.
"The other half of Matuto," says Curto of his and Clay Ross' ensemble, "influence-wise, comes from North American roots music, from bluegrass; Bill Monroe, the mandolin player and singer, is sort of our other big hero. Clay's from South Carolina and grew up around that music, and eventually also got involved with Brazilian music here in New York.
"So," he adds, "because of our passions and backgrounds and interests, these elements kind of all fit together" after Curto returned to New York near the end of the last decade. "Clay and I both played for some time with a Brazilian percussionist named Cyro Baptista, and then Clay asked me to play on one of his recordings, and I asked him to play on one of my recordings, and that was the beginning of our collaboration."
After securing a 2009 Fullbright Grant, Ross invited Curto to join him for a series of concerts and children's workshops in Recife, Brazil, and February 22, 2009, is generally acknowledged as the official birthdate of Matuto: the day of the REC BEAT festival on the Sunday of Brazilian Carnival, when the musicians first performed their burgeoning mixture of bluegrass and Brazilian stylings for a hugely attended event.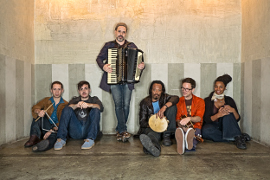 "Both of those styles of music are a mixture of European elements with African elements," says Curto, "and there's a definite sort of indigenous flavor or feel there. But while, when we play, we just kind of naturally find the things they have in common, sometimes we'll put two elements of them together in a way that seems incongruous - and then they turn into something really exciting and new.
"It's kind of grown over time," he says of the pair's musical blend. "That sort of listening, and having a common vocabulary that comes from playing together a lot - it's gotten stronger over time. We sort of knew from the beginning that we had something we liked. We really didn't have to force it. But it's definitely grown. And we've kind of gradually surrounded ourselves with what we feel are the best co-conspirators."
Those would be Curto's and Ross' fellow musicians Richie Barshay, Michael Loren Lavalle, Ze Mauricio, and Mazz Swift, who, along with their group's co-founders, have enjoyed an especially rewarding year with Matuto. To date, the ensemble's 2013 accomplishments have included the release of The Devil in the Diamond, the group's second CD (its self-titled first album was released in 2011), and a hot-ticket engagement at New York's Lincoln Center.
"It was at the [David] Rubenstein Atrium," says Curto, "which is a really cool space, and it was packed. In the first set, we played the music of the CD in exact order, and then in the second set, we played a piece of music that we all wrote together called 'The Africa Suite,' and we presented that along with a sort of multimedia presentation of photos from our trip. It was a very rewarding experience."
That aforementioned trip, meanwhile, came through Matuto's 2013 title as American Musical Ambassadors for the U.S. State Department, an honor for which, as Curto explains, "we spent five weeks in five different African countries.
"We applied for this program called American Music Abroad," says Curto, "and maybe 400 bands apply, and then they narrow it down to 40 bands, and have auditions in different cities. And we were selected, and it really helped bring the band together. It felt like we were really able to connect." And, to hear Curto tell it, to connect with others, too.
"We did a lot of workshops with kids, which was really rewarding, and we collaborated with local musicians in each country. And that was great. Within one rehearsal, we were able to put together a couple of tunes that we were able to play together. That cliché about music being a universal language? It's true."
Matuto performs at St. Ambrose University's Galvin Fine Arts Center (2101 Gaines Street, Davenport) on Saturday, September 21, at 7:30 p.m., and tickets are available by contacting St. Ambrose at (563)333-6251 or SAU.edu/galvin, or Quad City Arts at (309)793-1213 or QuadCityArts.com.
For more information on Matuto, visit MatutoMusic.com.