MOLINE, ILLINOIS (December 2, 2022) — The Western Front, Christmas, 1914. Out of the violence a silence, then a song. A German soldier steps into No Man's Land singing "Stille Nacht." Thus begins an extraordinary night of camaraderie, music, and peace. A remarkable true story, told in the words and songs of the men who lived it, so says the description of the musical "All is Calm."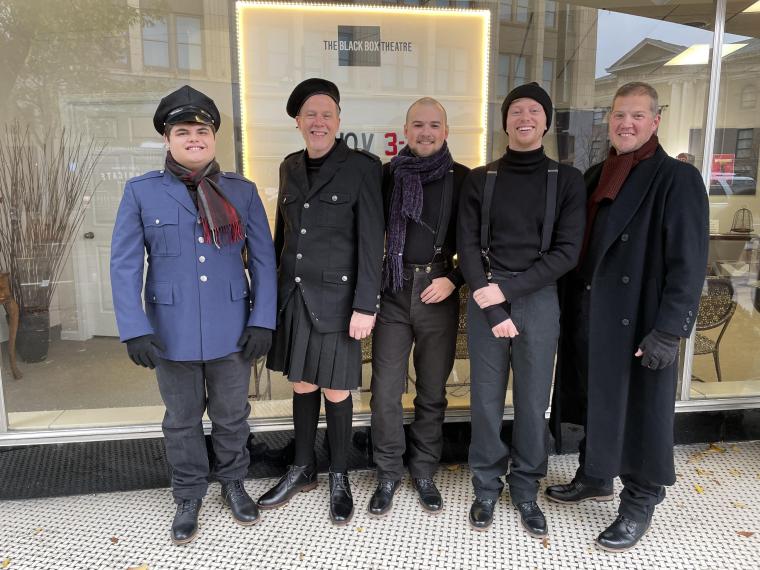 The Black Box Theatre presents the acapella piece opening on December 8 and running through December 17.  The show will not be performed on December 16 as Wisenheimer's long-form improv will be taking over the stage. The show features Phil Tunnicliff, Ben Gougeon, Daniel Williams, Thayne Lamb, Don Faust, Drew DeKeyrel, Kirsten Myers, Vaughn Myers, and Jorge Mendez, with musical direction by Ron May. Lora Adams, the Black Box co-founder staged and designed the production with Roger Pavey Jr creating the light design.
"This is a very unique evening of theatre and tells a remarkable true story of Christmas Eve 1914. With all of the holiday concerts, it was difficult to find men to audition, but I am so pleased that my cast is so enthusiastic about telling this story," said Adams. "I'm particularly blessed that Ron May came on board as the music director. This is a difficult piece and he's the man to make it happen."
Tickets can be purchased at theblackboxtheatre.com. Performances are December 8, 9, 10, 15, and 17 at 7:30PM, and December 11 at 2PM.