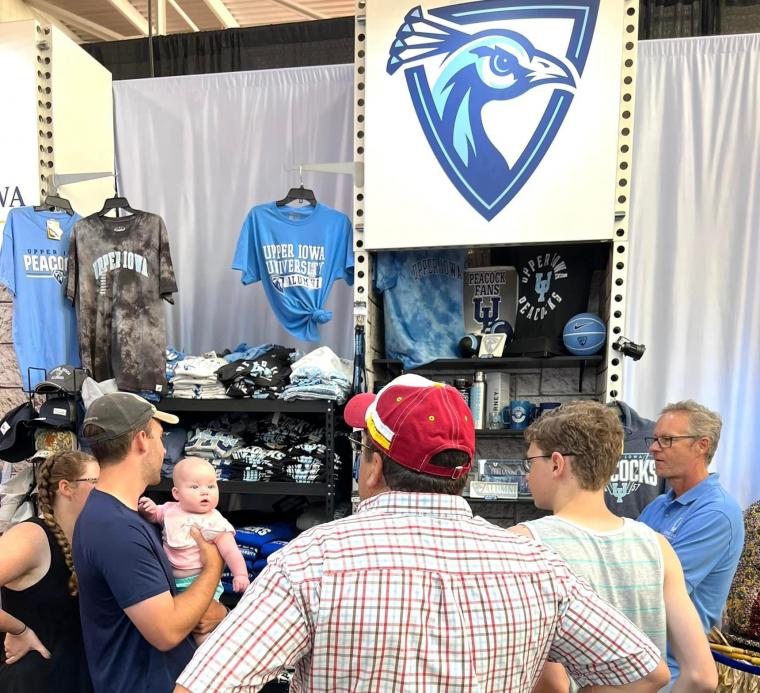 Upper Iowa will return to the Iowa State Fair August 10-20 with an information booth located in the Varied Industries Building at the Iowa State Fairgrounds in Des Moines
FAYETTE, IOWA (July 20, 2023) — Upper Iowa University (UIU) is thrilled to announce its return to the Iowa State Fair where the University will once again provide high school and current college students with the opportunity to win free UIU tuition awards and classes. The University's information booth is located in the Varied Industries Building at the Iowa State Fairgrounds in Des Moines during the August 10-20 event.
To be eligible to win one of two one-year tuition awards, entrants must be at least sixteen years of age by Sunday, August 20. The award is valid only for students who wish to attend classes at UIU's Fayette, Iowa, Campus. In addition, students may register for a chance to win a free undergraduate or graduate class at any UIU center or online. Eleven free classes will be awarded, one for each day of the State Fair. All entrants receive a free pair of sunglasses.
In addition to the giveaways, UIU's booth at the Iowa State Fair will offer a photo wall with additional prizes and Peacock apparel and merchandise for purchase. Alumni will also be able to register for a free gift. Upper Iowa faculty and staff will operate the information booth, 9AM- 8PM, each day of the fair.
Attendees can learn about the university's diverse range of undergraduate and graduate programs, as well as its online and self-paced learning options. Knowledgeable UIU representatives will be available to answer questions and provide guidance on admissions, scholarships, and other resources.
"We are delighted to once again have our booth at the Iowa State Fair and connect with attendees," UIU Vice President for Academic Affairs Andrew Wenthe said. "The fair allows UIU to engage with prospective students and alumni, share our educational opportunities, and showcase UIU's academic programs, campus resources, and vibrant campus community. We look forward to welcoming fairgoers to our booth and sharing information about the unique UIU experience."
Many students are eligible for endowed or institutional scholarships to further lower the cost of their UIU education. Additionally, UIU's recent tuition initiatives, including the new tuition and fees rate of 19K, the Peacock Promise, and the online and center tuition-freeze, represent UIU's commitment to assist students in keeping higher education accessible and affordable.
With a University-wide 13:1 student-to-faculty ratio, the UIU experience helps inspire students to reach their full potential. This kind of hands-on learning is a key reason why 96% of UIU graduates are employed or continuing their education within twelve months of graduation. [Source: 2022 Graduate Survey/Application]
Additional details on UIU's State Fair booth and special drawings can be found at uiu.edu/iowa-state-fair. For additional information about UIU, visit https://www.uiu.edu.