DAVENPORT, IOWA (December 11, 2019) —
Toys for Tots at the GAHC
Do you have extra unopened boxes of toys or items you dont need? Do you want to make an impact in your local community?
Stop by the German American Heritage Center and consider donating your unopened toys and items at our gift shop! Your contribution will help local families this holiday season.
2019 Christmas Service, Old Stone Church, December 14 @ 4PM
The public is invited to the 2019 Christmas Services of the Old Stone Church hosted by The Friends of The Old Stone Church on Saturday, December 14, 2019, at 4PM. The Old Stone Church is located at 3507 180th Street, Muscatine, Iowa which is one and one-half miles north of Wild Cat Den State Park. 
Muscatine's Old Stone Church is a fully restored historic church built by the county's early settlers. In 1867, a group of pioneers of German heritage needed a place of worship for their German Methodist Episcopal congregation. Their faith was such that they hand quarried the stone near Pine Creek one-half mile to the west and built the church themselves.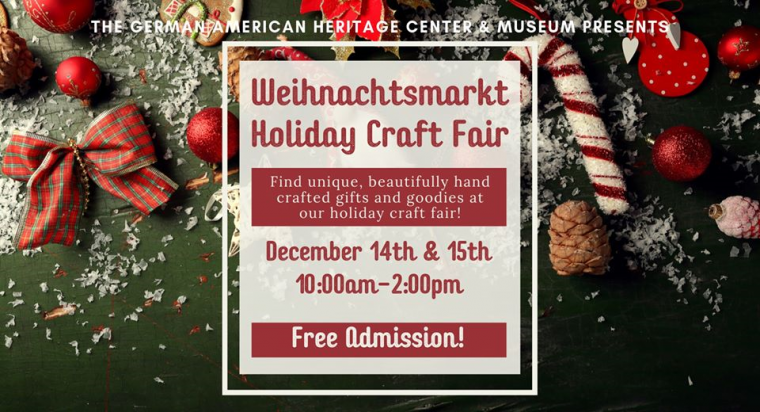 Weihnachtsmarkt Holiday Craft Fair, December 14-15 @ 10AM-2PM
It's time for the third annual holiday craft fair at the German American Heritage Center! This year we have renamed the event the Weihnachtsmarkt Craft Fair! Weihnachtsmarkt means Christmas Market in German. We have also expanded to two days!
Over twenty local vendors will gather at the GAHC just in time for last minute gifts, stocking stuffers, and much much more! A wide variety of crafts, goodies, and everything in between will be available. Admission is FREE for the craft fair and will occur on both Saturday, December 14, and Sunday, December 15, 10AM-2PM.
We hope to see you there to share with us in this holiday season! Frohe Weihnachten!
Glass Heritage Studio Tours, December 21 @ 10:30-11:30AM
Join us at Glass Heritage on Saturday, December 21, at 10:30AM for a tour of their new studio!
The tour will meet and take place at Glass Heritage at 3030 Hickory Grove Rd. Davenport, IA 52806
Members: $8 | Non-Members: $12
Pre-Registration & Pre-Payment Required!
Space is extremely limited, so call 563-322-8844 to register today!
Come Volunteer with Us!
We are looking for volunteers in 4 different areas: Front Desk Volunteers, Special Events Volunteers, Docents, and Building and Grounds Committee!
Front Desk Volunteers: Help greet visitors to the GAHC! Training provided. Work as little or as much as you like- scheduled days available. Shifts are from Tuesday-Saturday, 10AM-1PM or 1-4PM, or Sundays, 12-4PM. Want to help only on Special Event days — let us know! Give the gift of time this year at the GAHC! If you'd like to volunteer at the front desk, contact Corey at info@gahc.org.
Special Events: The GAHC holds special events throughout the year which require a larger number of volunteers to be on hand. Examples of these events are: The Best of the Wurst Sausage Competition, Annual Bier Tasting, Christkindlmarkt Holiday Craft Fair, etc. We may need assistance with ticket sales/check in, directing the increased number of visitors, etc. These are often fun but busy events and are not possible without the help of volunteers. If you're interested in volunteering for special events, contact Corey at info@gahc.org.
Docents: The GAHC offers guided tours of our exhibits led by volunteer docents. Docent volunteers must have an interest in history and be comfortable with public speaking. Tours are scheduled only when one has been requested. There is no experience or specialized knowledge required — new docents will be trained by museum staff. This is a good position for anyone interested in history and museum education. If you're interested in becoming a docent, contact Corey at info@gahc.org.
Building and Grounds Committee: Do you have knowledge of building issues, historic structures, or are just plain handy? The B&G committee is seeking new members to attend 6 meetings per year and help deal with the many issues that arise with a structure like ours! Meetings are on the first Wednesday of every other month at 10am and typically last one hour. Contact Kelly at kelly.lao@gahc.org.
Are You a Member Yet?
In 2019, the GAHC is celebrating our 25th Anniversary. Celebrate with us by joining as a member this year! There are many benefits to membership with the GAHC. Members receive:
Quarterly issues of the Infoblatt newsletter
Free Admission to exhibits
Free Admission to many programs and events
Access to special members-only events
Discounts on classes, events, and trips
Discounts on facility rental
Want to be sure you never forget to renew? Sign up for automatic renewals online by clicking on the button below!
Would you like to save paper and receive your quarterly Infoblatt newsletter digitally? Give us a call at (563) 322-8844 or e-mail Corey at info@gahc.org and let us know!
Looking for a Venue for Your Next Special Event?
Have your next gathering here at the GAHC and save big! Your rental dollars help us fund our educational programming. In addition, more people will see our beautiful event space and learn about our facility! We can help save you from the cleaning and hassle of having guests at your home. An event at GAHC allows your guest ample parking, we set up the room for you, and you can bring your own food and beverage!
We have many openings — even at the holidays! Hold your class reunion, baby shower, wedding gift-opening day, potluck, anniversary party, club or organizational meeting, family board-game night, graduation, or anything you can think of in our gorgeous space that looks out onto the Mississippi River and Centennial Bridge! We seat up to 100 comfortably, or 150 cocktail style, and can add on Museum Tours!
Call today to speak with Corey and let us do the work for your next event! Call 563-322-8844 or e-mail info@gahc.org