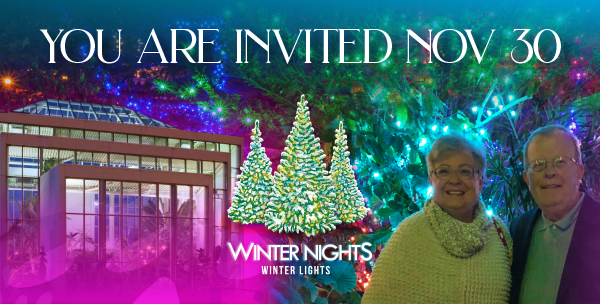 ROCK ISLAND, ILLINOIS (November 15, 2019) — Join us for a cocktail party to celebrate the opening of Winter Nights Winter Lights and be among the first to see the lights before the public opening. Enjoy 100,000 lights both inside and outside as you stroll our gardens and celebrate the start of the holiday season.
Enchanted evening activities:
Decadent appetizers and desserts
Unique silent auction
Cash bar featuring holiday cocktails
Holiday shopping in The Garden Store
Kindly RSVP by 11.27.19 to ensure your place at the party.
11.30.19
SATURDAY
6– 9PM
$50 COUPLE
$35 INDIVIDUALS
$200 TABLE OF 8
UPCOMING WINTER NIGHTS EVENTS
12.1.19 | Winter Nights Members' Only Party 5-8PM
12.4.19 | Winter Nights Opening Night 4:30- 8:30 PM
12.4.19 | Winter Nights Painting For A Purpose 5:30-7:30PM
12.5.19 | Winter Nights Date Night 4:30-8:30PM
12.13.19 | Winter Nights Visit From Santa 5-8PM
12.14.19 | Winter Nights Visit From Santa 5-8PM
12.18.19 | Winter Nights Painting For A Purpose 5:30-7:30PM
12.19.19 | Winter Nights Date Night 4:30-8:30PM
12.31.19 | Winter Nights Champagne and Roses 8:30-10:30PM