Explore the World of Bike Touring & Book Writing Monday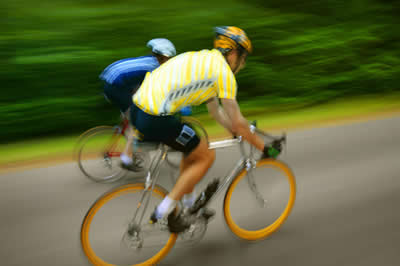 Discussion:
Bike Touring and Book Writing,
Monday, May 13,
6:30 to 7:30 pm,
Rock Island Main Library
Rock Island author Chuck Oestreich will informally discuss his novel, "Bicycle Moon," and lead a discussion about practical tips for touring on a bike. Chuck has toured cross-country on bike in the United States and 10 countries.
Writing a novel has been one of his lifelong dreams, and he'll talk a little bit about the story and share some practical tips he's learned over the years about bicycle touring. Come share your own tips and stories about touring on two wheels!
No books will be for sale, but if you have one, bring it along! Event is free and open to the public.
Learn about the Rock Island Civil War prison
Film & Discussion:
The Rock Island Civil War Prison:
Andersonville of the North?
6:30 to 7:30 pm, Thursday, May 23
Rock Island Main Library, 401 19th Street.
The event is free and open to the public.
The 30-minute documentary tells the story of the Rock Island Confederate prison camp using dramatic photos and other high-definition images. It documents the life of prisoners using their own words from diaries and letters and demonstrates that the death rate at Rock Island was much lower than the astonishing death rate at Andersonville Prison in Georgia. The title, "Andersonville of the North," is derived from a passage in Margaret Mitchell's literary classic, Gone with the Wind.
Writers/directors Ed Isenberg and Ezra Sidran will be present to discuss the production and answer questions. The documentary is also available on DVD.
New Service for Music Lovers!
Now you can download music from the Rock Island Library - and what's more, you can keep it.
Rock Island Public Library has joined Library Ideas™' network of public library websites that offer access to over 3 million songs, including Sony Music's catalog of legendary artists. The Freegal™ Music Service will allow the Rock Island Public Library to increase the size and diversity of its music collection by offering access to over 10,000 music labels from 65 different countries.
Registered cardholders of the Rock Island Public Library with accounts in good standing can download three Freegal Music tracks in the MP3 format each month at no direct cost via the library website. The library underwrites the purchase of the music. Downloaded tunes become part of the patron's personal music library - they do not disappear or need to be returned after a set period.
Freegall is compatible with a number of devices, and Freegal Music apps are available in the Apple® App Store and Google Play®.
Users must have a Rock Island Public Library card in good standing. As a subscription service, Freegal is not available to patrons of other libraries. (Unless your library also subscribes. Contact your home library.)
Patrons will need their Rock Island Library card number and PIN to access the website.
Up to three (3) songs may be downloaded per patron per week. Downloads can't be withdrawn once finalized. Each song does have a sample clip so you can listen before you download.
Users must download from home. This service is not available from library computers.
Full instructions are available on the Rock Island Library website under "Download This." A free class will also be offered at 6:30 pm on June 19 at the Main Library.
PrairieState Legal Services at Main Once a Week
Hours have changed for a new awareness service from Prairie State Legal Services at the Main Library, 401 19th Street.
Trained volunteers from Prairie State Legal Services will be available from 2:00 pm to 4:30 pm on Mondays only, on the 2nd floor.  Prairie State will offer information and assistance with navigating public benefits for food, cash, medical assistance, disability and township assistance.