What would happen if you invited a friend over to listen to an original Broadway cast album? You'd probably turn it on and imagine the show in your head, inserting your opinions about what was going on as you listened. That is exactly what you will get from attending Augustana College's production of The Drowsy Chaperone.
Snuggled into his tiny efficiency apartment – a set keenly designed, complete with scene-setting brick skyline, by Emma Brutman – The Drowsy Chaperone's lead is given no name other than Man in Chair (Jaryd Whitmore), who is our host for the evening, and the only character who is actually there. Everyone else we see is in our collective imagination in the 1920s, where dance numbers are plentiful and, despite prohibition, alcohol is "not." (As the young man who sat next to me said to his companion, "Oh ... so 'drowsy' is a euphemism for 'tipsy.'" Exactly.)
Man in Chair perhaps needed to dial back on the brandy, though, because in introducing us to the 1928 Broadway cast album of The Drowsy Chaperone, he conjured up an ensemble that seemed a bit excessive. Their voices did accentuate the music well (thanks to music director Michelle Crouch), but I fear the sheer magnitude of 34 performers distracted from the intimacy and made Man in Chair's apartment seem incredibly cramped. This was particularly problematic in "Fancy Dress," because as we met each character, the stage grew more and more crowded, and by the time we got through the song, I had oftentimes lost track of what was happening because there were just so many people on stage.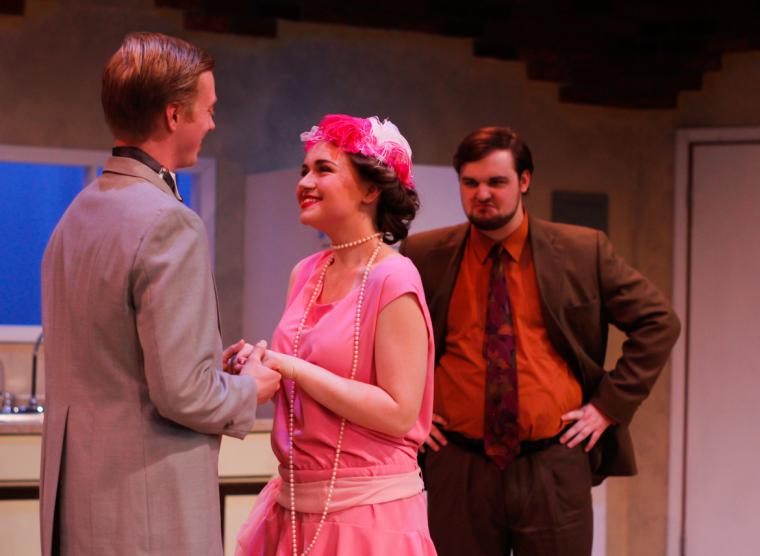 The Drowsy Chaperone is Man in Chair's favorite musical to listen to when he's feeling a bit blue. And like a child watching his parents for their reactions, so does Man in Chair wait to see how the audience reacts to his favorite moments. Interjecting wise words of advice and historical tidbits throughout, Whitmore finds a lovely sentimentality in the role that I've never felt before, and Augustana's latest is the fourth production of this musical I've seen. (It's a favorite of mine, too.)
As Man in Chair explains, the plot of the show we're imagining is about as basic as they come: A bride and groom cannot see each other on the day of their wedding, and hijinks ensue. Only it isn't quite that simple. The bride, Janet (Katie Griswold), is giving up her stage career to marry Robert (Daniel Williams). Her manager Feldzieg (Austin Allbert), meanwhile, is trying to stop the wedding so he doesn't lose his star actress and wind up with his ditzy companion Kitty (Katie Kleve) taking over.
Griswold and Williams play their tropes spectacularly well; Griswold brings the diva attitude to life with her perfect hair and pristine outfit (designed by costumer Ellen Dixon), while Williams was just melodramatic enough to not be clichéd. Both were evenly matched in their duet "Accident Waiting to Happen," and Williams, rollerskating blindfolded, was completely invested, giving me a newfound appreciation for the song. Williams also tap-danced his way into my heart during the number "Cold Feets," performed with his best man George (Jonathan Meir) and the featured dancers. To be honest, when a musical calls for tap dancing, I cringe a little, because it usually isn't that great. Saturday night's performance, however, proved it can be done well!
Also thoroughly enjoyable was Aldolpho (Rami Halabi), a Latin lothario of sorts whose planned seduction of the bride found him instead seducing our titular Drowsy Chaperone (Jess Holzknecht), who is never far from her drink. Halabi and Holzknecht work extremely well together, and Halabi even added some gymnastics to "I Am Aldolpho." Other charming pairs include the stiff butler Underling (Nathanial Bohrer) and the slightly forgetful wedding hostess Mrs. Tottendale (Abby Roselieb), and actors James Wheeler and Liam Baldwin, two masters of wordplay and physical comedy in their roles as "pastry-chef gangsters."
Director/choreographer Shelley Cooper kept the show familiar to those who know it; in Man in Chair's tiny apartment, there isn't a whole lot of space, and most Drowsy Chaperone productions, including this one, make limited space work with surprise entrances from all manner of locales. But Cooper also took a risk in the second act and wheeled in a fire escape on two separate occasions – making it difficult, for me, to see center-stage action from the dead-center of the theatre. The fire escape also made it so that my favorite Man in Chair moment with Janet in "Bride's Lament" fell flat, and I am certain those unfamiliar with the show missed it entirely.
As we are told early on, this musical is going to end happily because … it's a musical. So by the time Trix the Aviatrix (Izzy Bartscher) appears in the finale, everything is nicely wrapped up with a bow, and the April 28 audience appeared delighted by that. In the darkened theatre at the production's start, we hear Man in Chair proclaim the prayer theatre-goers know all too well: "Oh dear God, please let it be a good show." Luckily, this Drowsy Chaperone gives you just that: a good show.
The Drowsy Chaperone runs at Augustana College's Brunner Theatre Center (3750 Seventh Avenue, Rock Island) through May 6, and more information and tickets are available by calling (309)794-7306 or visiting Augustana.edu.