Lighting, of course, can do a lot for a show, and Genesius Guild's presentation of Much Ado About Nothing boasts a lovely, understated elegance – particularly in the twilight scenes – that's much to the credit of designers Maaz Ahmed and Andy Shearouse. But at July 23's Lincoln Park performance, it wouldn't have been out of place for the duo's mention in the program to come with an amendment: "... and special contributions by God Himself." It turns out that lightning, too, can do a lot for a show.
I'm sure we've all had the experience of being at an outdoor entertainment – a concert, a ballgame, a comedy classic by William Shakespeare – when you see the storm clouds rolling in and think to yourself, "Uh oh." On Saturday, that's kind of the opposite of what happened. The sky did get noticeably darker (and not just because of the setting sun) not long after Much Ado began, and we couldn't have been a half-hour into the play before the first raindrops landed. Yet what resulted during the next two hours of "Is it gonna storm or not?" confusion, both on- and off-stage, wasn't anxiety. It was more like ticklish enthusiasm, and it suffused nearly all of director Michael King's spirited, romantic production.
A few prepared patrons brought umbrellas, which they appeared to pull out, like, micro-seconds after drop one hit. (Sadly for me, one of those opened umbrellas completely blocked my view of an exchange between Lis Athas and Tyler Henning, two talents whom I never want blocked from view.) But most of us chose to rough it – which sounds more dramatic than it actually was, because things never got that bad. It did, however, rain just enough for the stage to become slippery, especially for the actors donning Shakespearean slippers. A performer running center-stage came close to falling, letting out an endearingly relieved "Whoops!", while another had a near-miss stage-right. But not long after, a thunderclap punctuated a line of dialogue so perfectly that our crowd laughed for a full five seconds, and it was at that point that the evening's tone became evident: We may all get rained out of here, but damn it, we're gonna have fun 'til we do.
With the constant flashes of faraway lightning suggesting a slower version of a strobe, or paparazzi outside a star-studded Hollywood gala, Shakespeare's famed "merry war" seemed to become all the merrier with the fizzy threat of inclement weather, in part because it forced the cast to really project. Early on, and with only a couple of exceptions, the actors' low-key readings didn't quite triumph over the cicadas, and even those of us who know the play rather well may have had trouble figuring out who was who, or where characters had just come from. Yet once it began to rain (which may also have helped silence the cicadas), there was a significant uptick in the collective vocal energy, and once we could properly hear them, performers began to shape some truly engaging figures: Henning's assured soldier Don Pedro, who isn't too straightlaced to enjoy a good prank; Chelsea Ward's ingénue Hero, providing an infectious laugh, spiky sweetness, and a killer smile; Luke Currie's villainous Don John, his mind whirring with duplicity and plans for revenge.
Any winning production of Much Ado, though, is dependent on a winning Beatrice and Benedick, two of the more delightfully contentious would-be lovers in the Bard's canon. This is surely something known to director King, because he not only cast the roles with the fabulously well-matched Athas and Jeremy Mahr – individuals I'm honor-bound (and just plain honored) to call good friends with whom I'll soon be working – but gave them plenty of juicy comic shtick to tussle with.
Athas, in a ravishing crimson gown that was one of costumer Ellen Dixon's most outstanding offerings, was deliciously acerbic and bull-headed, and when Beatrice fell for the romantic trickery of Hero and her ladies-in-waiting (Molly McLaughlin and Shannon Ryan), the performer exuded a slapstick silliness reminiscent of a young Lucille Ball, throwing herself to the ground and crawling around for a hiding spot. (When Beatrice finally realized her affection for Benedick, Athas was also given a wonderful comic assist from the weather, as a breeze from the front swept her hair at the exact moment she beamed with an enlightened grin.)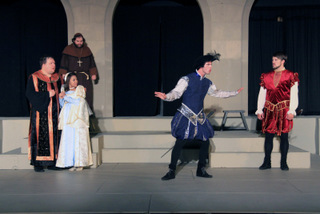 As for Mahr, there are no circumstances under which I wouldn't want to see him on-stage, and those familiar with the man's considerable gifts couldn't help but be stoked at the prospect of his Benedick. Whether hesitantly talking himself into love or failing, hilariously, in his attempts to act nonchalant about life-changing news – or even merely spinning a cape with the flourish of a master matador – Mahr's Benedick doesn't disappoint. Best of all, the pairing of the tall, confident Mahr and Athas keeps yielding wonderful things. Few stage sights this year have made me happier than Beatrice's ecstatic race toward Benedick with a full-throated "I love you!", with the overjoyed Mahr scooping Athas in his arms. Few stage bits, meanwhile, have made me laugh harder than Beatrice's subsequent, euphoric request "Kill Claudio!" … although one of them would certainly be Benedick's apprehensive response: "Eh-h-h-h … ."
Similar happy treats continually pop up throughout this Much Ado. Sometimes they're performance-specific, as with the fierce directness of Doug Adkins' Friar Francis and the paternal heartbreak of Jason Dlouhy's Leonato. Sometimes they're due to King's kinetic staging, as in the funny, smartly choreographed routine that finds Borachio and Conrade (James Alt and Jordan McGinnis) bound up in rope through the unexpected deftness of two addled, spinning Watchmen (Stephen Laurel and Jacob Lund). Sometimes they arrive in the form of sweet, throwaway grace notes, such as the light tenor crooning of T.J. Green's Balthasar and the delirious, kiss-heavy jubilation of Travis Meier's formerly miserable Claudio.
And sometimes, as with nearly everything involving Mischa Hooker's malaprop-prone constable Dogberry, they come from a blend of all such treats; you giggle at the actor's exuberantly sibilant pronunciation of "aus-s-spicious-s-s" while smiling at Dogberry's hup-to-hup-to marching configurations while reveling in Hooker's valiant willingness to make a perfect ass of himself. ("Ass," naturally, being a description that dimwitted Dogberry takes as the highest of compliments.) All connected to Genesius Guild's Much Ado About Nothing deserve praise and thanks for Saturday's terrifically involving night of theatre. May they prosper even further during weekend two, even if Mother Nature chooses to waylay the proceedings with the blight of excellent weather.
Much Ado About Nothing runs at Lincoln Park (11th Avenue and 38th Street, Rock Island) through July 31, and more information is available by visiting Genesius.org.