As the show's many, many stagings have taught us, so long as you have a great Maria, a good Captain von Trapp, and a bunch of cute kids, you can present even a really mediocre The Sound of Music and get away with it. And I'm happy to report that the Countryside Community Theatre's presentation of Rodgers & Hammerstein's musical has a great Maria, a good Captain von Trapp, and a bunch of cute kids. As for the rest of the production ... well, they're getting away with it.
They're occasionally doing even more than that, and during the show's first five minutes, you might find reason to expect that rarest of creations: a truly imaginative Sound of Music. Although the playing space in the North Scott High School auditorium is enormous, director Tristan Tapscott has opted for a minimalist approach to the sets, and the abbey that serves as the first locale is formed merely through a series of Grecian columns that descend from the ceiling; coupled with Jennifer Kingry's rich, subtle lighting designs, the resulting stage picture is both grand and elegantly spare. (Not for the last time, either: The majesty of the von Trapps' foyer is established through window frames that, likewise, drop from above, and in a neat bit, the backyard is suggested primarily through a functional swing, hanging from what must be Austria's tallest tree.)
And just as you're taking in the opening visuals, the abbey's nuns - all 17 of them - enter and sing the "Preludium" in divine harmony, and the effect is so magical that any lingering dread you may feel about sitting through The Sound of Music for the umpteenth time promptly vanishes. Until, that is, the nuns exit, at which point the orchestra strikes up its introduction to Maria's title song, and the production - despite such elements as Cindy Ramos-Parmley's ravishing costume design and a beautifully staged wedding sequence - becomes nearly indistinguishable from all the other not-bad Sound of Musics you've seen.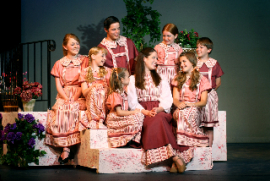 "Strikes up," in truth, may be the wrong phrase, because although conductor Addie Campbell's orchestra is first-rate, just about every number here feels distractingly under-tempo, and the very last thing these too-familiar songs should be is poky. At Saturday's performance, I'd hoped the lugubrious rendition of "The Sound of Music" would be an aberration - you could sense Liz Millea's Maria trying to accelerate the song's pace, as its slowness didn't jibe with her playful movements - but it wasn't. "Maria" and "Sixteen Going on Seventeen" and "Climb Every Mountain" were all presented with a reverence bordering on somnolence, and don't get me started on "My Favorite Things," which is tough enough to endure the first time around, let alone on a third reprise.
Yet beyond the score, far too much of this Sound of Music feels stagnant. Despite a fine, focused Mother Abbess in Christina Marie Myatt, most of the supporting cast is so presentational that their dialogue doesn't have the rhythm of actual conversation; Susie Schaecter's Elsa and Greg Bouljon's Max deliver more lines to the audience than they do to the other characters. And the Act II incursion by the Nazis carries no dramatic weight whatsoever. Kingry's mammoth-sized projections of swastikas during the climactic talent competition provide the only hint of threat, especially because the actor portraying the show's high-ranking Nazi officer (to the audience's amused shock) has opted for a bizarre character voice that sounds like Dr. Strangelove impersonating Yoda.
Did I mention, though, that the production at least has a great Maria, and a good Captain von Trapp, and a bunch of cute kids? Millea, who is in marvelous voice throughout, is as level-headed as her role requires her to be, yet peppers her performance with delightfully fresh comic readings and, in one instance, genuine anger; she's a flesh-and-blood figure in this mostly artificial world. It took longer for me to warm to Pat Burr's grim stoicism as von Trapp - he seemed a little one-dimensional even for this stiff-upper-lip role - but once the character's defenses began to break, so did the actor's, and his charming underplaying proved a terrific counterpoint to Millea's natural ebullience. (If I find Burr good rather than great, it's because a technical malfunction gave him away; when the actor's body mic briefly stopped functioning on Saturday, you could no longer hear a word he said.)
And my, but those kids are adorable! (Cara Chumbley's Liesl is even more than that; she radiates a dynamic, effervescent happiness.) Dressed in matching outfits and hitting their "Do-Re-Mi" notes with aplomb - when, though, did the song's "fa" get officially changed to "far"? - the von Trapp youths are one of the production's bright points, and actually seem more connected to the material than many of the adults do. For those desperate for a Sound of Music fix, Countryside's presentation will certainly suffice. For the rest, don't kick yourselves for skipping it - I'm sure another local version will be popping up any minute now.
For tickets, call (563) 285-6228.