Peppy, cheeky, and somewhat unsatisfying - though in ways that are rarely the fault of its current Timber Lake Playhouse presentation - Flight of the Lawnchair Man boasts a friendly spirit, a number of witty and weird diversions, and a brisk running time, clocking in (with the intermission) at a mere 105 minutes. Yet for all of its strengths, and unlike its determined hero, this musical comedy never really takes off. Director Chuck Smith's production is ingeniously designed and energetically performed, but the show itself is a little bit You're a Good Man, Charlie Brown, a little bit The Wedding Singer, and a little bit Bat Boy, and about as stylistically awkward as that description implies.
You actually get a taste of all three of those musicals in Lawnchair Man's first few minutes. Inspired by a 1982 voyage made by Californian Larry Walters, Timber Lake's latest concerns Jerry Gorman (Grant Drager), a sad, dyslexic Walmart employee who wants to fulfill his lifelong dream of flying. Its introductory number, however, is an up-tempo ditty titled "Everything Is Perfect in Passaic" - a parody of the faux-cheerful, suburban vacuousness that Jerry, as we'll learn, wants to escape - and it sets an odd tone for the show right off the bat.
Designer Nathan Dahlkemper's playful, deliberately artificial-looking set pieces - combined with the opening strains of Robert Lindsey-Nassif's score - immediately suggest the comic-strip charm of Charlie Brown, and that charm is enhanced by a fantastic scenic touch: The clouds hanging over the stage, and over the audience, are clusters of white helium balloons. (Balloons, which eventually enable Jerry and his lawnchair to take flight, are cleverly employed as visual leitmotifs throughout the production.) But this initial sweetness doesn't quite jibe with the snark of the rather mean-spirited and obvious "Passaic" number, in which the song's six talented performers play Jerry's neighbors with the frozen, somewhat malevolent grins of the Bat Boy townsfolk - or the ensemble in a musical-comedy version of Valley of the Dolls. (I always feel a little bad for actors cast in these satiric, happy-zombie roles, because they're generally forced to expend enormous amounts of energy portraying figures designed to have no personality.)
Upon their introduction, though, the less overtly stylized characters of Jerry's mother (Julia Mitchell) and girlfriend Gracie (Sophie Brown) - the two "real" people in Jerry's relentlessly phony world of homogenized, middle-class contentment - appear no more genuine than the empty-headed Passaic tools of the opener. Outfitted in wonderfully tacky selections by costumers Tate Ellis and Katy Freeman, and honking with comically exaggerated New Jersey accents (Mitchell, who's a sensational comedienne here, honks the loudest), the women are funny and endearing from the start. But they're no less stereotypical than all those silly, giddy Jersey Girls running through The Wedding Singer, so when Mother Gorman gives her borderline-shut-in son seemingly sensible advice about growing up, or Gracie sings a heartfelt ballad advising Jerry to "Have a Nice Day," you don't quite know how to take it. Every once in a while, Lindsey-Nassif and Lawnchair Man book writer Peter Ullian bring human truth and even pathos (or sometimes just sentiment) to their alternately affable and threatening cartoon universe, but it frequently makes for an uncomfortable blend.
It's Jerry who most often has to navigate between the show's disparate moods and presentational styles, and Drager portrays him with unfailing tenderness and warmth. As written, the character makes little sense; Jerry's dyslexia is used to explain why he's not allowed his pilot's license, but it doesn't explain why this apparently able-bodied 34-year-old is so sheltered, or so pathologically afraid to leave his mother's house, or so dangerously depressed. (His first scene, which quickly puts a pall on the proceedings, finds Jerry trying to commit suicide.) Yet Drager, the possessor of a clear, confident singing voice - and a dead ringer for Parks & Recreation actor Adam Scott - is an incredibly touching presence, and he's more than well-matched by Brown, an equally superb vocalist whose terrifically amusing Gracie grows more forceful and complex, more human, as the show progresses.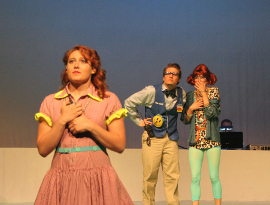 Mitchell, sporting a dialect that would give the Jersey Shore cast the shakes, plays her braying East Coast matron to the hilarious hilt, and similarly outsize, similarly entertaining caricatures are provided by Brandon Ford and Erica Vlahinos in the the roles of Jerry's stunningly conceited jet-pilot neighbor Jack and Jack's dizzy, squawking flight attendant. It's unfortunate that their routines are frequently staged - with the actors in an enjoyably low-rent, two-seat airplane - so that the towering Ford is standing directly in front of Vlahinos, and even more unfortunate that they're stuck with Lawnchair Man's worst number, the melodically and lyrically incomprehensible "To Tame the Sky." (When the song first began at the show's Thursday performance, the actors didn't seem quite on pitch with conductor Travis Horton's on-stage orchestra, but I'd doubt that Maria Callas herself could've determined what the correct pitch might be.) Happily, though, Ford and Vlahinos are still a hoot, as are Kelsey Andres as an androgynous FAA agent, and Dryden Meints and Patrick Connaghan as Jerry's fellow Walmart employees, and Aaron Conklin as Leonardo da Vinci.
Yup. In one of the musical's most deliriously random moments, the Italian Renaissance man shows up to give Jerry some aerial advice and treat him to a sprightly song and dance in the clouds, and to the audience's delight, he's soon followed by the helpful, airborne personages of Charles Lindburgh (a spirited Henry McGinniss) and Amelia Earhart (the dryly haughty Katie Wesler). Despite the continually inventive design and the considerable efforts of its hardworking cast, this Flight of the Lawnchair Man doesn't always work. But I'm thrilled to have seen Timber Lake's offering for its numerous, spectacularly nutty throwaways: for the huge yellow smiley face that serves as the makeshift Walmart's concession counter; and for the traffic jam of pissed-off commuters (some of them guzzling booze) on the New Jersey turnpike; and especially for the magical, hysterical version of the climax to 1956's French-film classic The Red Balloon. Hats off to Chuck Smith and James Beaudry (who receives a "musical staging by" credit in the program) for this sequence; as a result, I'm officially shooting The Red Balloon to the top of my Netflix queue. The movie's as funny as Smith and Beaudry make it out to be, right?
For tickets and information, call (815)244-2035 or visit TimberLakePlayhouse.org.