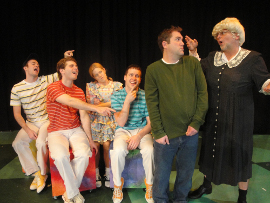 Not being a child myself, I can only imagine the delight that kids feel at seeing a much-loved book played out, on stage, before their eyes - which is what's currently happening in the Circa '21 Dinner Playhouse's production of Alexander & the Terrible, Horrible, No Good, Very Bad Day. While I've personally never read author Judith Viorst's work, I do know it's a popular story among younger readers, and those in the audience during Saturday morning's performance certainly seemed to like what they were seeing. (They were also at least familiar enough with the source material to be able to shout out the show's title without a hitch... though I'd bet many could recite much more than that part of the book by heart.)
As for me, I found director Tyson Danner's take on this tale of one boy's Worst Day Ever nothing short of adorable. It's playful from beginning to end, boasting non-stop cuteness and a good number of laughs for even the adults in the audience, and Viorst's lyrics - set to composer Shelly Markham's music - are often clever and chuckle-worthy. In truth, Danner's staging of Viorst's story is so captivating, I didn't hear any sounds of restlessness from even the audience's youngest members. They seemed to be engaged for the show's entire hour, which is notable (and, as a parent, much welcome) when it occurs.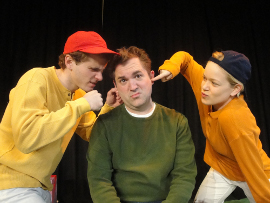 While Alexander stands out, of course, the piece is really an ensemble effort, with six actors taking on various roles - from Alexander's brothers to his best friends, from his female teacher to his male dentist (the latter two delightfully played by Janos Horvath, who is a sight to see in Mrs. Dickens' dress and wig.) Whether by Viorst's design or Danner's imagination, the actors also portray inanimate objects, such as his bedroom door and bathroom sink. They're not simply doors and sinks, though. While in "inanimate" form, the actors still connect with the audience through knowing glances and asides - giggling at Alexander's trouble opening the door, for example, or cringing as Alexander spits his toothpaste into the sink. There's this sense of, "Hey, kids! Watch this!" to the show, a playfulness that resonates throughout Danner's overall concept. And with each actor offering a fantastically exaggerated portrayal with a childlike air, it's all so sweet and so cheerful that I didn't stop smiling from beginning to end.


Alexander himself, played by Marc Ciemiewicz, manages to pull off a lot of pouting in a sincerely lovable manner. His Alexander is overplayed, for sure, but appropriately so; this is, after all, a boy who considers something as insignificant as getting all white shoes (instead of the blue ones with red stripes) reason enough to move to Australia. Ciemiewicz's caricature of a kid with an ever-present raincloud over his head is pitiable in a way that made me just want to pinch his cheeks, rather than cry for him out of sympathy.

Due to a scheduling conflict, I was not able to take my children to see the show with me this time around. Still, I didn't need to watch Alexander & the Terrible, Horrible, No Good, Very Bad Day vicariously, through their eyes, to enjoy it.
For tickets and information, call (309)786-7733, extension 2, or visit Circa21.com.