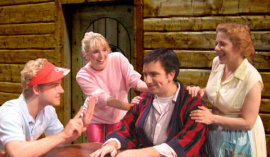 If you've ever had the desire to catch British comedian Rowan Atkinson on stage, especially as his famed Mr. Bean character, the Timber Lake Playhouse's presentation of The Foreigner may well satisfy your urge - the wizardly Jeremy Day is performing mime-clown routines that Atkinson himself would be happy to steal from.
Yet the actor isn't just aping in this production of Larry Shue's farce. As a pathologically shy Brit twit trapped in rural Georgia, Day exudes a gentleness laced with lunacy that feels entirely his; the performer, under the supremely controlled direction of Chuck Smith, turns an entertainingly two-dimensional construct into a truly empathetic, and hysterical, three-dimensional being.
And "three-dimensional" isn't generally the phrase that springs to mind regarding Shue's comedy. The setup, which requires much heavy exposition to unload, finds Day playing Charlie Baker, a fidgety English proofreader saddled with an adulterous wife and a paralyzing fear of conversation. For reasons too torturous to explain - partly because Shue barely explains them - Charlie joins his pal "Froggy" LeSueur (the enjoyable Nick Toussaint) on a weekend trek to America. But with unspecified military business to attend to, Froggy deposits Charlie at a friend's Georgia fishing resort (another piece of astonishing Joseph C. Heitman set design) and tells the excitable innkeeper, Betty (Kitty Karn), that Charlie mustn't be spoken to, as this "foreigner" won't understand a word anyone says. (In the land of Shue, "foreign" and "deaf" are apparently one and the same.)
Betty promptly ignores Froggy's instructions, addressing Charlie with the baby-talk condescension you reserve for the family pet, and once others enter the scene, the poor guy isn't given a moment's peace: For fading Southern belle Catherine (Jenny Guse), Charlie is a silent sounding board for her qualms about her impending marriage to the town reverend (Brandon Ford); for Catherine's slow-witted brother, Ellard (Zachary Gray), he's a strange new friend - rather like E.T. - whom the young man can educate; and for loutish hillbilly Owen (Nathan Grant), he's a figure of ridicule, an unwelcome "furinner" to be tormented and disposed of. Subsequently, through the course of Shue's play, Charlie finds the personality that previously eluded him, and hears all manner of things he shouldn't, including information concerning the reverend's seedy side, an inheritance scam, and a new headquarters for the Ku Klux Klan. "Hilarity," as it must, ensues.
Director Smith, though, has done something really shrewd here. Instead of speeding up the action so that the comedy's (mostly labored) farcical elements zip by in harmless, synthetic fashion, he slows down the rhythms, so the plotting, and the characters' behavior, unfurls with a naturalistic ease that feels like life - and in doing so, Smith magically finds the play's life. It was wise of the director to set his production in the year of The Foreigner's publication - 1983 - back when we were more blasé about jokes involving the mentally challenged and the Klan. (The early-'80s setting had an added benefit for one of Friday night's attendees, who positively roared every time Guse entered in one of designer Jeanne Jones' comically hideous wardrobe selections.) But it was wiser still for Smith to insist on a realistic approach to the material, which granted Ellard the dignity the character deserves - we always laughed with him, never at him - and which made the KKK's late-play appearance appropriately unnerving.
This choice also led to wonderful performances across the board. The marvelously endearing Karn found exactly the right blend of cartoonishness and naturalism, and Guse's petulant debutante morphs into a sad yet still hopeful character who's far more complicated than she initially appears; it's the strongest work I've yet seen from this terrific performer. Ford and Grant are convincingly hateful without your wishing they'd just go away - Grant, here, looks uncannily like Larry the Cable Guy with hair extensions, but blessedly, he's actually funny - and Gray gives a stunningly sweet, joyously inspired portrayal; the deserved hush that accompanied Ellard's grammar lessons would, thanks to Gray's deliriously unpredictable readings, frequently give way to explosive laughs.
Meanwhile, much of Day's performance involves no readings at all, and he's a thrillingly inventive silent comedian in The Foreigner. Charlie's comedic discomfort when unable to respond to the escalating madness is sublime - pay attention to his slo-o-ow, anguished attempt at vacating a couch without being noticed - and he unleashes a series of grins, grimaces, and aghast reactions that are perfectly calibrated; they never steal focus, yet are never less than riveting.
Watch out, though, for the moments when Day does speak, because Charlie's gradual "mastery" of English and his intentionally psychotic outbursts (the best occur when he's scaring the bejeezus out of Owen) show Day to be as fearlessly imaginative vocally as he is physically.
Like an out-of-town guest who eventually wears out his welcome, The Foreigner, at 140 minutes, also sticks around a bit too long. But with Day at its center, Timber Lake's latest is also like the guest you're all too sorry to see leave.
For tickets, call (815)244-2035.