In the years since she received a 1988 Academy Award for Moonstruck, Olympia Dukakis has appeared in more than four dozen feature films, television movies, and miniseries, and has continued to be a widely respected theatre actor and director. So it seems somehow prophetic that her illustrious career began, as she says during a recent phone interview, with a production that blended the stage and celluloid.
"I was in college, and I was selected to write and direct a musical revue. It was a take-off on the history of movies - different movies and different genres - that I and another woman wrote. And that's when the bug bit.
"I just felt an aliveness doing it," Dukakis says of this formative theatrical experience. "A real aliveness and an immediacy.
"And I also felt that I had, for some reason I couldn't explain, very good instincts," she adds with a laugh. "I mean, I just really felt alive, and I took pleasure in that aliveness. I still do."
"Dukakis," of course, has been a household name since 1988, when her cousin Michael was the Democratic nominee for president, and Olympia earned a Best Supporting Actress Oscar for her portrayal of Cher's salt-of-the-earth (and salty) mother in 1987's Moonstruck. Since then, her performance joy has been evident in everything from her role as Clairee ("I love you more than my luggage") Belcher in Steel Magnolias to her vocal turn as Grandpa's lady friend on The Simpsons.
On October 6, Dukakis will appear on Davenport's Adler Theatre stage as part of the Eastern Iowa Community College District's "Viewpoint Distinguished Speakers Series." The event will find her speaking about, as she says, "the arts, entertainment, my life in it, and why it matters. Why the arts matter." And while the evening's question-and-answer period will allow attendees to ask Dukakis about her film career, her presentation will focus less on her cinematic accomplishments than on her first professional love.
"I include some of the movie stuff in it," she says of her planned speech, "but I spent many more years - 50 years - as a stage actress. That's a long time."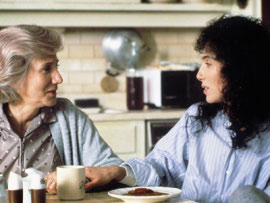 Wonderful Struggle
Born in Lowell, Massachusetts, in 1931, the daughter of Greek-immigrant parents had theatrical experience prior to her eventual enrollment in Boston University, performing as a teenager with her father's amateur-theatre troupe. Dukakis went on to participate in collegiate productions yet actually earned a B.A. in physical therapy in 1952, a field she worked in for years. "I did that so I could go out and work and make money to go back to school," she says.
Dukakis received an M.F.A. in the performing arts from Boston University in 1957 and, upon graduation, embarked on her professional stage career, performing in summer-stock and regional theatres nationwide, and earning her first Broadway credit as an understudy in 1962's The Aspern Papers.
That year also found her marrying fellow stage actor Louis Zorich. (The couple, who celebrated their 47th wedding anniversary this past spring, have three children.) It also found her making her first acting appearance off the stage, with an episode of the television drama Nurses, the first of nearly 100 television and film roles to date.
"I was at a loss," says Dukakis of her initially awkward transition from stage to screen. "I didn't know about lights, I didn't know how to be comfortable in front of the camera. It was very, very difficult. I felt like they sent a plumber to do an electrician's job."
She laughs. "But, you know, you do a couple of movies, and eventually, slowly, you learn."
Dukakis found her true niche, though, with the 1971 co-founding of Montclair, New Jersey's The Whole Theatre, a not-for-profit venue that the actress describes as "a collaborative venture of actors and directors and designers." Along with her husband and, she says, "15 others - a lot of us," the group was dedicated to the presentation of theatrical classics. And for 19 years, the venue offered Dukakis the chance to play some of theatre's most challenging roles.
"I played Beckett's Happy Days," she says. "In Waiting for Godot, I did Vladimir - it wasn't totally a women's version, but the leads, Vladimir and Estragon, were women. I did Brecht's Mother Courage [& Her Children]. The Rose Tattoo. Long Day's Journey [Into Night]. Mourning Becomes Electra. The Cherry Orchard. The Seagull." She chuckles at the intimidating list of credits. "I mean, if you're not going to do those, what's the point?"
Her tenure with The Whole Theatre, as Dukakis tells it, might still stand as the theatrical accomplishment of her life. "As the years went by, people peeled off, and little ol' me stayed," she says with a laugh. "And it turned out to be really an extraordinary experience. Not only the artistic one - which, of course, gave me the opportunity to play so many parts - but the community one.
"I had no idea that when we started the theatre," she continues, "that I'd had such a deep desire to be part of a community. I mean, I knew I wanted to be part of the theatrical community, but to be part of a larger community and know that my work was relevant for people ... . I mean, the audiences taught me that. They taught me that they wanted theatre, and why theatre was needed. I knew why I needed it, but running a theatre taught me why other people needed it and wanted it."
The Whole Theatre's run came to end in 1990, and while one might guess that the decision to close its doors was a difficult one, Dukakis says, "It wasn't, actually. I mean, it's a great struggle. It's a wonderful struggle, but it's hard. You know, I loved the idea of putting the season together, but year after year of raising money and walking around with my hat in my hand ... . I tell you, it wears thin."
As someone who knows full well the challenges of sustaining a theatrical organization in trying financial times, Dukakis says, "For the theatres that are not-for-profit, what they are for is for contributing to the quality of life in a community. So in doing that, then, the community needs to feel ownership, and support them. Make donations, become part of boards, become part of volunteer efforts and volunteer groups."
Right Over the Wall
With Dukakis earning her "overnight success" at the age of 56, it's tempting to segregate her career into two distinct periods: the pre-Moonstruck era and the post-Moonstruck era. And while she has never abandoned stage work, the actress agrees: "That's actually true economically. Absolutely. Economically, and from a point-of-view of popularity.
"I mean, people knew me in New York and New Jersey, but the rest of the country didn't know me. But with Moonstruck, and then, of course, Steel Magnolias, that put it, as they say, over the wall," she says with a laugh. "Right over the wall."
In the years since her film successes in the late '80s, Dukakis' signature deadpan, throaty voice, and, of course, formidable acting skill have made her one of America's most sought-after talents. "People begin to know you as a good actress," she says of the attention that followed her 1988 Oscar win, "and they begin to take chances on you." She's also a talent whom audiences instantly recognize, on-screen or off-.
"I'll tell you the ones that I get recognized for most ... ," she says. "Moonstruck and Steel Magnolias, of course, but Look Who's Talking 1, 2, and 3. And then Mr. Holland's Opus - that got a lot of attention. And Tales of the City. That one was really something; that was special. That's probably my favorite."
It's actually the favorite of many. This 1993 miniseries adaptation of Armistead Maupin's famed, kaleidoscopic novels about life in San Francisco offered Dukakis the chance to play one of her richest character roles to date: Anna Madrigal, the books' kindly, transsexual landlady and de facto moral compass. (Dukakis repeated the role, and earned an Emmy Award nomination, for 1998's More Tales of the City, and portrayed Madrigal once more for 2001's Further Tales of the City.)
"She wasn't difficult to play," says Dukakis of her much-adored character, "but at the start, I didn't fully understand her. But I had a wonderful conversation with a transsexual who was a gender therapist. And knowing how difficult the transition was both physically and psychologically, I asked her, 'What was it that was so strong in you that made you want this?' You'll never believe the answer. She said to me, 'All my life, I yearned for the friendship of women.'
"And in that one moment, I got it," she continues. "You know, who doesn't understand having this silenced voice in you? This silent persona that you want to give voice to? We all understand it. We all have a voice that feels like it got silenced - one that we're trying to recover, that we're trying to acknowledge. You know, everybody - men and women, for different reasons.
"That woman just gave me my whole performance," she says. "And all I gave her was a cup of coffee and a bagel."
Yet beyond her movie and television work - and Dukakis has three more film roles scheduled for production next year - the star has remained incredibly active on the stage, with one of her most recent projects a version of Shakespeare's The Tempest that Dukakis herself adapted. Titled Another Side of the Island, the piece finds Dukakis portraying the traditionally male role of Prospero - just as the actress, in another of her adaptations, played King Lear in a groundbreaking 1998 production titled, appropriately enough, Queen Lear.
"It's much worse, somehow, when the daughters refuse to take care of the mother and abandon her," says Dukakis of Lear. "Just by virtue of the fact that the audience is watching a woman dealing with her daughters, and behaving the way she does, and cursing them ... . I mean, it's actually much worse when a mother curses her daughter's womb, like Lear does, you know? It's different when the mother is crazy on the moor. You really feel something is terribly wrong here. I mean, it's wrong for a father, of course, but there's something about it happening to your mother that, you know, is really appalling.
"And it's much different," she continues, "when you watch The Tempest - watching a woman be so tough, and wanting revenge, and wanting to reclaim her status through her daughter. And then you see that break as her heart opens, because she sees her daughter's love, and she can't hold on to that resolve anymore ... . That's different in a woman than it is in a man.
"It almost heightens the story somehow," says Dukakis. "You know, we get familiar with something, but then when you see it in an unfamiliar way, it drives the story home differently."
As a performer who, in her 70s, is taking on some of her most demanding and satisfying roles, Dukakis says, "You need patience in the arts, and you really have to want it. You really have to want it. And you have to keep letting transitions happen. The reason why you become an actor, or the reason why you open a theatre, is not going to be the reason you stay.
"Things change," she continues, "people grow, and you have to let that happen. Theatre is a way. It's a path."
Olympia Dukakis speaks at the Adler Theatre on Tuesday, October 6, as part of the Eastern Iowa Community College District's "Viewpoint Distinguished Speakers Series." Tickets are $32 to $36 and can be reserved by calling (800)745-3000 or visiting AdlerTheatre.com.