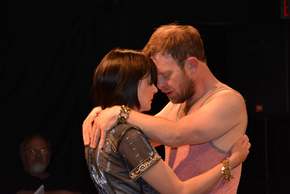 Much of Friday's performance of the Prenzie Players' Antony & Cleopatra played almost like a romantic comedy. Director Kate Farence's staging of William Shakespeare's tragedy feels lighter and funnier than perhaps the material calls for, with the titular couple enjoying their post-Julius Caesar relationship - and ultimately dealing with Rome's political power plays and battles - amidst a den of hedonism, with hippie-esque attendants engaging in swinging orgies and drug use. Matt Moody's set design even has the lovers reclining on a tiered platform covered in colorful pillows and blankets, a seeming nod to the pair's interest in each other over the power of a throne. And the personality in Farence's production proves titillating - and should make the show more palatable for those who might not enjoy a stuffier version.
Kristin Skaggs' Cleopatra, with her shallow and histrionic airs, certainly fits into Farence's environment, at least in the earlier parts of the play. When J.C. Luxton's driven, confident Antony is present, Skaggs' Cleopatra appears interested in nothing other than throwing herself at him, or focusing her attention entirely on him, at the expense of behaving like the queen of Egypt. I almost didn't care about this woman, though I didn't necessarily dislike her, either. It was as if I were watching one of Bravo's (all-too-many) Real Housewives series, with Skaggs preferring dramatic flair over depth of character. As with the Housewives, I wasn't emotionally invested, but also couldn't seem to turn away.
It wasn't until Cleopatra displayed an almost bipolar nature when grilling Andy Curtiss' endearingly nervous messenger Alexis that I found her more than a trifling amusement. As Alexis tells her of Antony's marriage to Octavia (a charming, respectable Roxy Running), the sister of Octavius Caesar (the poised and regal Andrew Bruning), Cleopatra "shoots" the poor man by way of slaps and venomous scoldings. At one point, as Cleopatra summons the reluctant-to-return messenger, she also shouts "I will not hurt him!" with an aggression that does not match the statement. Here, Skaggs shows nuance within the surface nature of her Cleopatra, and offers some of her funniest moments as she dismisses Octavia as a short, round-faced woman with bad hair. Skaggs' queen also increases in depth from this point, exuding empathetic pain when she loses her love and has her rendezvous with an asp (played here by a real snake, rather than a prop serpent).
If I truly liked any characters in this piece, it was Cleopatra's maidservants Charmian and Iras (Jen Brown and Elizabeth Buzard) for their unshakable, sincere admiration for and loyalty to their queen, and the eunuch Mardian, whom Mischa Hooker plays with charmingly effeminate body language while adorned by costume designer Victoria House in a unisex, metallic-gold tunic. Denise Yoder also won my affection for her brazen pirate Menes and the abandon with which she attacks her fight scenes. (Antony & Cleopatra's most striking "fight scene," by the way, is its depiction of the battle at sea that pits Antony against Octavius Caesar. Farence makes remarkable, fluid use of two of Moody's wheeled platforms, which actors push around the stage as Luxton and Bruning stand atop them in commanding stances, and the effect is awesome in the truest sense of the word.)
Luxton, though, commanded my attention more than anyone else, due, in no small part, to his passionate commitment - a characteristic the actor brings to every one of his stage roles. His Antony did not win my loyalty, but I couldn't deny this man's dynamic leadership skills as he spoke with an authority unfit for questioning. Antony's leadership style isn't dictatorial, but boasts a high degree of self-worth and conviction that almost dares you to not follow his lead. Luxton's final scene, in contrast, elicits sympathy, as Antony's aide Eros (also played by Roxy Running) shows such devotion to him that he'd rather stab himself than run Antony through, as ordered. Eros' love for Antony reveals softer qualities in the Roman general, which opened my heart to Antony, and Luxton's climactic moments pull out every ounce of his character's inner conflict and heartache.
It's always a delight to see the absorbing performances of Jarrod DeRooi, who here portrays Antony's lieutenant and friend Enobarbus. And I admit to taking personal pleasure in seeing Farence's inclusion of a passionate kiss between Octavius and his naval admiral Grippa (the militarily stalwart Payton Brasher), partly because of the timeliness in seeing ancient-Roman acceptance of homosexuality in light of the recent Supreme Court hearings on same-sex marriage. The Prenzie Players' Antony & Cleopatra doesn't quite plumb the depths of its famous couple's story, but individual performances and Farence's sybaritic presentation of the material are tantalizing enough to make up for it.
Antony & Cleopatra runs at the QC Theatre Workshop (1730 Wilkes Avenue, Davenport) through May 9, and more information and tickets are available at (563)484-4210 or PrenziePlayers.com.