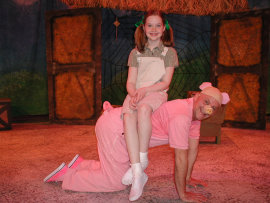 When the Circa '21 Dinner Playhouse produced Charlotte's Web in 2003, I was lucky enough to perform in the show opposite Janos Horvath's Wilbur, and I vividly remember being amazed that someone could give such a touching, wholly credible performance while wearing a rubber pig nose.
The theatre has now revived the production, and luckily for audiences, Horvath and his adorable pink honker are back, too. Yet with all due respect to Horvath - who's as marvelous in the role now as he was then - this version of Charlotte's Web is currently being stolen by someone else entirely. And she's only in fifth grade.
In director Tom Walljasper's take on E.B. White's storybook classic, Lauren Van Speybroeck plays Wilbur's owner and best friend, Fern, and gives a performance of such naturalistic poise and charm that she more than holds her own against her impressive co-stars - this is one of the most honest and inventive stage portrayals I've ever seen from someone not yet in middle school. Granted, she's not exactly a stage novice, having appeared as Gretl in Circa '21's The Sound of Music in 2002, and as a plucky (male) teacup in Quad City Music Guild's 2005 production of Beauty & the Beast. But even considering those credits, the confidence that Van Speybroeck displays here is rather overwhelming.
Early in the show, Fern performs a solo ditty titled "A Friend Like You," and the number requires Van Speybroeck to not only sing to, but make a true connection with, the stuffed-animal that was cast as the infant Wilbur - a feat, Horvath might agree, just slightly tougher than portraying a believable pig. Yet the actress not only pulls this routine off, but does so with an unembarrassed glee that catches you off-guard ... and not for the last time, either. There's absolutely nothing practiced or phony about Van Speybroeck's work as Fern, and she keeps coming up with human touches that performers three times her age would envy: her gentle patting of Wilbur's back while he eats out of his slop bucket, her breathless revelation of a schoolgirl crush ("Henry Fussy held my hand!").
It would be enough for the actress to give such a commendable performance in Charlotte's Web. Would you believe that she gives more than one? Like fellow ensemble members Brad Hauskins, Don Hepner, and Nicole Savitt, Van Speybroeck also takes her turn narrating the tale and appears as one of Wilbur's barnyard neighbors - she plays an elderly, hayseed sheep - and her appeal and vocal assurance never wane. (As that doddering sheep, she's an endearingly subtle comedienne.) What Van Speybroeck does in Charlotte's Web is really quite amazing - she shares the stage with five adult actors, and never once calls attention to her youth.
Walljasper deserves enormous credit for eliciting such inspiring work, but there's very little about this production, and his helming of it, that isn't inspiring. Working from one of the smartest, most consistently entertaining kids'-show scripts Circa '21 has produced over the past decade-plus, the director keeps White's tale moving at a speedy clip. But despite the actors playing several characters, and the show's numerous locale switches, the action is never overly frenetic; even a zany, mid-play chase sequence - complete with a miniature baseball game that's like something out of a Looney Tunes short - is handled with stylized grace.
The cast, too, could hardly be bettered. Horvath's Wilbur is a dream of a children's-show performance - broad enough to tickle the kids and heartfelt enough to move everyone - and he's terrifically well-matched with Megan Kelly's Charlotte; Kelly appears to have an exquisite grasp of how much sentimentality, for her character, would be too much, and makes her maternal spider a divinely sweet and delicately funny creation. (When Charlotte discusses her egg sac and Wilbur asks, "What's inside it? Eggs?", Kelly gets a deserved laugh with her incredulous reading of, "Well ... yes.")
Portraying, among other characters, the mischievous rat Templeton, Hauskins brings bite and vigor to his wisecracks, and expertly holds the audience's attention without being merely distracting. (Off-stage, in a Circa '21 in-joke, he's heard singing, "When you're a rat you're a rat all the way ... " à la West Side Story, but I'm thinking something from Guys & Dolls may have been more appropriate; Templeton is like the rodent cousin to Hauskins' comically tough-talking kitty in 2005's Stuart Little.)
Hepner barks out his dialogue with robust authority - at last week's opening-day performance, the actor's gradual build on Mr. Arable's pronouncement, "I may ... have to enter him ... in the county fair!" received applause from the kids - and Savitt, whose ebullient presence is the best thing about Circa '21's current production of Church Basement Ladies, enacts a deliciously daffy goose to Hepner's gander, and boasts a smile that's like the physical embodiment of a sunny, happy day.
Really, nothing in the show is as memorable as the beaming grins of its participants, despite being filled with lovely moments - Fern riding Wilbur on stage, Wilbur taking the time to shake each one of Charlotte's many hands. These six actors look as though they couldn't possibly be having more fun, yet I feel compelled to reveal one way that they could enjoy this Circa '21 experience more than they presently are: Instead of appearing in Charlotte's Web, they could be watching Charlotte's Web.
For tickets, call (309) 786-7733 extension 2.