On the final episode of the most recent season of FX's comedy Louie, star Louis C.K.'s alter ego was performing stand-up in Oklahoma City, and forced to share a condo with his opening act, a hack comedian named Kenny. At first, Kenny seemed awful: He drank whiskey in the morning; he gave his barely legal chauffeur sexually explicit advice; his stand-up set was rife with masturbation and fart jokes (which, to Louie's mortification, positively killed).
Yet toward the episode's end, after a confrontation in which the comics admitted to hating each other, Louie and Kenny reached an unexpectedly touching stalemate when Louie broke down in sobs. "You gotta give so much," he said of their shared profession, "and it's so hard. All the years just alone out here ... . I just wanted to be good at it. It's all I wanted. And I don't know what happened."
And Kenny sympathized. "What happened is you tried to be good at it," he told Louie. "It's comedy. It's about being funny and having fun and being outrageous. It's not an art, stupid. It's a bar trick."
Kenny was played, and played exceptionally well, by Jim Florentine, the headliner for June 1's rare night of stand-up comedy at the Rock Island Brewing Company. Yet while Florentine has also proved his acting chops on shows such as Californication and Inside Amy Schumer, and has certainly earned his comedic cred through stand-up sets, talk-show appearances, and his long series runs on Crank Yankers and That Metal Show, there may be a reason he's so good on Louie's season finale: As a professional comedian, he's been both Kenny and Louie.
"It all depends what you want out of it," says Florentine, during our recent phone interview, about how one can approach a stand-up career. "There are some guys, like the guy I played [on Louie], that are just out there making a living and don't really care about the passion of it. And then there's guys like Louis that really care about it. I'm on the Louis side."
But as Florentine says, he wasn't, necessarily, during his years as a fledgling stand-up in New York City. "In the beginning," he says, "it was all about, you know, getting on the road and meeting chicks and getting paid for something that I loved doing. But you eventually realize that's fun for a while, but you gotta really take this stuff serious if you want to get some TV work or film – if you want to get to the next level."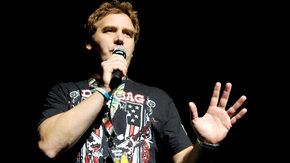 When he began his stand-up career in 1993, Florentine says he had been most influenced by the stylings of Richard Pryor, Rodney Dangerfield, and Andrew Dice Clay – "probably those three, and [Sam] Kinison, too. When I saw Dice, he was like a rock star up there. That's when I really took a liking to stand-up. And when I did it the first time, I was like, 'Aw, man, this is what I want to do. At least if I'm up on stage, I don't have to work during the day.'"
Yet while he performed regularly throughout the decade, Florentine reached the first of his "next levels" in 2001 with the release of his comedy CD Terrorizing Telemarketers, a collection of recorded conversations that, true to its title, found him exacting comic revenge on those who hassled him at home.
"That was just a thing of being bored during the day," says Florentine of the CD's origin. "You know, I was doing stand-up at night and didn't work a day job. So I would just wait for the phone to ring, and if it was telemarketers, I would just try to keep them on the phone as long as possible. But you really have to have nothing going on during the day to pull that off. You know, you gotta sit by your phone and wait for them to call. So I was lucky to have nothing going on."
Lucky indeed, because after Howard Stern heard the CD and began playing snippets from it on The Howard Stern Radio Show, Terrorizing Telemarketers shot up to number two in sales at Amazon.com. And with the release of Volume 2 later in 2001, Florentine's comic viciousness captured the attention of comedians Jimmy Kimmel and Adam Corolla, who were preparing their very own phone-harassment TV series for Comedy Central, albeit one in which the harassment was done by puppets.
"Jimmy and Adam were doing Crank Yankers," says Florentine, "and they heard the characters I was doing with the telemarketer stuff, and they hired me to do the show." Consequently, for four seasons, Florentine's voice was heard alongside such comedians as Sarah Silverman, Tracy Morgan, Kevin Nealon, and Wanda Sykes, providing character for puppet figures including the alcoholic Bobby Fletcher and the mentally challenged Special Ed.
"It was my first TV job," says Florentine, "but it was also the best one I ever had. You know, you're basically just making prank calls for a living and getting paid. I'd do it for free."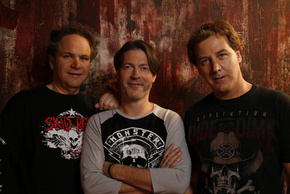 As an on-screen performer, though, Florentine likely achieved his greatest recognition the year after Crank Yankers' 2007 series finale, when he and friends Don Jamieson and Eddie Trunk joined forces to co-host That Metal Show, a heavy-metal-themed comedy talk show that aired on VH1 Classic.
"I was always a big metal-head," says Florentine, "and I always wanted to get on stage with that somehow, but I just didn't have the talent for it. But Eddie does a radio show in New York and had a connection with VH1, and one day he said, 'I'm gonna try to pitch a talk show with us three.' And I was like, 'Yeah? Okay. Let's see what happens.' So they agreed to pay for a pilot episode. We had Lita Ford on, and they loved the show and picked it up, and you know, we were on for eight years."
Yet he adds that during those years, "I was still always doing stand-up. That Metal Show and Crank Yankers, they didn't take up too much of my time – maybe a week or two to tape all that stuff and then that's it. The rest of the time I've got plenty of time to work on my stand-up, which is my first love," even though he admits the comedy-club scene has changed quite a bit from what it was like in the '90s.
"It is a little tough," says Florentine, "because now it's gotten to the point where a comic on stage at a club is getting in trouble for something people think is politically incorrect. You know, if you're gonna come to a comedy club, you should expect to get offended. Or if you don't know what the comic's about, don't get mad if you don't like 'em. You know, do your research. When people go to see a movie, they usually know what it's about. They don't just walk in and go, 'What is this?! A romantic comedy?! I don't like this!'"
Florentine adds that the scene has, of course, also changed for him personally, given that in the '90s, his gigs weren't advertised as starring the guy from Crank Yankers and That Metal Show.
"Sometimes that's an advantage," he says, "playing in front of your crowd. But other times, you want to see if stuff really works – if the comedy really works – with people who don't know you. And then there are also high expectations when people come in to see you and they know you, where they're like, 'You'd better be on.' So it can go either way. And it's good when you know you'd better always be on your game."
Jim Florentine performs at the Rock Island Brewing Company (1815 Second Avenue, Rock Island) on Wednesday, June 1, with additional sets by James Draper, Donny Townsend, and Luke Swanson. For information on the 8 p.m. show, call (309)793-1999 or visit RIBCO.com.
For more information on Jim Florentine, visit JimFlorentine.com.