Admittedly, Oliver! is one of those musicals that instantly takes me back to my formative years, as I fondly remember watching the 1968 film version at school and at home. It would have taken a total disaster for the Spotlight Theatre to leave me disappointed. Luckily for everyone, though, director Sara Tubbs's production is a sensory delight: it looked and sounded terrific. Sure, the "unwashed" youth of this production went a little extreme with the makeup's dirt smudges. But if given the chance, who wouldn't overly grime up, right?
Based, of course, on Charles Dickens' novel Oliver Twist, Oliver! follows the story of the little orphan boy whose simple ask for a bit more gruel – "Please, sir?" – has a tumultuous effect on his life: In how many places can Cooper Tubbs, as the Spotlight's titular character, sleep throughout the show? As Oliver is tossed from location to location, he meets a wide range of London's population with mixed results. Throughout, Cooper is a sweet little boy with lovely vocals; he doesn't bring a ton of personality to the role, but as it turns out, that's how the character is written. Oliver Twist, here, just rolls with life's harsh punches, and sings handsomely from time to time.
While at the start of Saturday's performance it seemed to me the vocals and instrumentals on "Food, Glorious Food" were out of sync, the show quickly got back on track, and music director Amy Trimble consequently did a fantastic job making sure the cast and pit orchestra sounded great. The familiar tunes, from "Consider Yourself" to "Be Back Soon," were handled with care and strong vocals, leading my kids to lean over after nearly every song to pronounce each number their new favorite so far. For what it's worth, my favorite was a solid toss-up between the lively and exuberant "Oom-Pah-Pah" and the gorgeous "Who Will Buy?" The latter, featuring Dana Wright, Cynthia Hampton, Adelle Wright, and Keegan Walker, was staged so well that it's obvious every person on the stage is oozing with talent. Having an engaged ensemble is so crucial to this musical production's success, and this cast is more than up to that task.
Sara's husband Brent Tubbs' scenic and lighting design are perfectly done: A set of bridges runs through the house and pairs with the bridge on stage that easily becomes Fagin's gang of pickpockets' hideout and any number of residences or establishments that Oliver visits. Director Tubbs used the spaces well, allowing this Oliver! the chance to always offer something interesting to look at. Costumer Heather Blair's designs well accentuate the mood of this show. The morose workhouse children are in clad in grungy neutrals while the pickpockets, though still dirty, are at least happy and in colorful garb.
Of those Oliver encounters, one of the most memorable is the Artful Dodger, and Jack Carslake packs a big personality into his tall hat. His reassuring wit and humor are a constant, so when he sings, all eyes are on him. That is, unless Kirsten Sindelar's Nancy is on stage, too:. Because during "I'd Do Anything," this duo steals all focus from even Shana Kulhavy's amazing choreography – Carslake and Sindelar are fantastically paired.
Poor Nancy. Has there ever been a stage character who gets a shorter end of a stick? It's such a shame, because Sindelar, here, is the perfect Nancy: sassy, with a hint of maternal instincts, humorous, and packing powerhouse vocals. It's far too bad that Bill Sikes (a brooding Mark Kulhavy) has her heart because; he's the actual worst. Yet even her ballad "As Long as He Needs Me" is both heartbreakingly rendered and exhilarating, because Sindelar is just so enjoyable to watch. It was evident that the cast was enthralled with her, too. The ensemble members couldn't keep their eyes off of Sindelar when she was on stage.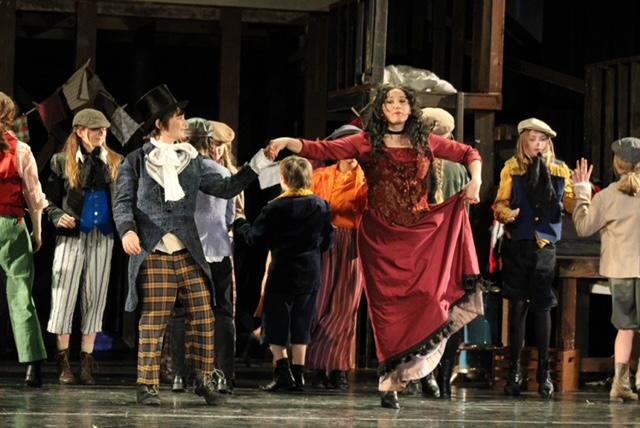 Oliver is also introduced to the thief and child-wrangler Fagin – and what a delight he is. The captivating Joe Urbaitis injects the perfect dose of humor into what is actually a rather dark (yet still kid-friendly) tale, and his "Reviewing the Situation" solo, which offered just a glimpse into the character's mind, left me wanting more. I had never before stopped to consider how many characters in Oliver! we only get broad brushstrokes on. This isn't an overly cheerful story: no one, except Oliver, really gets an overly happy ending.
It's a strange thing, however, because all the peppy, large-group numbers overshadow the fact that asking for more gruel has led to a truly depressing tale for an innocent little boy. Even now, I am only remembering Sindelar's vocals, not Nancy's tragic ending. Art is a curious thing. And Sara Tubbs' production is so good that you'll think Oliver! is an inexhaustible romp of a comedy instead of the tragedy it really is. That's about as complimentary as it gets. Isn't it?
Oliver! runs at the Spotlight Theatre (1800 Seventh Avenue, Moline IL) through April 23, and more information and tickets are available by calling (309)912-7647 and visiting TheSpotlightTheatreQC.com.