I've seen worse musicals than A Wonderful Life, the Circa '21 Dinner Playhouse's new stage version of Frank Capra's film classic It's a Wonderful Life. I've even seen worse stage versions of It's a Wonderful Life, one of them, produced way back in 1987, at Circa '21.
But it's been a long, long time since I've seen a production as deeply unsatisfying as the theatre's current presentation, one that cheapens your memories of the movie (and other, better theatrical takes on the tale), and one that leaves a talented cast floundering. A Wonderful Life isn't offensive - except in the way that having two-and-three-quarter hours of your life wasted is offensive - but it's misguided, and baffling, and seems to last forever. (We're 20 minutes into Act II before Mary Bailey even announces that she's pregnant.) Friday's opening-night audience, meanwhile, gave the show a standing ovation. Go figure.
Director/choreographer Bill Fabris' production certainly starts well, albeit strangely. Before the familiar arc of the plot kicks in, with the angel Matthew (David Tabish) instructing the wing-less Clarence (Tom Walljasper) on his earthly assignment, A Wonderful Life opens with the subject of that assignment - Don Denton's George Bailey - contemplating a railroad-track suicide. A choir surrounds George as he considers leaping in front of the train, and with the singers' majestic vocals and the red lights flashing and the warning bells ringing, it's all so dramatic and unusual that it might not be until the prelude ends that you ask yourself, "Wait a minute ... . Wasn't George going to jump off a bridge?"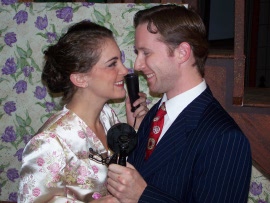 Yes he was, and the production's opener is your first clue that this version - with music by Joe Raposo and book and lyrics by Sheldon Harnick - won't quite be the It's a Wonderful Life you know by heart. (Not only does George not opt for a watery demise, but we're also told that brother Harry, whom George famously saved from drowning, was instead saved when George pushed him out of the way of a passing truck. It's like the show has hydrophobia.) The opener is also your first clue to its frequently operatic bent; scenes of Bedford Falls' townsfolk demanding their money from the savings and loan or, in Pottersville, demanding George's hide - "Get him! Get him! Get him!" - wouldn't be out of place at the Met. (The latter actually wouldn't be out of place in Frankenstein.)
Presenting the It's a Wonderful Life story in this fashion is different, to say the least, and might've been stunning if the conceit were actually sustained. Considering this script, though, it can't be. For every grand-opera number - and Diana Rose Becker's Mary has a couple biggies - there are three musical-theatre ballads that are almost unbearably lethargic and maudlin, and do nothing to reveal character or advance the plot; more often than not, the songs are just killing time. (And killing ours.) Raposo was the composer behind many of Sesame Street's most delightful tunes, and excepting George's peppy Act I solo and a spectacularly entertaining Charleston sequence - your one chance here to enjoy some exuberant dancing - it sounds as though the entire score was written for downbeat Muppets.
Sadly, the cast - many of whom are exceptionally gifted - is given little chance to improve matters. Denton, with his dynamic presence, works his tail off, and that sensational baritone John Payonk provides an outstanding, honest interpretation of Mr. Potter. (Ironically, he's the show's most likable presence, and the only actor who, as A Wonderful Life's years pass, believably ages.) But Fabris' staging, which is determinedly presentational even when the material isn't, continually hinders the performers. You have no feel for George's relationship to the townspeople, or their relationship to one another - everyone may as well be acting in their own individual bubble - and when characters have punchlines, they're delivered face-front to the audience, making obvious gags more obvious. (And some of the compositions make no sense at all, as when Mary's mother reacts with horror to the "He's making violent love to me" line, and then, cocking her head slightly to the left, realizes he isn't.)
Circa '21's entire production is a disheartening blend of the overdone (Sam Wainwright's "Hee-haw!" laugh gets a really noxious workout) and the underdone (the town backdrop could be straight out of a junior-high pageant), and it's depressingly light on personality; I registered exactly one spontaneous-seeming moment, when George handed Clarence a drink, and Walljasper shot a look up to heaven as if to say, "I'd like to, but I won't." And while fondness for the movie may lure crowds, and may even be the reason for some patrons' rapture - they're seeing it as the production they want it to be - A Wonderful Life is actually everything Capra's film isn't: stylistically confused, achingly long, and decidedly not wonderful.
For tickets, call (309) 786-7733, extension 2.