Friday's opening night of Tuesdays with Morrie found the Playcrafters Barn Theatre housing the largest audience I've ever seen there. It was almost unbelievable, then, that the intimacy of this two-man show directed by Jeff Ashcraft made me feel like the only person in the room – and I feel fortunate to have been a part of this production's history.
Jeffrey Hatcher's stage adaptation of Mitch Albom's 1997 memoir, Tuesdays with Morrie takes us through the journey of journalist Mitch (Aaron Lord) as he reconnects with his favorite college professor Morrie (Kevin Babbitt) – a man dying of ALS (Lou Gehrig's Disease) – by meeting with him every Tuesday. And while portraying someone who you can find in hours of YouTube interviews could be a real challenge, Babbitt obviously wanted to do the man justice, and succeeded in a really wonderful way.
Clearly, Babbitt brought his own spin to the character with a wild look in his eye that was both endearing and unsettling. So believably was Babbitt's characterization of Morrie that as he strained to pick up a dropped cup, someone sitting near me whispered to her husband, "You should go help him!" I am thankful that didn't happen. But I understood the impulse completely, as over the course of the intermission-less evening, it felt like the entire room truly grew to love Morrie so much that every life lesson he gave Mitch was also a gift to us.
Babbitt also brought a mischievousness to Morrie that felt honest for a man teaching his final class on living and dying to a favorite student. With Babbitt speaking in broad tones about grief and disappointments, the production allowed the sadness in the room to be simultaneously about Morrie and whatever personal grief a Playcrafters patron might be facing. Morrie's heartfelt advice is often full of takeaways that would be relevant to anyone.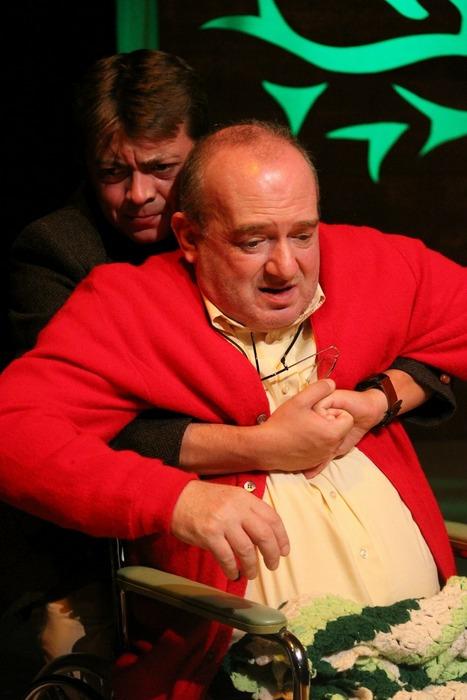 Meanwhile, Lord's Mitch started out brusque, as though it hurt him too much to feel the emotions he was actually feeling. But as Morrie's time with him went on, Mitch began behaving in a more gentle manner, and was able to sit with his emotions in a sweet and tender way. The love for his mentor was palpable and, as the play's narrator, we got to know what was in Mitch's head and heart – Lord well-explored his character's sadness and overwhelming guilt. Watching the man come to the realization that work wasn't the most important thing in life really drove home Morrie's main messages.
The friendship and bond between Lord and Babbitt was an enactment truly special to witness, and I was fully convinced the two men had known each other a long time. There's a special bond between the Mitch and Morrie characters that's overwhelmingly evident in Ashcraft's production, and the humorous quips throughout the evening kept the audience from continually sobbing – whenever the emotion in the Barn got too thick with grief, something was said to bring people back to lightheartedness.
The scenic-design team of Crista Ashcraft and Jason Gabriel created a subtle and beautiful set that boasted the ability to represent several locations without shifting much of anything. Hatcher's entire play is based on Mitch's memories, and that was cleverly reflected in the small details, such as the wood floor that fades into darkness.
While the overall design was well-imagined, the set's centerpiece was a gorgeous wooden backdrop featuring a large, cut-out tree (lit by lighting designer Bill Peiffer) that was representative of the final stages of Morrie's life in its green, red, and yellow hues. Peiffer's other lighting choices were equally perfect, with soft yellows making the theatre feel like a cherished memory, and employing few blackouts, which I really appreciated. The costumes were also smartly chosen: Mitch in a standard, business-casual, blue-button-down shirt with khakis, and Morrie mostly in a bright red sweater that really made him the focal point of the stage, adding to the poignancy of the evening.
Director Ashcraft's staging was similarly exemplary. Obviously, as Morrie's ALS worsened and he lost control of his body, Babbitt more or less remained in place, leaving Lord to be responsible for almost all the stage movement. Even so, the Barn's long thrust space was used impeccably, with pointed moments of Lord making eye contact with the audience and briskly pacing about the stage, as though if he walked fast enough, he could delay the inevitable death of his mentor and friend. This contrast between the two men became its own metaphor within the script.
Tuesdays with Morrie was written to hit you with a barrage of emotion, and Playcrafters' production did not disappoint. During the curtain call, Lord and Morrie gave each other a high five, which was a spot-on choice; it not only celebrated a job well done, but made their connection seem special and slightly humorous even as they were saying goodbye to us. It was the perfect capstone to an evening, and a production, that reminded us that time is a precious gift.
Tuesdays with Morrie runs at the Playcrafters Barn Theatre (4950 35th Avenue, Moline) through September 23, and more information and tickets are available by calling (309)762-0330 or visiting Playcrafters.com.