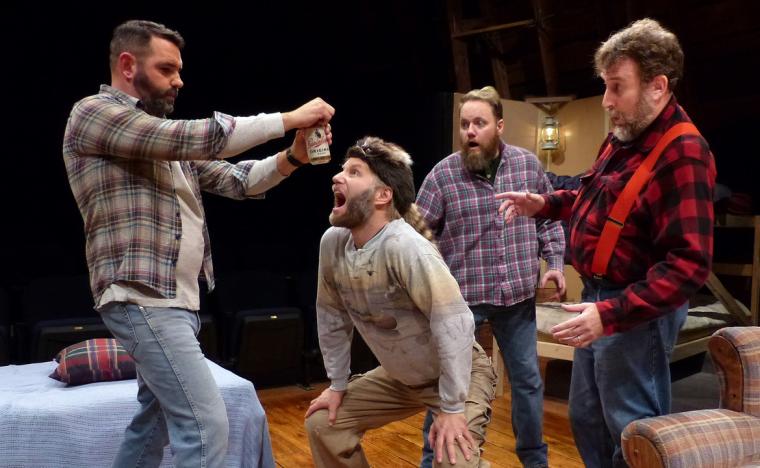 Beards, beers, and bucks abounded Saturday night as the Richmond Hill Players presented Escanaba in da Moonlight, a comedy written by Emmy-award winning actor Jeff Daniels. The program notes that Daniels, of Dumb & Dumber fame, is primarily a dramatic actor, but make no mistake: This production was straight-up slapstick comedy.
Set in the way Upper Peninsula of Michigan at the Soady deer camp, Escanaba in da Moonlight is patriarch Albert's (Gary Talsky) reminiscence of the year his son Reuben (Justin Raver) attempted to bag his first buck, and not wind up the oldest Soady in history to not do so.
Talsky's Albert has an excellent "Yooper" accent, and even though, at times, the actor seemed to struggle with keeping track of his lines, his wide-eyed retelling of family lore more than made up for the mishaps. Escanaba in da Moonlight is Albert's tale to tell, and Talsky is so welcoming that even if you wouldn't dare go deer hunting with him, or step foot in his cabin with an outhouse (or two-seater as the men so charmingly describe it) for all the money in the world, you'll still find yourself right at home with the Soady family.
Director Mike Skiles, who doubled his duties by constructing the set, completely transformed the Barn into a hunting cabin. If you told me Skiles went and raided his own family's cabin, I would believe it, as the stage was full of appropriately mismatched castoffs complete with a plaid chair and slip-covered couch. When the stage crew closed the theatre's entrances, they became "solid" walls loaded with the appropriate accoutrements of snowshoes and mounted deer heads. There was also a decorative oil lantern that fit right in with the actual house lighting the Barn employs.
Reuben (Raver) and Remnar (Nathan Johnson) played the Soady offspring with an honest brotherly connection and chemistry. When it came time to settle into a game of euchre, the siblings were ribbing each other but still partners and each other's biggest cheerleaders. Reuben was positively itching to break his longstanding curse and was willing to abandon all family tradition in order to make it happen, including bringing with him a foamy gray sludge featuring a multitude of ingredients both palatable and surprising. Raver's deliveries in this scene are deadly serious when insisting that this gray drink is perfectly normal, and his restraint in the moment made it all the funnier. As for Remnar, he's the cool-and-collected member of the family, but even he became irate at the lack of traditional pasties the Soady men typically eat at the camp. Johnson embodied the "responsible" Remnar with the only trim beard the evening would feature, but was also able to let loose and dive into Daniels' physical comedy with a wild abandon.
Meanwhile, Mike Kelly brought DNR officer Ranger Tom T. Treado to life with such gusto that the Soady men all but forgot they actually don't respect the DNR, and allowed Treado to enter the cabin and fall asleep in a state of undress that was both funny and slightly unsettling.
Joining the Soady clan for the hunting opener is good friend Jimmer, and Jonathan Grafft was so committed to the role and its particular vocal quality that it had me checking the program to see if his name was even supposed to be Jibber. Grafft only needed to make the slightest sound and the audience roared with laughter, but not as a way to make fun of him – he was just that funny. (And gassy!)
Also eliciting screams of delight was another "remedy" found in a Mason jar as the four men found themselves splashing each other for good luck; the pure physical comedy in this production had the entire audience in stitches. Skiles kept this production fast-paced and full of energy, and while there were a few occasions, from my vantage point, in which I lost a lot of the performers' facial expressions, for the most part the cabin's space was used extremely well.
This production also had some shining technical aspects. Costumer Stacy Herrick avoided the buffalo-plaid stereotype and dressed the men in clothes that you would really believe a bunch of lifelong deer hunters would don. Jimmer's socks were even threadbare on the balls of his feet, and while it seems insignificant on its own (because it is), this minor detail speaks to the overall strength of this production. And Jennifer Kingry's lighting effects, including the surprisingly comedic use of a strobe light in the second act, combined with sound designer Larry Lord's metaphysical-meets-crass potty-humor noises really brought the house down. I haven't ever before witnessed an audience laugh so hard during any theatrical performance – and that is not an exaggeration.
By the time the lone female cast member (Amy Moskowitz's Wolf Moon Dance) appears, the story is all but told, but you won't mind a bit. Richmond Hill's Escanaba in da Moonlight delivers a family legend told in a hysterical manner and a night of laughter its audience won't soon forget.
Escanaba in da Moonlight runs at the Richmond Hill Barn Theatre (600 Robinson Drive, Geneseo) through November 18, and more information and tickets are available by calling (309)944-2244 or visiting RHPlayers.com.