Director Jeffrey Coussens makes some beautiful choices regarding the positioning of his Greek chorus of public-safety officers in Augustana College's The Arsonists. At different points in the play, he places this group of seven - with the character of the Policeman leading six firefighters - huddled on the stairs to the set's attic, flanking both sides of the stage with the same legs crossed, and sitting along the front of the stage, watching the action. And their orderly placement, along with the chorus members' bright yellow uniforms, are a striking contrast to the escalating destruction that's taking place on stage.
Translated by Alistair Beaton, Swiss playwright Max Frisch's play centers on the theme of moral decay in the face of obvious immorality. (The dramaturg's program notes explain that Frisch's motivation in writing was Switzerland's refusal to accept Jewish refugees during World War II, the explanation of which helped put the show's theme in context.) The titular characters are two men who smooth-talk their way into peoples' homes, then stock their attic with barrels of petrol as part of a plan to destroy parts of the city. Their latest victim is Gottlieb Biedermann (played here by Cayle Higgins), a man who is familiar with the arsonists' plot as detailed in the newspaper, and certain that he's too smart and vigilant to be taken in by such trickery.
Within minutes of reading the latest report of the arsonists' acts, Biedermann, however, is duped by Matthew Fox Kerr's crass, persuasive, demanding former wrestler Joseph Smith, and by John D'Aversa's suave, better-mannered, yet slimier William Eisenring. The rest of the play shows how Biedermann is blind to the arsonists' plan to blow up his house, and how, even when he does realize what's happening, he actually assists in his own destruction.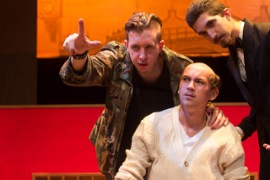 Wearing a notably realistic bald cap with hair on the sides and back **, Higgins' nuanced performance is nothing short of impressive. He manages to mix self-assuredness and intelligence with naïveté and uncertainty in a way that's believable and pitiable. And Kerr is a particularly excellent foil as a bully of sorts, with his Joseph tricking Beidermann through his imposing demands. The effeminate touches in Kerr's voice and mannerisms add an air of smooth creepiness that renders him simultaneously repulsive and enticing; this Joseph is clearly a man up to no good, but it's also easy to see how Beidermann is taken by him. (Kerr also makes unexpected choices with pauses in his live deliveries, such as describing himself as "A man. Who eats. Like a pig," and talking about "The wine. And. The bread," he's offered by Beidermann.) My only issue with these two characters, actually, lies in costume designer Adam Parboosingh's attempts makes them look fat; Higgins' stuffing instead makes him look pregnant, while Kerr looks like he has one of those parasites that causes your belly to bloat.
Among my few other complaints with Augustana's presentation would be Kaitlin Ross' unfortunate choice to deliver every single one of her lines, as Biedermann's wife Babette, in a high-pitched head voice; Ross can act, but using such a fake-sounding tone, it sounds as if she's acting like she's acting. And the play's chorus of firefighters - particularly the female members - tend toward aggressive, almost condescending deliveries, as though they were speaking out of a sense of moral superiority rather than a need to guide the audience toward a higher path. Otherwise, D'Aversa pairs well with Kerr, effectively playing the smarter, more subtlety menacing and forceful of the two arsonists; scenic designer Parboosingh's use of lights, a fog machine, and video projections effectively depicts the final act of the arsonists; and Coussens' production of The Arsonists proves a stirring telling of Frisch's morality play.
** [Editor's note - October 15, 9:30 a.m.: We've been informed that the reason the bald cap was "notably realistic" is that it wasn't a bald cap... the brave Mr. Higgins, it turns out, shaved his head for the production, and we apologize for the mistaken assumption.]
The Arsonists runs at Augustana College's Potter Theatre (3701 Seventh Avenue, Rock Island) through October 21, and information and tickets are available by calling (309)794-7301 or visiting Augustana.edu.