The Playcrafters Barn Theatre's current, holiday-themed family presentation Papa's Angels begins on a note - or rather, a bunch of notes - of incredible sweetness.
As the lights come up on scenic artist Bill Marsoun's lovingly designed playing area, we find ourselves outside a mountain cabin in North Carolina, circa 1935 - a place and time elegantly conveyed through the live, off-stage sounds of a jaunty fiddle solo. After a few beats, the musician walks into view. And if, like me, you don't peruse the cast biographies before the show starts, you're likely in for a shock, as the gifted fiddler - Morgan Williams - doesn't appear to be a day over 12.
Papa's Angels' program actually doesn't specify Williams' age, but does state, "Morgan hopes to be a successful entrepreneur by age 15." Given the evidence, I'm betting she can be anything she wants by age 15. Her handling of the bow is graceful and her tonality is impressive, but what's most exceptional about this musical prelude is Williams' lovely, effortless confidence. Sharing occasional smiles with the audience during her performance, this young talent is poised and polished, without even a hint of show-offiness, and I can't think of many area productions in 2009 that began quite this promisingly. In retrospect, I would've appreciated Williams even more had I known that her preamble to the play would also be its highlight.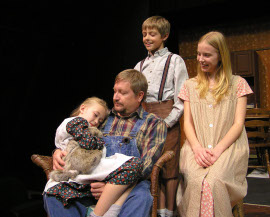 In truth, I should probably put quotation marks around "play," because Papa's Angels, at least on Friday, didn't resemble a play so much as a pageant - one of those somewhat endearing, somewhat clunky offerings you dutifully sit through because your nephew is portraying Second Shepherd from the Left. To be sure, director Tom Morrow's staging of Collin Wilcox Paxton's and Charles Jones' theatre piece has charm. But barring the musical interludes and the first-rate, emotionally present Sydney Crumbleholme, almost all of its pleasures are accidental, like the laughter elicited whenever second-grader Laila Haley pounces on her lines with adorably unpredictable, second-grade abandon. The rest of the time, the charm feels entirely manufactured, and unfortunately, not manufactured all that effectively.
A holiday parable about resilience in the face of tragedy, Papa's Angels finds guitar-playing patriarch "Grins" Jenkins (John Weigandt) and his offspring (Crumbleholme, Haley, Alyssa Castro, Andrew Hall, and Katie Moore) contending with the death of Jenkins' wife (Jean Lupoli); while Papa suffers inconsolable sadness, his damaged yet determined brood attempts to lift his spirits in time for Christmas. There's not much else in terms of plot, and Playcrafters' production is perfectly content, as it should be, to be a wholesome, unpretentious, ambulatory Hallmark card. (When Papa plays guitar, you can bet the kids will be posed around him in compositionally iconic hearth-and-home tableaux.) Unfortunately, however, I hardly bought a word of it.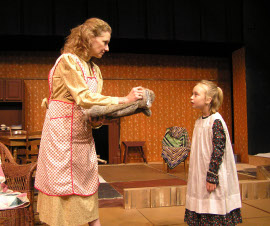 Certainly, Friday's show featured the sorts of technical and performance-based mishaps that cause you to quickly lose faith in a production. One sequence found scene-change music accidentally (I hope) underscoring Weigandt's live guitar-playing, one found the stage lights going to black while actors were in mid-conversation, and all throughout the evening, the pace was hindered by those momentum-stifling pauses that only last a few seconds but feel like an eternity while you're enduring them. (Was Papa's Angels as under-rehearsed as it appeared on Friday? Even actors - adult actors - who were in only one scene seemed noticeably unsure about their dialogue.)
But the bigger problem, for me, was that I rarely believed in the characters' emotions or interactions; nearly line for line and movement for movement, Papa's Angels rings patently false. Weigandt has several nice moments, particularly when singing, but his anguished Papa never seems more than mildly depressed - the scene in which he brandishes a shotgun comes off as stunningly, monstrously out of character - and while the agreeable child actors go through the motions ably enough, very little about them suggests the unforced naturalism of real kids. (Their "spontaneous" dancing, crying, and group hugs feel all-too-planned.) For a show that's primarily about a father's devastating grief and its effects on his children, the production feels oddly weightless; no one should want or expect tragic breast-beating from such a lightly downbeat piece of period corn, but there's still too little drama in this drama.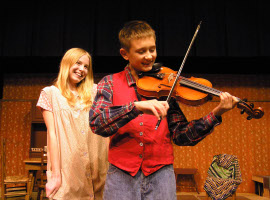 Thankfully, though, there is some emotional pull, and it comes almost solely from Crumbleholme, whose affecting performance as the mute teen Becca is a beautiful piece of wordless acting. (Happily, this star of 2008's wonderful Anne of Green Gables for Playcrafters also speaks to us via "interior voice" narration, as Holly Hunter did in The Piano.) A radiantly expressive performer, Crumbleholme allows you to read delicate shadings of heartache and hope, and is especially fine (and funny) when mooning over a fellow student played by Jakob Dodd - who, as the audience happily discovers, is also an expert fiddle player. This Papa's Angels may only make passing attempts at theatrical honesty, but Crumbleholme, at least, is true to the core.
For tickets and information, call (309)762-0330 or visit Playcrafters.com.